Tuesday afternoon, I was fortunate to spend some time talking with Lakers great Michael Cooper, an integral part of five championships with the Showtime Lakers, and now coach of the women's basketball team at USC. Long and lean-- very, very lean-- Cooper was nonetheless a fierce competitor, earning All-Defensive Team honors eight times, and the DOPY Award in 1987. Larry Bird called him the toughest defender he ever faced. Praise doesn't come much higher.
Over the course of about 30 minutes, we had a chance to touch on a wide range of subjects, from where he developed his intensity to the magic of Magic, both on and off the court. Among the highlights:
*Why he developed such a strong defensive mindset in L.A.: "You had to find a niche [with the Lakers]. When I met coach [Jack] McKinney, he said, "Coop, we need a player who is going to play some defense. We need a lock down defender at the 1,2, and 3 positions. That was kind of my calling card. I reverted back to all my fundamentals, and my aggressiveness as far as defense goes ... This was my niche to make it on the Lakers team. Everyone likes to score, but I felt that it was how I was going to be able to not only make that team, but stick around. And lo and behold, that worked out well for me."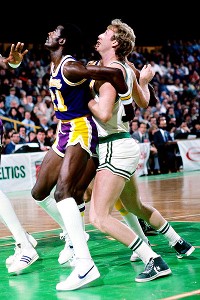 Dick Raphael/NBAE/Getty Images
Larry Bird called Michael Cooper the toughest defender he ever faced.
*On defending Larry Bird: "I used to study games of his. It would be a month before we would play the Celtics, but I was getting ready for him. Watching him play. What did he do on out of bounds passes? What did he do going around picks? ... Larry was naturally born left-handed, and taught himself how to shoot right handed. He was very ambidextrous so you couldn't force him one way or the other, because he was just as good going to his left as he was to his right. The only tendencies I had [available from film] to pick up with him was how he came off of picks. How he set you up to come off a pick."
*Best of the five title teams on which he played: I thought our '84 team was very good, even though we came up short [against Boston in the Finals]. We had all the necessary parts to win a championship. Of the championships that we won, I'd have to say our '85 championship was about as good as we were going to get. Everybody was hitting on all cylinders. James Worthy was was just coming into being the type of player he'd eventually become, a Hall of Famer. That team had it all. We had a bench, we could play defense, we could run, we could rebound with you. We could get big, and even became "Riley's Runts," because we could get small. That '85 team was probably our best team, per player, and the camaraderie and the chemistry was very good.
*Coop explained the challenge of not just beating Boston, but overcoming the mystique they had in big moments.
*He believes the Lakers still have the tools and personnel to make a strong push this year with an improvement defensively, but were he the coach, Cooper would make a one significant adjustment to the lineup: "You've got to start Lamar Odom... I'd go three bigs."
*Cooper grew up in Pasadena, went to Pasadena High School and then for two years to Pasadena City College. He played for the Lakers, coached with them, coached the Sparks, and now the Trojans. He reflects on a professional life almost exclusively spent in his hometown.
*After a knee injury his rookie year, over his next decade of basketball, Cooper missed a grand total of 31 games, 21 of which came in one season. What goes into that level of durability? He cites luck, genetics, and a great deal of peer pressure on those Lakers teams to get on the floor. Nobody wanted to be in what they called "sick bay." He tells a great story of how a five-year plus consecutive games streak was busted up defending fellow iron man A.C. Green.
*On Magic Johnson's most underrated skill: "He wasn't a great one-on-one defensive player ... but Magic was probably one of the best team defenders I ever played with. When you play against a Moses Malone in Philadelphia and you don't want Kareem [Abdul-Jabbar] in foul trouble, so you've got to double down. What better person to bring than Magic, at 6'9", 230? This guy's big, with great hands, and a great anticipation factor. Anytime we had to help off somebody, Magic was always there... Most of the time it was Magic who was the tracker. To help out on Bird, or help out on Parish, or double down on Moses, or help stop Michael Jordan. So to me, he was probably the best team defensive player I ever had an opportunity to play with."
*Cooper shares his thoughts on Magic and HIV, and his experience nearly 20 years ago the day Magic held the press conference announcing his retirement. From there, we discuss the influence Magic has had as an ambassador for HIV awareness, teaching people it didn't have to be a death sentence. "He set the tone for the human side of sports like no one else had," Cooper says.
*His coaching career has been spent primarily coaching women, first with the Sparks, now with USC. What are the differences between coaching men and women? Does he have a preference? How are the Trojans set up for this season?
*Cooper politely avoids my question about whether his number should be in the rafters (actually, he engages in some creative math to prove it's actually there), but names some guys he thinks belong, and finally...
*...Socks. Why did he wear those bright white knee-high socks?