Through the first two quarters of Spain's 77-68 victory over Germany in Round 2 of the European championships Wednesday, observers of Pau Gasol (paugathologists) might have felt a little top-of-the-brow sweat forming. Gasol, who missed Spain's last game against Turkey because of a bad left ankle, was held scoreless. Zip. Nada. Nothing, as all four of his field goals missed the mark. Meanwhile, led by Dirk Nowitzki, the very same Dirk Nowitzki who thoroughly outplayed Gasol in last spring's playoffs, and his upstart German teammates were down only three points to the defending champs at the break.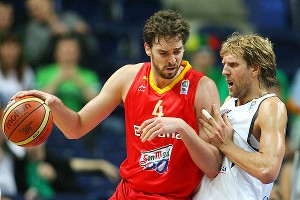 PETRAS MALUKAS/AFP/Getty Images
Wednesday in Lithuania, Pau Gasol's Spanish side squeaked past Dirk and his German cohorts.
Uh oh! Pau is injured! He's psyched out! The German is toying with his gray matter!
Not so much, actually. First, while Gasol was sluggish early and was a non-factor scoring, Nowitzki wasn't much better, missing seven of his nine hoists in the first half. Gasol did nice work on Dirk, aggressively getting into the German's floor space to take away some of his options. Whether in the post or higher on the floor, Pau was far more successful getting a hand in the face of the Finals MVP than he was against Dallas in the postseason. (That Dirk wasn't hitting jumpers like it was a video game helped, too.) Matched up against Chris Kaman at center, Gasol occasionally lost contact with him in transition, but engaged in the requisite pushing and shoving on the block and generally held his ground (though overall, our friend Dave Miller would have hated how much time Pau spent with his arms dangling by his hips at the defensive end).
After the break, any concerns about Gasol's health (or susceptibility to mind control) quickly dissipated.
On Spain's opening possession of the third quarter, Pau made a nice play on the left block, creating space against Dirk with a push into the lane, then reversing to finish through contact with the left hand. Two trips later, Gasol ran his percentage from downtown for the Eurobasket to 80 percent (4-of-5), drilling a jumper from the top of the arc. Later, he displayed some nice footwork against Kaman to face up just below the left elbow before elevating over the quasi-German, would finish the third with 10 points, two steals, and a dime -- a sweet dish around Kaman to lil' bro Marc.
Pau scored nine more in the fourth, finishing with 19 points and a team high seven rebounds.
Dirk heated up with him -- I'm sure a third-quarter turnaround baseline jumper over Gasol's outstretched arm brought back a few tough memories -- but overall Pau turned what could have been a poor evening into something positive.
He played a team-high 33 minutes and clearly fatigued at points in the second half, but made no mention of the bum ankle on his Twitter feed after it was over. Not exactly medically relevant, but it's better than him writing, "Does anyone in Vilnius know a good orthopedic surgeon? #ouch." He'll get a day to rest before again taking the floor against Serbia.