While owners sort through their own issues regarding revenue sharing, after a week starting positively, ending negatively, and now seriously threatening the scheduled start of the season, NBPA President and Lakers guard Derek Fisher sent an email to union members (we call them "players") asking for solidarity.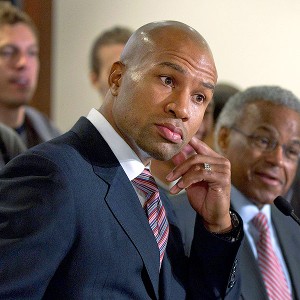 AP Photo/Julie Jacobson
Derek Fisher is encouraging the union to stick together, and resist calls for decertification.
Via Sam Amick at SI.com, you can read the letter here.
As you'd suspect given the author, it's a well-constructed, well-presented message, making a very strong case for the players to hold tight and avoid doing anything drastic in response to what appears to be a lack of progress. Something like decertification, for example. Here, Fisher takes a swipe at a group of influential agents reportedly pushing for players to dissolve the union:
"Decertification seems to be a hot button issue today in the media. So I'd like to address it. I've read yesterday's stories and find the position of these agents interesting. I have made myself available to each and every agent. But not once have I heard from them. If they are so concerned about the direction of the union, then why have they not contacted me? Each and every one of them mentioned has been in meetings with me. I've answered their questions, I've been told they support you, their players and our Players Association. So if there is a genuine concern, a suggestion, a question, call me. Email me. Text me. I'm working tirelessly each and every day on behalf of the over 400 players that they represent. Working for nothing but the best interests of THEIR guys. I don't make a commission, I don't make a salary for serving as President. I have NO ulterior motives. None.

It is because they have not come to me once that I question their motives."
I'm not a labor lawyer (surprise!), and do share some of Fish's skepticism about the motives agents might have -- power, influence, and money come to mind -- for pushing decertification. Nor, from what I understand, did it work all that well as a tactic for the NFLPA during that league's lockout this summer. But whether you're on the side of the players, owners, or somewhere in between, from a fan's perspective this much seems clear: Decertification is a nuclear option. It all but guarantees a chunk of games will be missed, because such a step throws the entire process into the court system.
The wheels of justice grind slowly, and time isn't something available in spades these days. Hopefully this is a fight Fisher and Billy Hunter win, because if they don't, there's a much higher chance the rest of us won't enjoy a moment of NBA action this year.