It wasn't exactly easy, but Spain managed Friday to squeak past tournament Cinderella Macedonia, simultaneously putting them in the Finals of the European Championships against France, and earning a berth in the 2012 London Olympics.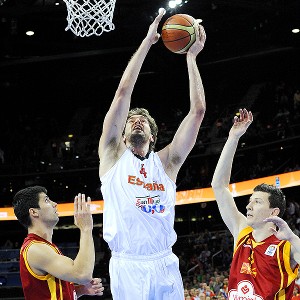 Janek Skarzynski/Getty Images
Pau Gasol and Spain are rolling to the Eurobasket Final.
Two wins for the price of one, really.
As has periodically been the case throughout the event, the Spanish struggled at times, as Macedonia erased an eight point deficit after one to lead by a point at the break. In the third quarter, though, the talent disparity between the two nations finally reared its head. Spain won the quarter by 10, and held Macedonia at arms length the rest of the way. Juan Carlos Navarro was the star, hitting five of his nine 3-point attempts and 13-23 overall en route to 35 points.
As it was in Spain's quarterfinal win over Slovenia, Pau Gasol wasn't as efficient as he's been from the floor through many games in the tournament, hitting eight of 20 shots from the floor, but still finished with a very solid 22 points and once again hit the glass hard. Pau grabbed a game high 17 boards, a full 36 percent of Spain's total as a team, and added three assists and a pair of steals.
While from a scoring standpoint at least, the night clearly belonged to Navarro, who blew up for 25 in the third and fourth quarters, Gasol had 13 points after the break, helping Spain pull away. It was another in a solid string of games for Pau, which, not that L.A. doesn't love itself some Juan Carlos Navarro, is really all Lakers fans are looking for.