Everybody who watches TV and movies knows J.K. Simmons, because he's been in about a billion different roles, and he's pretty much always awesome. The new face of Farmers Insurance is perhaps best known for playing white supremacist Vern Schillinger on "Oz," the father in "Juno," Will Pope on "The Closer" and the eccentric editor J. Jonah Jameson in the "Spiderman" trilogy. He's also a lifetime Detroit Tigers fan, which made watching the Yankee empire crumble on Thursday even more sweet.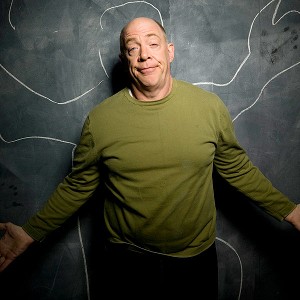 AP Photo/Victoria Will
J.K. Simmons shifts into whatever role with ease.
Friday, Simmons joined us for a fun conversation about baseball and acting. You can listen to the entire show here, or if you want to jump around to specific parts listed in the breakdown below, click on the links.
- (2:25) After sharing the inside story for a running joke on "Oz," Simmons celebrates the Tigers' opening round victory over the Yankees. We talk about how he became a lifelong fan of the team, and later the merits of Cy Young lock Justin Verlander as AL MVP. Like me, Simmons feels a pitcher having such an exceptional season shouldn't be met with so much resistance.
- (6:55) Life, art and sports met at a wonderful intersection for Simmons when he was cast as the manager of the Tigers in the 1998 film, "For Love of the Game." Simmons originally read for the smaller role of team trainer, but after shooting the breeze about baseball with director Sam Raimi, he got to try out for the meatier part. They've since worked on four other films together, including the Spiderman trilogy. And beyond the professional benefits, he got to play the manager of his favorite team in sports!!! How awesome is that?
- (11:44) Simmons explains the process of tapping into a reprehensible character like Vern Schillinger, along with his effort to avoid being typecast as Hollywood's go-to racist. Thankfully, he caught a break in quickly getting cast in a recurring role of psychiatrist "Dr. Skoda" on "Law & Order." Thus, audiences and casting agents were constantly seeing him in polar opposite roles.
- (19:58) We discuss how a show like "Oz" helped pave the way for the explosion of quality basic and pay cable television shows. Believe it or not, it were efforts, thankfully short-lived, to shoot episodes of "Oz" with language suitable for network syndication. Simmons also talks about the luxury of having strong relationships with directors like Raimi, Jason Reitman, and the Coen Brothers.
- (28:21) Simmons is commonly described as "a character actor." What does that label mean? According to us, that he's extremely talented and versatile. According to Simmons, that he's not terribly good looking.