As a group, the Lakers have taken plenty of criticism following their rather unceremonious dumping from the 2011 NBA playoffs. Individually, no single player has absorbed more heat than Pau Gasol. While nobody, Pau included, would defend the quality of his play, the big questions around El Spaniard now point to the 2011-12 season, assuming for the time being we actually get one.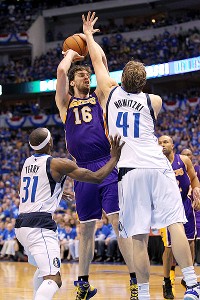 Matthew Eammons/US Presswire
When last we saw Pau Gasol, he was struggling mightily against Dallas in the postseason. He says he's ready to bounce back.
Personally, I find the hand-wringing over Gasol's future kind of silly. He's a four-time All-Star, a two-time champion, and arguably the most skilled post player the NBA has to offer. These things don't disappear after one bad spring. It's worth noting, too, how well he responded to the public flogging following L.A.'s loss to Boston in the '08 Finals. Then as well, no Laker took more criticism individually. A few months later, though, Gasol outplayed Dwight Howard in the Finals and helped lead the Lakers to a title.
I expect Gasol will return to form, but others believe he's damaged goods. This is just one of the many subjects we covered in a phone conversation Friday afternoon.
Q: What was your reaction to Friday's labor news?
Gasol: "Obviously it's not good news for anyone. We want the lockout to come to an end, and want to get to a [solution] that's fair and positive to all of us. So it's not a great day. Not happy."
Q: How are you following the talks? Are you someone taking a hard line, or are you leaving the leadership to do what they do? Some guys are more aggressive than others.
Gasol: "The guys that are already in the meetings, they're obviously a lot more aware of the negotiations, and do the talking. Obviously I have faith in the guys that are representing us. If I was at the meetings, I'd have all the information and might be a little more vocal, but I think that players are supporting [them] being involved. It just tells people and our fans how committed they are to make this work, and that we want to play and have a season as bad as anybody. But aside from that, I don't think it's a good idea to talk too much about it if you don't know all the details."
Q: Looking at your summer, and reflecting on the end of last season, what did playing for the national team do for you?
Gasol: "It's always positive for me to play with my national team, as far as that atmosphere, competing, defending my country and trying to get championships and medals for Spain, and ourselves, too. It's always positive to be part of that. The downside of it is obviously you add up a little more load on your body, But this year worked out because of the lockout, and how we've been able to get rest, and a break for us to recover from the championships. So we have a great team, and it's always exciting and encouraging for us, and that we continue to make history for [Spanish] basketball."
Q: Physically, were you healthy going in, were you healthy coming out?
Gasol: "Yeah. I twisted my ankle during the championship, and had to miss a game because of it. But I was totally healthy going into it, not as healthy coming out of it. That's the price you sometimes pay to compete. Obviously you're exposed to risks when you're out there."
Q: Are you healthy now?
Gasol: "Yeah, absolutely. After a month and a week, more or less now, I think our bodies have had the chance to heal and recover."
Q: How important was it to get on the floor and play well, given how the season ended for you personally? Was that important to you?
Gasol: "That's kind of my need regardless. I love to play. I love to play well, and obviously last year didn't finish well for me personally, and for us as a team. I have a great desire to get on the floor and perform at my highest level."
Q: Have you reflected at all on the Dallas series?
Gasol: "I didn't dwell into it too much, but obviously I analyzed. It wasn't so much about the Dallas series. They played a great playoffs, not just against us. They won a championship, and became champions for a reason. Unfortunately, we weren't at our best at our particular time. We self-analyzed things, but that's about it. Hopefully it was a needed experience for us in order for us to continue to work, and continue to try and be the best [team] again."
Q: When you say it wasn't the Dallas series specifically, are you saying the problems with last year's team wasn't simply a matter of those four games, but things happening all year long?
Gasol: "I wouldn't say all year long, but I think the end was just the end. You go back to the series before against the Hornets, it was also not a very good series on our part. We just played well enough to move on to the next round. Obviously the next round it was tougher because we lost, and we got eliminated from the playoffs. And [in] the way we lost, too. That doesn't mean that it was just that period of time that we didn't play well. Obviously it was something that I guess -- how can I say it -- it wasn't like, I would say, a coincidence. There were things that weren't working out at the time, and things we have to work on for next season."
Q: How much responsibility did you feel for what happened?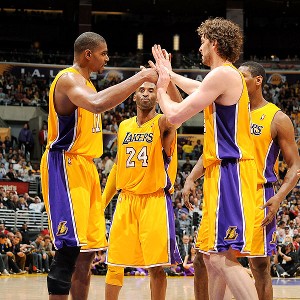 Noah Graham/Getty Images
Gasol believes the core of this team can still thrive, though it will take a commitment to team play.
Gasol: "Well, I'm always taking responsibility for it. Obviously it's not a game you play by yourself, but I was a little bit disappointed in how things ended up and were talked about and discussed after everything was done. Even during, still, while we still had a chance [to play on]. But it made me realize what's around me, and how people can react sometimes. Obviously I was at a point, mostly because I didn't perform at the level that I could have or I'm used to, but it's something I'll learn from hopefully something I won't allow to happen again."
Q: You had mentioned personal problems that you had in the playoffs, things that admittedly distracted you. How much of an issue are those going forward?
Gasol: "It was more off-the-court situations. It wasn't just personally, like personal stuff, but also with media and people around, and all that. It was a learning experience for me, everything, at how it went down, and how things developed, and hopefully I won't allow anything like that to happen again. That's just the way I feel and see it now."
Q: I'm sure you've seen it, people looking at the way the season ended and saying "This guy is done, and can't recover." What do you say to people that think the end of last season was the start of a decline for you, or that it showed you're not capable of being a championship, elite-level player again
Gasol: "Thanks for the trust. Thanks for the trust. That's as much as I can say. I can't pay attention to any negativity. That's just not me, that's not who I am, that's not what I've been in my career, that's not the person that I am. If you know me at all, then -- let's just wait and see. That's why life is so exciting. Because it puts things in place quickly. I look forward to doing that."
Q: You think you'll be fine?
Gasol: "More than fine."
Q: Looking at the team, Mike Brown said last week he doesn't believe the team needs a new identity to compete again for a title. Do you agree with that?
Gasol: "Fundamentally?"
Q: Yes. That the core is there, and that you don't have to make sweeping changes in the roster or how you play as a group. You don't need to change who you are, fundamentally.
Gasol: "It's not that we have to change who we are. We are who we are, and I think we're perfectly fine with that. We just have to make sure we work as hard as anybody in the league, or the hardest. Want it as bad as anybody, or the [most], and that's it. Be on the same page. Those three things are the basics of success, as being champions and becoming champions. I think that's what we do. It's not about doing fundamentally, or even tactically-- you can have the tactical strategy that you want, but you have to have the basics."
Q: How much is impacted by having a new coach?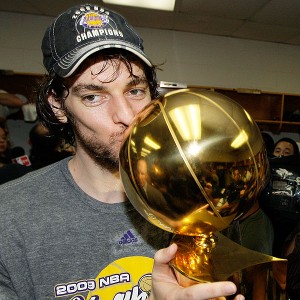 AP Photo/David J. Phillip
This is the pose Lakers fans hope Gasol strikes next spring.
Gasol: "Well, we haven't had a chance to work with our new coach yet, but from the feeling I got, he comes in with a lot of energy, and a lot of passion, and wants to help this team continue to be successful. That's a plus. I think that's a good way to go."
Q: How much do you think losing a full training camp, losing practice days and so on will hurt? It's a new coach, new system -- how much does losing all the preparation time hurt?
Gasol: "You always have to use or transform a negative experience into a positive one, to be motivational. That's I think with this team, with the quality of the players, the experience of the players, the success of the players that are part of the team are going to help us be better, and be ready. A new system with a new coach and a new staff, hopefully a season after a period after a lockout, that will be all something secondary. We have to go and prepare ourselves physically and mentally to win. To win every day, and prepare ourselves to win every game if we can. Obviously that's not going to happen, but we have to have that mentality to at the end of the year reach our goal."
Q: Is that something this core group is capable of doing without new blood, new talent, new whatever?
Gasol: "Whether we bring in new talent, that's totally out of our hands. As a group we can come in and get it done. But we have to be positive, and be united and forget about all the comments and everything around us that's surrounding us. Sometimes we'll be good, sometimes we won't. But again, talking is good, and it's cheap, it's free. But you have to prove. Actions speak louder than words. We look forward to getting back into action."
Q: Did you do a bad job as a group of putting negativity aside as a group?
Gasol: "Our situation was a very tough challenge. We were up for something that is extremely hard to do, which is win three titles in a row. You have to understand that nothing less or anything short of winning the championship would have been a failure, and would have been tough for us. But it happened the way it did, and we have to learn from it, we have to move on. Stop talking about it. We have to keep it in our minds and our hearts, obviously, because it was something that we experienced and it was painful. But now let's move on, and get into the right track as a team, as a group, as a city, as a franchise, and get the ball rolling."
Q: It looks like Andrew Bynum wants a larger role as he's growing into his prime. A bigger role on both sides. If that came at the expense of shots for you, which are already hard to come by, how do you feel about that?
Gasol: "Andrew is becoming a great player. I think the way he ended the season was very positive, because he was aggressive, and he was effective. He sees that he can be a force in the post, which I'm sure we will use and utilize and take advantage of. But we do have to look at all the team pieces, and what works for the team. And obviously the coaching staff will have a lot of say-so in that. Mike will have all the say-so in that. We'll have to figure it out as we go along. Once, and if, the season gets started, it'll be something we'll all be excited about, to see how everything works, where the team grows and team needs, and we all have to be willing to do what it takes."
Q: What are your plans as the lockout continues?
Gasol: "Wait and see, first of all. I'll continue to practice and work out. If the lockout continues, probably I'll go back to Barcelona for a little bit, and I'll continue to work out there, and then come back again and hopefully with the resolution of a new deal, and be ready to play. Those are kind of my plans, but obviously they're not certain. They just can't be."
(Note: Gasol plans to head back to Barcelona early next week.)
Q: Have you spoken to guys about next year? On the team, whether Lamar [Odom], Kobe, or others?
Gasol: "I've talked to Derek [Fisher], I've talked to Lamar. I talked to Kobe after the season was over. Obviously we are all kind of [occupied] by what's going on right now. We all hope and want to play, but understand that we're not going to play at any cost. We have to be fair with ourselves, and the players that are going to come after us. It's not about being greedy or being selfish here, it's about trying to be fair, and make it a win-win for all of us."
Q: Some believe that the group had run its course, that it needed to be blown up after Dallas, that guys were sick of each other. Is there a chemistry problem if everyone comes back?
Gasol: "I don't think so at all. I think with this group, what we went through -- what we've been through, not just what we went through last year-- we'll be ready to bounce back, and ready to go to work. But it's not our call. There's a management and ownership that makes those calls and tries to do what's best for the team, the franchise, and the city. But if the team does get back together intact, more or less, we'll all be ready to go and compete, and fight for what we all want."