Colin Hanks has a wide range of interests including sports, music, and of course, acting. He'd love a similarly eclectic IMDB page, but freely admits this hasn't been the fate so far. His new role as "Travis Marshall" on the hit Showtime series "Dexter," however, could perhaps be a game-changer. Hanks hopes being cast far against type as a serial killer will broaden the variety of parts offered his way.
We spoke at length with Hanks about his favorite sports teams, a documentary in the works, acting, and "Dexter." The entire show can be heard here, or if you want to hear specific parts, click on the links in the breakdown below: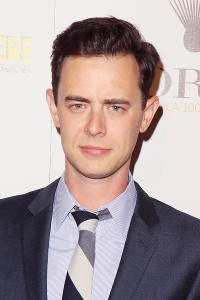 Joe Scarnici/Getty Images
Don't hold Hanks' love for the Giants and Kings against him.
- (2:46) A die-hard San Francisco Giants fan, Hanks explains what went wrong for the 2010 World Series champs. Also, if any further proof of how messy the Dodgers' ownership situation has grown, chew on this: Hanks doesn't even feel any pleasure as the Blue wallow in lawsuits. He actually feels bad for them. This is "human sacrifice, dogs and cats living together, mass hysteria" territory we've just entered!
- (10:18) Hanks, who grew up in Sacramento, explains how devastating a 2012 NBA season lost to a lockout would be for the city. His concern is the Kings will actually be contracted, rather than moved to Anaheim or elsewhere. Either fate, however, would be a horrible blow. He also talks about the desperate need for a new arena and shares memories of the Lakers-Kings rivalry at its most heated.
- (19:06) "Dexter" talk!!! Hanks is in the unusual position of playing a show's "bad guy" serial killer. (As opposed to the title character, who at least boasts some sense of warped honor.) How do you approach such a role, particularly as someone cast mostly as the straight man or, as Hanks puts it, a "quasi-likable, funny-ish type fellow?" It's a challenge relished by the young actor.
- (26:11) "Dexter" has an extremely fanatical following that dissects every bit of minutia possible. Having never been part of such a project before, that obsessiveness took Hanks by surprise.
- (28:54) Hanks compares joining a show in its sixth season with being an athlete in the final year of a contract before free agency.
- (32:58) Hanks is working on a documentary about the rise and fall of Tower Records, a franchise born in Sacramento. In the age of downloaded music, places like Tower that created a communal outlet for experiencing music barely exist anymore. While Hanks does acknowledge the oodles of great tunes he's discovered via the Internet, there's something special about the vibe at a crowded record store or sifting through an album's liner notes.
- (43:00) Colin shares how his interest in acting had very little to do with exposure to Hollywood as the son of Tom Hanks, but rather high school plays.
- (51:03) Hanks praises the heck out of Jim Harbaugh, who's done wonders transforming his beloved 49ers this season.