As part of a continuing series, NBA players share how growing up in L.A. shaped their games.
During his interview for this series, Brandon Jennings referred to Baron Davis as "the Godfather of Los Angeles basketball." While Baron is too modest to declare himself Don Corleone, more than any other player in the NBA, Baron Davis embodies Los Angeles. Not simply because he grew up here or because he spent two seasons at UCLA, although both factors certainly play a role, the connection comes in the way Davis' L.A. story reflects the multicultural, eclectic nature of the city and his everlasting connection to it.
A product of South Central L.A. (Manchester Blvd. and San Pedro), he moved in with his grandparents after living with his parents grew, as he put it, "very rocky and unstable." In seventh grade, he was offered the chance to attend Crossroads, a prestigious and affluent private school in Santa Monica, where his classmates included Kate Hudson and Cash Warren. Davis is now part of the Hollywood jet set, but ties with his original community remained strong, as well as his availability to the L.A. ballers who came behind him. As Jennings noted, "you can text BD right now, he'll pick up the phone."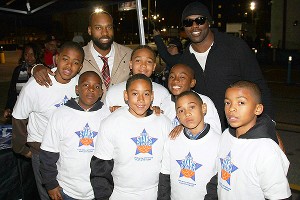 Arnold Turner/WireImage
Baron Davis has remained a fixture in many walks of the Los Angeles community.
"This next generation of L.A. basketball is so exciting to see," Davis gushed. "It's so exciting to see what's on the horizon for them. Now we're finally starting to get our respect in the NBA."
Land O' Lakers: The first place you ever played was, around age 4, a makeshift court your grandfather set up.
BD: Yeah, my grandfather put up a court in the backyard of his house. It was a Christmas gift. It was one of those courts you buy from the store. A wood court with a Styrofoam wood backboard and an all-wood beam. Matter of fact, it was just a hoop and my grandfather found a wooden pole, dug a hole in the ground and basically put the wood pole in the dirt with some rocks and stuff around it to hold the court up.
I was very surprised to get it. I'd never really asked for anything on Christmas, but he knew how much I loved basketball. We could come in from Sundays and he would watch the Dodger game. As soon as he'd fall asleep, I'd turn to some NBA.
Land O' Lakers: Were there a lot of games in your backyard?
BD: Kind of. There was a school across the street from my house. South Park elementary. So that's where we played most of our basketball. But in the backyard, my cousins, who are all 6 or 7 years older, they would pull the pole up to 8 or 9 feet, so they could dunk. The court was probably 5 or 6 feet tall. Every time they would pull the pole out of the ground, my granny would go and water the pole down so it would shrink back to its normal size.
Land O' Lakers: Did you ever play at the taller height?
BD: Yeah, I would have to. [My cousins] would just come over and do it and there would be nothing I could say. And it gave me a chance to play with them.
Land O' Lakers: And the uneven terrain helped you develop a handle.
BD: Well, it was like a strip of cement and then it was dirt in front of the court and grass on the other side of the yard. So you had to be able to dribble just to get to the rim, because the cement strip was man-made. The yard was man-landscaped. So there was a lot of bumps and bruises. (Laughs)
Land O' Lakers: You mentioned the elementary school across the street. Which parks did you also play at growing up?
BD: None. I played at no parks.
Land O' Lakers: Why is that?
BD: Where I'm from, you don't really travel outside your neighborhood unless you're traveling with a bunch of people. To go play at a Westchester Park or Raleigh Park, you would have to know somebody over there. And plus, you just don't leave your neighborhood, you know what I mean? If you leave your neighborhood, you better know somebody or you better be going somewhere looking for some trouble. When I was young, it was like that. "This is our neighborhood. This is our park. This is our court. And we're gonna stick to this."
But there were a lot of older guys, teenagers and college guys around. So for me, when I was 5 or 6 years old, those are the dudes I would play against.
Land O' Lakers: What was the vibe of these games?
BD: A lot of physical [play]. Because when I played, I played with mostly gangsters. I played with mostly the gang members. Sometimes, some of the high school guys would come by. Chris Ford and Michael Tate, who went to Fremont High School. Dudes like that would come to the elementary to play every now and again. But mainly, just the gang members. I played with all the dudes in the neighborhood. A lot of those were good players, they just dropped out of school and was just gang banging.
Land O' Lakers: How does that shape your game?
BD: Well, one, there was no crying. (Laughs) There was no being soft. I think those guys were extremely tough on me, because I was the littlest of little brothers, you know what I mean? They took care of me. They would send me on store runs. By the time I was 7 or 8 years old, I was one of them.
Land O' Lakers: Your grandparents were very protective and strict about keeping you on the right path. Were they comfortable with you playing ball with those guys?
BD: I don't really think they knew. They just knew I was up there playing basketball and from standing in the yard, all you could see was a bunch of guys running up and down courts.
Land O' Lakers: How hard did they have to work to keep you from falling in too deeply with any negative influences?
BD: The situation with my parents, me and my younger sister going to live with my grandparents, they provided a stable living situation for us. That right there made me not want to do [anything], you know what I mean? But as far as keeping me out of trouble, they gave me a place I could always come home to, which was more important than trying to keep me out of trouble.
Plus, some of the older people in the neighborhood, I was so young, they weren't trying to influence me to do wrong. It was all about basketball. I always had my basketball. So when I showed up at the playground, everybody knew what I wanted to do. Even though my cousins were in gangs and people in my family were in gangs, they knew, this kid is off limits, don't touch him. All he cares about is playing basketball.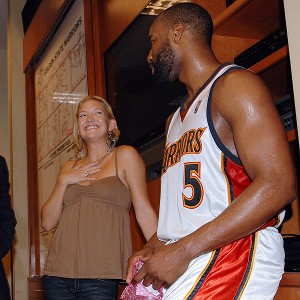 Noah Graham/NBAE/Getty Images
As a kid, Davis never dreamed of becoming high school buddies with Goldie Hawn's daughter.
Land O' Lakers: Is there a particular day that summarizes your experience playing basketball in that environment?
BD: One time, me and my friends were playing, and two dudes got into it. One dude was not from our neighborhood. Next thing you know, 10-15 minutes later, we're shooting at the basketball court, and bullets are coming from both directions. You're dribbling up the court and just, like, dodging bullets. You hear, "Pow! Pow! Pow!" And you're dodging bullets. And you run behind the school building. This was a shootout at an elementary school.
Land O' Lakers: Were your grandparents sports fans?
BD: My grandfather was a huge Dodger fan. He loved baseball. Loved baseball. My grandmother knew nothing about sports. She still didn't even when I went to the NBA. She never really cared too much about sports. She only cared about me being a good person.
Land O' Lakers: She always used to ask you who you'd be without that ball. How did you answer that question as a kid?
BD: I used to get in trouble, because she'd be like, "You can't just be dribbling that ball." I'd be like, "When I get older, I'm gonna have maids. I'm gonna have you a nice car." She used to get so mad because I used to say that. But then she'd say, "Who are you gonna be? What type of person? Who are you? What do you want to be? What happens if you get hurt? What happens if that ball doesn't turn out for you?"
From that point, it was more about being presentable, being respectful and being a gentleman. Those are the things she taught me to do. Be respectful to people. Be respectful to myself. Always be a gentleman and be intelligent. She used to always tell me that ball can only last temporarily, but you're gonna need your brain to function for life. So whatever you're doing with that ball, you better make sure your brain is right.
Land O' Lakers: As a Laker fan growing up, were you able to ever see a game at the Forum?
BD: Never. It was too far. How was I gonna get to Inglewood to get to The Forum? That was not even remotely possible. Inglewood was like a foreign country. I didn't know how close The Forum was until I started traveling out of the neighborhood. It seemed like a million miles away and seemed like a place that I was never, ever gonna get invited to or have an opportunity to go. There were no opportunities for a kid like me growing up.
Land O' Lakers: How much influence did Magic have on you as a young point guard?
BD: To be honest, not that much, because he was so big and so dominant. I just loved his showmanship. I wasn't really looking at how to play the point guard. I just wanted to throw some dimes, you know what I mean? Let's fast break. Let's throw some dimes. Let's throw some alley-oops and no-look passes. Those were things I would emulate when I was on the court with those older guys. And that's why they let me play.
Land O' Lakers: It was more the attitude and presentation rather than the technical points of his game.
BD: Exactly! Magic had the most personality as far as the game of basketball. And I think that by him having that personality and spirit, and also the talent, I think it rewarded him tenfold.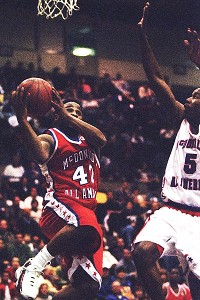 Getty Images
The complete game honed at Crossroads is displayed as Baron gets up to block Khalid El-Amin(!) in a McDonald's All-American game.
Land O' Lakers: Can you talk about meeting Coach Daryl Roper and the moment that led you to Crossroads?
BD: There was a guy that was my AAU coach, Thaddeus McGrew, and he was like a big brother to me. He mentored me. He was the only one my grandmother would allow to pick me up and take me to play basketball in different places out of the state or Santa Barbara and so forth. And he went to, not a private school, but a privileged school, a culturally diverse school. And that led him to UCLA.
So as him and I were developing a friendship so young, he was looking at me like, here's this kid that lives in this crazy a-- situation in South Central Los Angeles. He has a great personality. If he can get around a different mixture of people, get in the right situation, this is a kid that can have an opportunity to go to college and better himself. So he worked at K-Swiss and sponsored Crossroads. He saw the point guard, Travon Dugar, and was like, "Baron can probably go to a school like this, because this guy is small and he's out here playing at this small school."
He talked to Roper about trying to help me get into Crossroads. And Roper's aunt was the nurse at my elementary school. So when I met Rope, it was almost like we were already connected because of families growing up in the same area. It really wasn't no pitch. It was like, Here's Daryl Roper. He's the coach at Crossroads. And Thad and my grandmother were like, "We need to get him in a better situation to further his education." Rope went to the school and lobbied for me.
Land O' Lakers: Did Roper being from the neighborhood make it easier to see his perspective?
BD: No. I didn't understand that. To me, he was not [from the neighborhood]. He was older and well educated. He wasn't from my neighborhood, you know what I mean? That didn't make me feel comfortable. I was really skeptical of a lot of people, but when I started going to the school, that made it easier, because he understood me. When I got in trouble, he already knew what was on my mind. Then I was like, "OK, maybe he is from my neighborhood!" That's how our relationship started to grow.
Land O' Lakers: How was the period of getting acclimated to such different surroundings?
BD: It took me a while. It took me a long time to get comfortable. My junior or senior year in high school. When I really knew, this is who I am. I'm a basketball player. And I'm accepting everything that's coming into my life. Before then, it was just a struggle to figure [everything] out. Who was I? Who am I? I definitely don't fit in here. There's no one in this school like me. But at the same time, I'd pay every day to go to a school like this, because I knew what would happen if I went to a school in my neighborhood.
Land O' Lakers: Was there any blowback in the neighborhood because you went to Crossroads?
BD: Not so much a lot. I never forgot where I came from, because at the end of the day, I had to go home. And when I went home, it was my homeboys that we all graduated elementary school together, they were [at] home, too. We would always hoop and play basketball. But I couldn't forget, because every night I was always reminded, this is where you are, don't forget it.
Land O' Lakers: How much did that change the way you saw the neighborhood?
BD: It changed a lot. Every day I was removed from the neighborhood, it gave me a sense of distance. I think that was good for me as a kid, because it just opened my eyes to not be afraid to go anywhere.
Land O' Lakers: How did Roper shape you as a player?
BD: Rope [offered] life lessons and helped me see the big picture as far as team. He was always there teaching. Being a teacher and teaching what it means to be humble. I remember going over the "Pyramid of Success" and watching "Hoop Dreams" as a team. And some days not even going to practice, but sitting in the locker room having crazy team-bonding experiences. Just turning a practice into a life skills class, which was crazy.
Land O' Lakers: How different was basketball at a small school on the west side from what you'd previously experienced?
BD: Yeah. It was slower. But it was good competition. When I was in seventh and eighth grade and playing on the AAU circuit, the competition was weak. But Crossroads always managed to play the top teams in the city or on the west side. All the good teams. We always had a good schedule. But as far as our league, it was pretty weak. We'd just run through that.
Land O' Lakers: It being a slower game against different competition, how did you have to change as a player?
BD: A lot of times getting double- or triple-teamed, like triangle-and-two, it just made me be more of an all-around player. I would sometimes start out guarding the center or the forward. Playing center. Whatever it took, I had to find places to get open on the floor and also help teammates.
In Part II, Baron talks about winning a state championship with Crossroads, his time at UCLA and being a part of L.A.'s basketball lineage.
Previous entries