Back in 2004 when "Harold and Kumar Go to White Castle" was released in theaters, like many others-- the film didn't exactly go gangbusters at the box office-- I assumed it would be pretty bad and stayed home. This was before (a'la "Office Space") it became a huge hit on DVD. I watched it, I laughed. I wasn't sure the sequel, "Harold and Kumar Escape from Guantanamo Bay" would work. I saw it, I laughed. Now a third installment, "A Very Harold and Kumar 3D Christmas", opens Friday nationwide. I had a chance to see a screening last week, and once again laughed. A lot.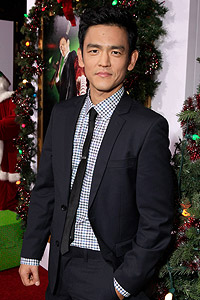 Win McNamee/Getty Images
The Harold and Kumar films have been a hit for John Cho. He explains what makes them work.
Ahead of the opening, we spoke this week with John Cho (Harold), about what has made the franchise so successful, how they again manage to unleash a torrent of absurdly un-P.C. jokes without growing mean spirited, the renaissance of Neil Patrick Harris, and more.
Click here for the full interview, or feel free to jump around via the links below.
1:24- On whether he's surprised the franchise to reach a third installment: "I'll go further. No one is more surprised than me. With the first one, if you think about it, Kal [Penn, who plays Kumar] and I were sitting there getting a script that starred a Korean and an Indian guy, and I said "This is a hoax." I kind of thought that it was going to be a gag, and I was going to show up to the first day of filming and someone would punk me."
5:47- On expanding opportunities for minority actors: "I think times are changing... You know what's interesting, is I feel like Hollywood has been behind advertising. I see more people of color in the State Farm commercials during the game. I feel like what they're recognizing is, Oh wait a second, Asians or black folk or whoever, they have money and they want to spend it, too. Which is actually the very first thing you have to establish before you get anything changed, you know? That we want to take their money, as well."
8:08- N.P.H.! Oh yes, Neil Patrick Harris is back in "A Very Harold and Kumar 3D Christmas," despite being shot to death outside a brothel in the second film. How? I couldn't explain it in this forum, even if I wasn't concerned about dropping spoilers. Cho tells a couple great stories about N.P.H., including how they accommodated the real life story of his coming out of the closet between the H & K Escape from Guantanamo Bay and 3D XMas.
15:23- After talking about director J.J. Abrams, with whom Cho worked with on the new Star Trek reboot, he tells a great story about working in the new film with Danny Trejo, one of the most intimidating actors Hollywood has ever produced.