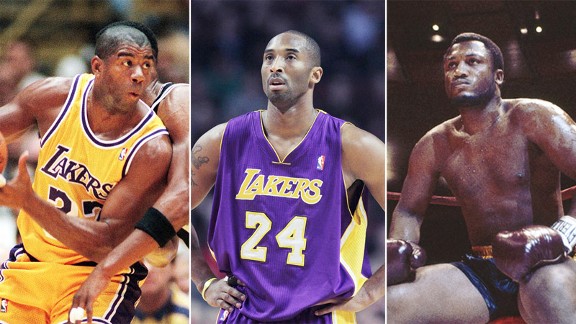 AP Photo
All three are legends, but only two boast a true rival.
The death of heavyweight legend Joe Frazier has naturally prompted considerable conversation about Muhammad Ali. Intense rivals, the two fought on three occasions, the first a victory for Frazier, and each match is regarded as a classic. The barbs Ali tossed at Frazier were outside the lines and below the belt. Ali's presence overshadowed Frazier's, but ultimately help create a foundation for the latter's legacy. They are permanently intertwined.
Monday also marked the 20th anniversary of Magic Johnson's HIV press conference, and while the remembrance of this milestone obviously didn't center around a rivalry with Larry Bird, that chapter of Magic's life also wasn't ignored. We've been reminded of how Magic selected few friends to learn about his situation from him rather than the media, Bird among them. Plus, HIV prompted his retirement, which in turn prompted reflection, and it's impossible to remember Magic's career without Bird entering the picture. The two are synonymous, which added a wonderful layer to an already iconic story.
Thinking about Frazier/Ali and Magic/Bird, I was reminded of how Kobe Bryant, despite 15 unforgettable seasons under his belt, never really enjoyed a legitimate rivalry. Unless you count the one with Shaq, but that hardly qualifies in this context. As teammates, their quarrels were depressing and counterproductive, even acknowledging the championships. As ex-teammates, the war of words has largely been one-sided, with Shaq dragging himself through the mud by refusing to let go. Either way, it's hardly been inspirational.
From there, it's hard to peg exactly who Kobe's rival would be.
The closest contemporary beyond Shaq in terms of respect and accomplishment would be Tim Duncan. However, they're apples and oranges positionally and share nothing but mutual respect. Besides, the Big Fundamental is linked directly to The Big Diesel.
Paul Pierce and Kobe squared off for rings in 2008 and 2010, but that came after The Truth spent several seasons drowning in Celtic mediocrity.
Allen Iverson and Kobe were drafted in the same class, guarded each other numerous and even faced off for the 2001 title. But oddly enough, Ty Lue is the memory for many when it comes specifically to Iverson, whose teams never matched that peak again.
Steve Nash's teams got the best of Kobe's in the playoffs, but the blame was hardly Bryant's. In the meantime, Kobe's ring count bests Nash's by five, and the most vivid image from those series may be Bryant posterizing him. (While we're on the subject of Phoenix, Kobe's feud with Suns role player Raja Bell was entertaining, but nonetheless doesn't qualify.)
Vince Carter and Tracy McGrady, once talked up on Kobe's level, have since fallen well short.
Dwyane Wade has one ring and LeBron James two MVP awards, but are considered part of another generation and never battled Kobe for anything important. Fellow 2003 draft class member Carmelo Anthony hasn't earned the right to even be considered.
The closest candidate is probably Ray Allen, in that he's multiple All-Star, he and Kobe clearly don't get along and they squared off in two Finals. But without additional fireworks in the near future, does anybody expect "Black Mamba v. Jesus Shuttlesworth" to be regarded as the stuff of legend 10 years from now? Not me.
When Kobe hangs up the sneaks for good, the odds heavily favor doing so without any obvious rival. It's been a ridiculously satisfying career, but I'm now wondering if the absence of a rival ever feels conspicuous to Laker fans. If there's something "missing," so to speak.
To be clear, I'm not asking people to "grade" Kobe's legacy. Or worse, detract from it. That would be petty, futile and stupid. As I've written many times, Bryant's legacy is essentially bullet-proof. It is what it is, and it's pretty amazing. Still, we often get greedy for storybook perfection, which for many might include the mano y' mano. I'm genuinely curious if fans wish this exceptionally successful, fascinating, wholly unique career contained one additional facet.
Then again, perhaps the lack of rivalry is just another part of what's made Kobe's career so singularly its own. Or merely a reflection of how Bryant has operated without a true peer throughout his career.