As part of a continuing series, NBA players share how growing up in L.A. shaped their games.
We bring you the second part of our interview with Baron Davis, the NBA player we feel most epitomizes "L.A." Between his upbringing with roots in South Central and Santa Monica, plus an eye fixed on Hollywood and the next generation of ballers, Los Angeles remains a huge part of Davis' identity. In part I, he talked about learning the game as a child, the influence of his family and neighborhood and how he arrived at the prestigious Crossroads School. In part II, the L.A. journey continues.
Land O' Lakers: During your senior year, Crossroads won the state title by absolutely destroying Sacramento Encina 93-57. How did such a lopsided win happen?
BD: In high school, we were good. [And] they were a real challenging team. So when we run out for the warm-ups, they were looking at us, like, laughing! Like we were a joke. I think they were a tougher team. I don't know what neighborhood they were from, but they d--- sure acted like it. They were just shaking their heads, like, "C'mon, dude! This is Crossroads? Which one is Baron Davis? Are you serious?"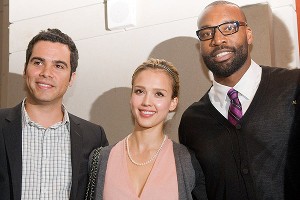 Kris Connor/Getty Images
Before working on movies together, Cash Warren and Baron Davis led Crossroads to a state title.
I was like, "Dude, we're about to beat the s--- out of you. You have no idea what's about to happen." (laughs)
That was the best game we played as a team and that was probably the best all-around game I ever played at the school. I think I was the second- or third-leading scorer of the game. The guys that were seniors, myself, Cash Warren, LeQuan Tolbert, it was our last time knowing we'll ever play with each other. So it was like, once again, somebody is underestimating us, let's go smack them in the mouth one more time.
And we had lost in the semifinals [the year before]. We were so hungry it was crazy. That's why we beat them by [46]. We were throwing the ball off the backboard by the end of the game. We were so afraid to lose. There was 10 seconds left in the game, we were still pressing and laying the ball up. It was crazy.
Land O' Lakers: You guys had already beaten Christ the King and some other great schools across the country.
BD: We beat Christ the King. We beat Simon Gratz. We beat Inglewood. We lost, I think, to Mount Zion, we lost to Dominguez at Dominguez, Crenshaw at Crenshaw. When we lost to Dominguez, they were No. 1 in the country. When we lost to Mount Zion, they were No. 1 in the country. And going to Crenshaw thinking you were gonna get a victory, you have a whole other thing coming.
We were up 20 going into the fourth at Crenshaw. Then all these [Crips] came in the gym and I just felt real uncomfortable. (laughs) The thing about Crenshaw, they never stopped playing. They were like Golden State -- no lead was too big for them to overcome. And we were playing in their house. And once the Crips walked in, it was like a whole different thing with me. It was like … OK … uh … where are my homeboys at? I was a little distracted at the time.
If you put that in the article, the dudes who were standing on that wall, they know what I'm talking about. They'll read that and laugh, I guarantee.
Land O' Lakers: Is that why the Crips were there? Or were they just there to watch the game?
BD: I don't know. I just know they came in right in the fourth quarter and that was very uncomfortable. We were up 20 before they walked into that gym … My antennas went up. They had to go up, you know what I mean?
Land O'Lakers: You graduated the same year as the Collins brothers, Chris Burgess and Schea Cotton. It was considered one of the best high school basketball classes in SoCal history. How aware were you of the hype, and being part of that moment?
BD: It wasn't really like no hype, because we never got credit out here. For me, I was always ranked 27th, or ranked 30th. I think it was the same with the Collins twins. Burgess, I think he and Schea, they [didn't get] lot of hype early, but myself, Tayshaun [Prince], the Collins', we were right there just as good as everybody else. But Schea, and Kenny Brunner, and Chris Burgess, they were like prime-time players. But still, from a West Coast perspective, on a national front, we never really got a lot of credit. It still happens to this day. We're always stereotyped.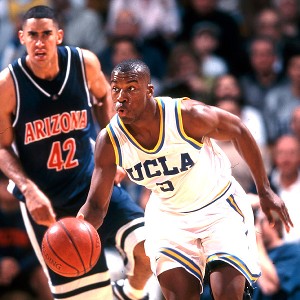 John McDonough/SI/Icon SMI
Davis may have felt pushed toward UCLA, but wouldn't trade the experience for the world.
Land O'Lakers: Did that motivate you?
BD: Of course! Think about it, when I show up to Nike camp and I don't have any type of fame, and they're like, "Oh, Baron Davis. You go to Crossroads in Santa Monica by the beach." You can already [tell] what somebody is going to think about me. They have no idea who I am, so that's an advantage right there. And then on top of that, where I am from, my mentality is different when I play basketball."
Land O' Lakers: With the situation surrounding your recruitment to UCLA, how difficult was it to be in the center of that controversy, particularly when it involves your family?
BD: It was very difficult because as a kid, all I'm doing is hooping. Playing basketball, and nobody cares about me anyway, you know what I mean? Nobody cared about Baron Davis for so long, and then all of a sudden, it's like all these articles are coming out. People are passing judgment or thinking they know me. It's more so like I was embarrassed, because I didn't want to disappoint my grandmother, or bring no ill pressure, or ill stress on her.
Land O'Lakers: You talked at the time about feeling rushed into UCLA in the first place, to give that early commitment. Where did that pressure come from?
BD: From a lot of places, man. A lot of places, a lot of people. It was always like there was no doubt in anybody's mind that I was going to UCLA, so once UCLA started recruiting me, everybody started pushing me there. I was just like, I wanted to make the best decision for me. The first time I committed, I just felt like there was so much pressure. You know what I mean? It was stressful. It wasn't a fun thing, because everybody was chiming in. Everybody was in my ear. I couldn't enjoy being a person that nobody cared about. I was cool like that. I was cool minding my own business, and now everyone was in my business.
There was really not a lot of people to turn to. So I felt like if I did that, it would take a lot of pressure off myself at school, and just being more a regular kid.
Land O' Lakers: Is there a link in terms of how you ended up at Crossroads? Your grandmother and family demanding you go there, and then UCLA, where you were pushed, too? Was there some resistance to not being allowed to make your own decision?
BD: Kinda. And my grandmother, she said, "I want you to stay home." She really wanted me to stay home. She was like the person who told me when I wanted to transfer from Crossroads to go to Fremont, "No, I don't think that's a good idea and I'm not going to let you do that. This is what I think you should do." She was just adamant about UCLA.
Land O'Lakers: You eventually made your decision right before a Clippers/Jazz game on TV. It was like "The Decision" before "The Decision."
BD: (laughs) That was crazy. It was like, 30 people there, in Fox Studios. I thought I was going to go announce like everybody else, and they came up with this whole thing for me to throw these hats … I was like, "Uhhhh, not really." I was still trying to plan the decision in my head, and hoped that I was going to make the right decision. Because of my relationship with Paul Pierce I knew I could win a national championship going to Kansas, so it was still heavy in the back of my head [to go somewhere else]. And then [the Fox Sports producers] were like, [we think it would be cool to do the hat thing]. I was like, "What do you want me to do with the hat?" They were like, "Oh, just throw it in the crowd."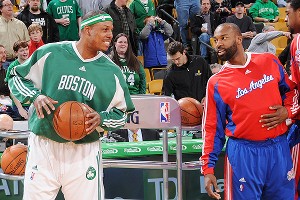 Steve Babineau/NBAE/Getty Images
Davis has since forgiven Paul Pierce for stealing his food.
I remember I caught a lot of flak for that. Roy Williams sent me a letter that said I was disrespecting Kansas.
Land O'Lakers: You mentioned your relationship with Pierce. How far back does it go, and where did it start?
BD: Man, I've been knowing Paul since I was 9 years old.
Land O'Lakers: Where did you guys meet?
BD: At the Inglewood YMCA. I want to say I played fifth- or sixth-graders, and he was playing with like seventh-, eighth- and ninth. Andre Miller played in the league, too. I'll never forget, it was after the game, we won, and I went and bought a snack.
Then this dude just walked up, and he was like "Give me some of that!"
I was like, "What?" And it was Paul. He was like, "Hey man, give me some of that food, man." Then he snatched it out of my hand.
I was like, "Ummm … OK." I had seen him play the weekend before, and I was like "Alright, dude! I get to hang out with Paul Pierce!" But from that point, we were playing on the same AAU team. I was the young point guard, but Paul was always one of the best players -- he was the best player on the team.
Land O'Lakers: What was his game like at that point?
BD: Same way. Smooth, could score effortlessly. Real lazy, lackadaisical, laid-back … but next thing you know, he's got 28. But he was so laid-back and smooth, you just thought he was lazy or wasn't pushing hard.
So I was like, "Alright, you can have my food, dog. It's all good. You're Paul Pierce."
Land O'Lakers: When you look back at your time at UCLA, what stands out the most?
BD: That I wish I would have won a national championship. I probably wish I would have stayed. I wish I would have stayed another year. I always played that in my mind, even when I left. I kind of really wanted to stay another year.
But as far as the way I look at UCLA? UCLA is my heart, man. Crossroads changed my life, UCLA made my life. All the people that kind of mentored me, all the people that I met. All my friends are still my friends now, and the same people that take care of me now. UCLA takes care of me. I'm a Bruin for life.
Land O'Lakers: What do you consider the "L.A. in your Game?" The part of your game that most reflects growing up out here?
BD: I don't know, that's a good question. I wanted to create a different version of an L.A. style. I was a point guard, I was dunking, trick passes. I would say the flair. Pay attention to the detail. It's the same thing, it goes back to Paul Pierce, or Tayshaun Prince. Pay attention to the details, and you'll see. That's L.A.
Land O'Lakers: Brandon Jennings in this series described you as "The Godfather of L.A. Basketball." What does that mean to you?
BD: That's the highest compliment I could ever receive, especially coming from him. It's definitely humbling. But the whole "godfather" thing, it's not so much a godfather, I'm their big brother. When I went to the NBA, from Brandon to Pooh Jeter, to Bobby Brown, Trevor Ariza, Craig Smith -- ask any of them dudes. I was always around and available for them. And they were with me. So everybody, no matter what I was doing, I was doing it so they could see it. So they could have it. Come watch me play. Let's go somewhere. I wanted them to see everything that I was doing, so it would be something they knew that they could get to.
This next generation of L.A. basketball is so exciting to see, you know what I mean? It's so exciting to see what's on the horizon for them. Now, we're finally starting to get our respect in the NBA.
Land O'Lakers: If there's one upside of the lockout, it's something like Drew League, which has given a real showcase for everyone that comes through here.
BD: And that's why the Drew League has been around for 38 years. 38 years, and getting stronger. So that was just a blessing to see that. That's the league that made us all. I would say if there's anything [L.A.] about my game, it's the Drew League. That's how you can define my L.A. Just go down to the Drew League.
Previous entries