Standing in that meeting room Monday afternoon in Times Square, things felt grim. Today, a little less so.
The NBPA, now the world's tallest trade association, has in David Boies a legal eagle currently bringing a level of calm to the proceedings in otherwise short supply. How much it matters in practice is still open for debate: Just as fiery rhetoric can disguise moderation, so too can moderation disguise a more strident position. For now, though, Boies doesn't sound like a guy desperate to get the league into a courtroom, or unwilling to continue negotiations.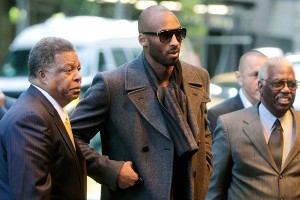 AP Photo/Seth Wening
Is this the face of a man excited to join a trade association? If not, it's hard to blame him.
But that there will be a season, in one form or another, is hardly a given. There's still an all-too-legitimate chance the whole thing gets canceled, and with that the impact on the Lakers, as individuals and a team, would be profound.
Starting with Kobe Bryant.
The list of his losses in the event of a "nuclear winter" is hefty. Start with the obvious, namely $25.2 million in salary his bank account won't see. Yes, he's earned -- earned-- vast sums over the course of his career (pocket change over $196 million, for those scoring at home), but I don't care how rich you are, losing $25 million is no fun.
What he loses on the court is tougher to price out.
Kobe has missed only 94 games in his 15-year career (and only 16 since '06-'07) because of injury or suspension, but should the season disappear he will have lost a total of 114 games thanks to labor strife. Thirty-two in 1998-'99, and another 82 now. Just as the money is gone forever, so are the stats he'd likely have posted. During the first lockout-shortened season, his first as a full-time starter, Bryant averaged 19.9 points a game. That's 640 points, give or take, disappearing into the ether. Using last season's scoring average (25.3) as a guide, it's reasonable to believe a full 2011-12 season would bring another 2,000, give or take.
Maybe games are played and he gets some of the missing inventory back. But maybe not.
Bryant is sixth on the NBA's all-time scoring list with 27,868 points. When he finally hangs up the sneaks, will he miss those 2,600 or so points? Would they be enough to guarantee he passes Michael Jordan for third on the NBA's scoring list? Would they get him to Karl Malone for second? What about the other big categories? Whether games played, minutes, steals, and so on, the same "what if's?" apply. Kobe already has high end real estate secured on the NBA's Mt. Olympus, but it's impossible to argue another 100-plus games wouldn't enhance his final statistical profile, and equally impossible to deny the link between sports history, stats and perception.
What other superstar has had his career impacted this way?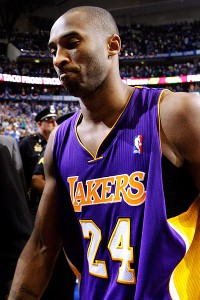 AP Photo/Tony Guitierrez
Losing the 2011-12 season would mean Kobe will have lost more games to labor problems (114) than injury or suspension (94) over his 15-year career.
The biggest cost, though, is time. While nobody takes better care of his body or is willing to sacrifice so much of himself chasing a singular purpose, even Kobe Bryant's run as an elite NBA player has an expiration date, as does his career once elite status is gone (though at that point how long he'd continue is a matter of debate). Last spring's playoff debacle, combined with the lockout, has afforded Kobe the rare opportunity to get as healthy as his body allows, but by this point he's had all the rest he needs. The clock may have stopped on his NBA career, but it hasn't on the aging process.
This stage of his career demands he win now, and the team around him is built to do just that. There are rules almost certainly coming down the pike that will ultimately make it harder for the Lakers to dominate as they've done throughout Kobe's career. I give Kobe about three more seasons as a truly elite-level player, capable of headlining a championship-caliber team. Some might say four, others perhaps two. Whatever the calculation, a canceled season likely steals anywhere from 25 percent to 50 percent of the prime parade generating years he has remaining. Could be the difference between five championship rings and six, or if fortune shines especially bright, six and seven or more.
The Kobe/Jordan comparisons prompt plenty of "Not again!" eye rolls, from Bryant particularly, and can't be quantified simply in terms of jewelry, but the symbolic value for Kobe of tying M.J.'s ring count is huge, of exceeding it that much more so. And while he might downplay the significance, does anyone really believe tying/passing Jordan wouldn't have incredible personal meaning for Bryant?
The lost time is especially disappointing given the rare space his career currently occupies, as a man more fully formed in maturity, experience and temperament, yet still possessing a healthy portion of the skill making him so special. Most athletes lose the latter just as they gain the former. Kobe has, for the most part, held on. As a man who loves challenges, figuring out how to defy the aging process has to be the most intriguing he's faced. If that's not enough, there's the challenge of silencing the doubters, whether real or perceived, winning without Phil Jackson, and pushing the right buttons personally and as a team leader.
It's not shocking to hear Kobe was hoping a deal would be made this week. He's a man with much to lose. Bryant has handled things well, generally staying in the background and lending his weight where it can be beneficial, particularly in support of Derek Fisher. If he's upset at the outcome, at no point has Kobe allowed his frustration to undercut the larger body.
And if he's upset, who could blame him? We all are, even those without so much at stake. As fans, we're short a means (significant for sure) of entertainment and escapism.
At a most critical juncture, Bryant is out a chunk of his life's work.