Two years before he was 1964's College Player of the Year, teaming with Gail Goodrich to help UCLA to a historic 30-0 record, the school's first national title, and igniting John Wooden's never-to-be-equaled run of 10 in 12 seasons, Walt Hazzard was a slick sophomore guard from Philadelphia who basically talked his way onto Wooden's squad.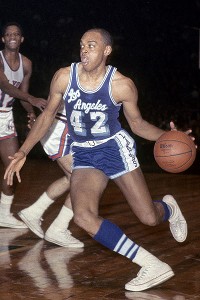 Focus on Sport/Getty Images
As a pro, Walt Hazzard exchanged UCLA blue for Lakers blue, after being drafted with L.A.'s top pick in 1964.
Wrote Sports Illustrated's Ray Cave in March of 1962:
"Hazzard can, has and still does dribble the ball behind his back or between his legs. He shoots passes through holes where you couldn't throw a golf ball. The trouble in those first weeks was that nobody else believed what he could do. He would drive down the floor and jump as if to shoot. "Showboat," the fans would mutter. "Showboat," his teammates would sniff, hands at sides. And wham! A sizzling pass would hit one of them in the stomach and bounce out of bounds. He hadn't shot after all. " Hazzard takes some getting used to," says Wooden. "The boys had never seen anything quite like him." But the boys began to like what they saw. They called him "East Coast."
That year, he led UCLA to its first conference title since 1956 and a surprising berth in the Final Four. From there, his profile, and UCLA's along with it, only grew.
Hazzard won a gold medal in the 1964 Tokyo Olympics, and the Lakers made him their first round pick in the 1964 draft. He played three seasons in L.A. before Seattle chose him in the expansion draft. In the Sonics' inaugural season, Hazzard averaged 24 points a game, and was then traded to Atlanta for Lenny Wilkins. Hazzard would play for Buffalo, Golden State, and once more in Seattle before retiring after 10 years in the league. Returning to UCLA as a coach in 1984, he led the Bruins to a 77-47 mark over four seasons, including one NIT title.
In 1994, he returned to the Lakers as an advance scout, and despite suffering a stroke in 1996 stayed with the organization for another 15 years.
Friday night, long in ill-health, Hazzard died. He was 69. Over my time covering the Lakers, I didn't get to know him, but observed those who did. Their respect was palpable. Andy and I have been lucky enough, though, to have many conversations with his son Rasheed, who served in a variety of roles with the Lakers over the last few seasons, including as an advance scout and special assistant on Phil Jackson's staff. You won't meet a better, harder working guy.
As the city celebrates the life and mourns the death of Walt Hazzard, our best wishes go out to Rasheed and the rest of his family.