UPDATE (8:00 pm PT): Click here for some early insight into how the schedule might shake out.
Their original 2011-12 schedule, now run more than once through the paper shredder thanks to the lockout, had the Lakers playing 56 games from Christmas and beyond. If all goes according to plan, the league will soon issue a new slate of games for L.A. and every other team. Sixty-six games, starting on Christmas. Doesn't necessarily sound like a lot, but the difference is significant.
NBA.com's John Schumann estimates each team's weekly load will jump from 3.5 games to a hair under four, exactly the same pace of the 50-game 1998-99 season, one players will tell you was pretty brutal physically. While the details (in which lies the devil) are still to be determined, the revised schedule by definition means more back-to-backs (in '98-'99, there were back-to-back-to-backs, as well) along with fewer full days off following travel.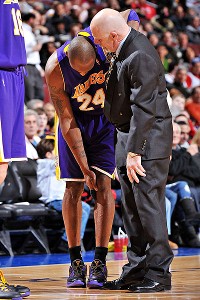 Jesse D. Garrabrandt/NBAE/Getty Images
With games coming fast and furious this year, Gary Vitti will have his work cut out for him keeping Kobe and his teammates healthy.
All told, it's potentially onerous. Below are a few ways in which the new layout could impact the purple and gold, both positively and negatively.
1. Kobe Bryant. Without question, Kobe enters this season healthier than he's been in years. No major procedures save a therapeutic, PRP-esque treatment he received in Germany, plus ample time to rest and recoup following last season's early playoff exit and the lockout layoff. By all accounts, he looks good and on the one hand, likely to benefit from avoiding the 82-game grind. On the other, he'll be robbed of critical days off affording extended treatment, rest and healing. Whatever physical problems develop in the knee or anywhere else will have more potential to dog him.*
Despite an unshakable respect for Kobe's physical conditioning and willingness to do whatever can be done to keep his body together, factoring in postseason run he's over 48,000 minutes, the equivalent of nearly 18 seasons. It's not like he's spent that time lollygagging around, either. Maybe he can hit the "pause" button on the aging process, but "rewind?" I'm skeptical. Ultimately, there's a good chance by March and April, he's working through many of the same injuries with which he's dealt over the past few seasons.
The good news? Nobody needs to worry about whether or not he'll show up in shape, even "pause" would constitute a big win for the Lakers, and if anyone is capable of bending the curve in a positive direction, it's him. Now back to the bad: Concern over how Andrew Bynum's body will respond to the pace is totally legitimate (though he appears to have been working very hard to build his body this offseason) as are, given his previous history, questions of whether Lamar Odom will arrive to camp in high end form, ready to roll.
Nobody gets a chance to play himself into shape this year. Players starting the year behind the 8 ball from a conditioning standpoint will stay there, increasing their potential for poor play and risk of injury.
*This is hardly a Kobe-specific problem. Every player in the league will have fewer games in which to get injured, but less time to recover if they do. The level of concern is just higher because he's Kobe Bryant and the level of everything is higher.
2. New Coaches, New System. Let's assume camp opens Dec. 9, and the season on Christmas. That leaves a two-week training camp/exhibition season, much of which will be spent with the coaching staff sporting "Hello, My Name Is _____" stickers on their new Lakers polo shirts. Keep in mind, too, the roster won't be set when they throw open the doors in El Segundo. Any free agents signed will be added as "camp" goes along, integrated in a very short period of time. This is a problem every team faces, but not all of them have new coaches, will be adopting a new system after years of continuity, or have such high standards for success.
Not only will the Lakers have little time to absorb Mike Brown's offensive and defensive schemes before Christmas, but once the season begins will have fewer practice days to master it. Tied into the question of Kobe -- during his exit interview last season he pledged to practice more regularly, but will the new schedule allow it? -- and it's reasonable to ask how deep a level of mastery of Brown's vision the Lakers will achieve this year.
The coaching staff will likely respond by limiting the amount of change players need to absorb, adjusting their plans to fit a roster filled with high-I.Q. guys. Kobe, Pau Gasol, Odom, and Bynum are capable of quickly adopting virtually any system. (I put the over/under at 14 on "It's just basketball" quotes from Bryant following the first day of practice when peppered with "How is it different under Brown?" questions.)
Still, last year many Lakers noted how, as a group, they were unable to get past the basic steps of their offense. Yes, the triangle is more complex, complicated by a few new parts to integrate and faulty team rhythm, but the majority of the roster had been running it for years. They knew the system and still couldn't execute. Moral of the story: The game isn't easy. Gaining next-level performance and trust takes time and repetition, neither of which will be in ample supply at any point this season.
If they can pull it off, the schedule can then work for the Lakers, since a compressed calendar ought to favor teams working with some basic continuity. This the Lakers should have, given the unlikelihood of sweeping changes before the season opener. Even if they don't entirely know the system, they'll know each other.
3. Focus. If there's a place a veteran team like the Lakers benefits, this is it. We all saw their collective focus wander throughout last season, leaving them capable both of brilliant runs of success and losing to a Cleveland squad that had lost 37 of its previous 39 games. Finding extra motivation this season won't be hard, given how the last one ended. Add the, as Kobe put it, "low hanging fruit" (too old, can't win without P.J., can't win with Brown, title window has closed, and so on), and extra incentives are even easier to find.
Still, don't discount the role of the calendar, which makes every game and practice more important, and almost makes playoff preparation a priority. Whatever narrows L.A.'s focus can only enhance the team's title chances.