When last we saw Andrew Bynum, he was addressing the media during his exit interview. After his apology to Dallas' J.J. Barea for a dirty flagrant foul, he expressed thoughts on his role in the offense: Namely, it needs to be bigger.
Between Drew's steady improvement, Mike Brown's stated plans to replicate the Duncan/Robinson Spurs and Kobe Bryant's regular reminders of the order in which teammates "eat," consternation over how the post-triangle offense is a given. And not without valid reasons. The division of touches between seven footers and one of the all-time great scorers has been a dicey topic for years. The Mamba is admittedly dead set on "shutting up those MF's saying I'm done," and he led the league in usage rate last season as it is. In the meantime, Bynum isn't afraid to speak up when he thinks the game isn't played inside-out enough. A full blown "Kobe-Shaq II" is probably a long shot, but tension between the shooting guard and the center isn't out of the question.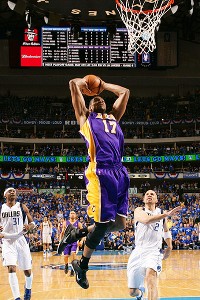 Danny Bollinger/NBAE/Getty Images
Is there room on the Lakers for Andrew Bynum to stake his claim?
Still, sexy a storyline as this undoubtedly is, the number of shots allotted for Bynum is actually just a microcosm of the bigger issue: He wants more... period.
This is plainly obvious in the way Drew relished his role -- and recognition -- as last year's unofficial defensive captain over a 17-1 stretch when the Lakers looked unbeatable. In the way he's become a more vocal presence with the media, typically offering the least sugarcoated opinions. In the way he's now less willing to be seen as the kid among veterans.
Bottom line, Bynum wants more on his plate, along with a bigger stake in the Lakers' success moving forward.
In theory, this is exactly what you'd want from a highly skilled youngster theoretically tabbed as the next franchise player. In reality, it's not so simple.
For starters, there's absolutely zero proof Bynum is physically capable of handling an increased workload. This season features just 66 games, which is still one more than Drew has played in any campaign since 2007, when he averaged just 22 minutes a night. How confident can one reasonably feel centering the game plan more around a player perennially in street clothes? It's also fair to question whether Bynum's mentally ready to shoulder more responsibility. His elbow to Barrea's ribs was a carbon copy of blows previously exacted against Gerald Wallace and Michael Beasley, reflective of a kid easily frustrated and struggling to control his temper. A budding leader can't risk taking himself off the floor so easily.
Frankly, can he even emerge a leader with so many established veterans on hand? I don't doubt the older players respect Drew, but at the same time, the Lakers already have an unquestioned alpha male (Kobe), a dude nicknamed "El Presidente" (Derek Fisher) and an established emotional leader (Lamar Odom). Throw in the stature enjoyed by Pau Gasol, and there's not much room for another presence, particularly one still too young to rent a car. Maybe that's why Drew's "trust issues" comments didn't shake things up in the playoffs. While it's certainly possible the Lakers' collective energy and chemistry may have irreversibly bottomed out by then, I have to imagine if Fish made the same remarks, the response might have been more urgent.
It's actually fitting that as the Lakers begin this crucial era under Brown, Bynum will be serving a five-game suspension for the hit on Barea. One way or another, the Lakers always seem to be operating without Bynum, even as he remains part of the conversation. His teammates value what Drew brings to the table, but they're nonetheless plenty comfortable working without their center.
Bynum has been the subject of trade rumors and debates his entire NBA career, his value constantly measured against everyone from Kevin Garnett to Chris Bosh to Jason Kidd. These days, it's Dwight Howard or Chris Paul. But for all the time spent analyzing whether "Team X" would pull the trigger or Jim Buss' willingness to move the kid he helped draft, I've often wondered if Drew might actually want to be traded. Were that the case, I wouldn't blame him. I've always gotten the impression Bynum likes being a Laker, but spreading his wings in L.A. is no simple task.
No matter how much better he gets, a few years will be required before he can possibly pass Kobe as the franchise face. He shares a front court with Gasol, who may be older and fresh off a subpar season, but remains the better player. Several supporting players -- Fisher, Odom, Metta World Peace -- have higher profiles or more established identity. Heck, even ex-supporting players like Trevor Ariza and Sasha Vujacic carved out more direct pipelines to recent championships.
It would be overstatement to claim Drew hasn't fit in as a Laker, but he nonetheless hasn't truly staked his claim. For certain, health has interfered, along with the simultaneous blessing and curse of being part of a team steeped in talent. Still, after six years in the league, Drew is an "old" 24 year-old who appears antsy to change this. The urge may be reasonable, but perhaps not practical.
Either way, for my money, it's the most interesting subplot this season has to offer.