Heading into the weekend, ESPN.com's Marc Stein, reported the Lakers are among the myriad teams interested in Nuggets swingman Arron Afflalo. They, along with other cap-strapped teams like Chicago, "will continue to press the Nuggets to see if they're amenable to sign-and-trade discussions."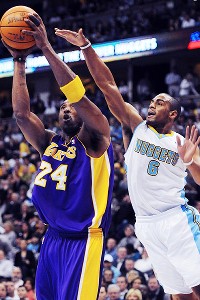 AP Photo/Chris Schneider
In a perfect world, Arron Afflalo (right) would be in purple and gold next season. This isn't that world.
Understanding why the Lakers like Afflalo so much isn't complicated. At 26, the L.A. native and UCLA product has taken what was once a game built solely on defensive intensity and scrappiness, progressively added more offense, and now is widely seen as a player on the rise. For three seasons, he has shot over 40 percent from 3-point range (including last season's 42.3), and has improved his overall percentage from the floor in each of his four NBA seasons.
Afflalo would fill multiple needs for the Lakers, including shooting, youth, defense, and supplementary scoring. Culturally, he'd be a great fit. Really, the whole thing is a spectacular idea.
I have absolutely no idea how the Lakers can actually get him.
A straight signing isn't an option. As a restricted free agent, Denver can match any offer extended to Afflalo and have indicated they'll do so. (Not only because he's good, but because the Nuggets have, like, three players under contract.) Certainly they'd pony up to meet the only offer the Lakers can make -- the mini mid-level worth just over $9 million over three years. This is assuming Afflalo would even sign such a wildly under market offer, which he wouldn't.
So what about a sign-and-trade? Between luxury tax levels remaining dollar-for-dollar over the next two seasons, the flexibility afforded by the amnesty provision, and the upcoming influx of dollars from their TV deal, the Lakers could handle the first part of the hyphenate. It's the "trade" part at the end causing problems. Remember in "Butch Cassidy and the Sundance Kid" when the pair arrive in sparce Bolivia, and Butch tries to reassure Sundance that you get a lot more for your money down there?
"What could they have here," Sundance replies, "you could possibly want to buy?"
In many significant ways, he might say the same today about L.A.'s roster.
The Lakers lack top-end young prospects and high draft picks. Whether you're talking Metta World Peace, Steve Blake, Matt Barnes, or Luke Walton, none of the guys constituting the roster's middle class have any trade appeal. At the high end, plenty of teams would go for Andrew Bynum and/or Lamar Odom, and if put on the open market Pau Gasol would be sought after, too.
Except Gasol and Bynum are both far too good to give up for Afflalo. Moreover, if fans have any designs on trades for superstars like Chris Paul, Deron Williams, and Dwight Howard, some combination of Bynum, Odom, and Gasol will be needed. It makes it tough to use those bullets on Afflalo, or anyone else.
So the bottom line appears to be this: Save some absolutely astonishing Jedi mind tricks played by Mitch Kupchak on opposing GM's, Arron Afflalo isn't coming to the Lakers. Not unless it's part of a mega-beyond-words trade netting the Lakers Afflalo and Howard (or Paul, or Williams), because when it comes to sign-and-trades, the Lakers may only get one shot, and basically need to blow up the Death Star with it.
Fire up your trade machines, and send suggestions to El Segundo (and our Twitter feed).
To subscribe to the K-Bros podcast via iTunes, click here. Subscribe to our YouTube channel for full video coverage of the Lakers.