Because 24/7 chatter about Dwight Howard coming to L.A. isn't enough to reinforce the stereotype of the Lakers as the NBA's Yankees, along comes another "a star in purple and gold" scenario. As ESPN's Chris Broussard and Marc Stein report, sources within the New Orleans Hornets organization are growing convinced Chris Paul will have to be dealt before the season's start. And as first reported by Adrian Wojnarowski of Yahoo! Sports, there have been preliminary discussions between the Lakers and Hornets about his availability. Woj portrayed these talks as "circuitous," ongoing, and emphasized no formal offers were made by either side.
However, it's apparently clear Pau Gasol as a centerpiece has been deemed unacceptable. The Hornets want Andrew Bynum, which in theory is problematic. If the Lakers are as dedicated to getting Howard as rumored, it's hard to imagine Orlando wouldn't declare Drew a mandatory prize as well. By offering Gasol to New Orleans, the Lakers might be angling to somehow wangle both cats and beat Miami at its own "super team" game. However, since Drew can't be traded twice at once without that machine Michael Keaton used in "Multiplicity," it appears a choice must be made.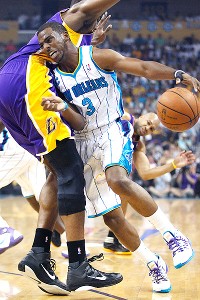 AP Photo/Patrick Semansky
Would going smaller be bigger for the Lakers?
That being the case, Howard is first priority. He's the best big in the league, younger than Paul and indestructible. He has missed seven games in the last seven seasons, and four were because of either suspension or the stomach flu. Yes, that means passing the opportunity to fortify a bigger weakness (point guard) to exchange arguably the NBA's second-best center for the first. However, the leap from Bynum to Howard is pretty significant in its own right, if for no other reason than you can count on Howard dressing. And in terms of setting up a franchise for the future while fortifying the present, it's darn-near impossible to come up with a better approach than obtaining Superman.
Straight up, I'd make that move without blinking. If that means moving Lamar Odom and taking on Hedo Turkoglu's bloated deal, same reaction.
Still, Paul is one helluva consolation prize were Howard impossible to land for whatever reason. And if Bynum is what it takes to bring CP3 to town, I'd pull the trigger, too.
Conventional wisdom generally discourages moving a seven-footer for a player six feet in platform shoes, but in this case, schools of thought should take a back seat to details. On several levels, Paul would help the Lakers tremendously.
- Even as someone who thinks the hand-wringing over weaknesses at point guard is somewhat overwrought, there's no denying just how massive an upgrade Paul represents over Derek Fisher or Steve Blake. The Lakers would go from the NBA's least productive tandem to starting, in my humble opinion, the baddest lead guard in the Association. Paul's abilities as a distributor aren't bested by anybody and he can still score at a very efficient clip. He doesn't have to score 20 points a night on the Lakers to earn his keep, but make no mistake, he can do it.
On the other side of the ball, Paul is more capable of slowing the Derrick Rose's, John Wall's and Rajon Rondo's of the world than Fisher or Blake. Granted, nobody shuts down elite point guards down on a regular basis, so the Lakers will still get burned by pick and roll with Paul. But I'm guessing the issue will be lessened, and in the meantime, at least the Lakers now have a point capable of giving as good as he gets.
Whatever the Lakers lose in Bynum as a rim protector -- and this would hurt -- they at least gain in a guy who can hopefully make it harder to reach the rim in the first place.
- Paul wouldn't just shore up the Lakers' deficiencies at the point guard. He's a great outside shooter, and that's the one skill set the Lakers are most in need of addressing. Paul has averaged around 40 percent from beyond the arc the last two seasons, and is judicious in deciding when to let fly. He'll often have the ball in his hands, but those times when somebody else controls it, the floor is stretched.
- Speaking of mitts in which the rock will reside, it's not exactly a government secret Kobe Bryant gets first dibs. It takes a special player to convince The Mamba to give up control on a regular basis, and as of yet, the Lakers haven't found him. But if anybody can sway Kobe on the merits of playing off ball more often, it's CP3. Bryant's respect for New Orleans' point guard is tremendous, and beyond just as a player.
Paul is among the few whose competitive streak is on par with The Mamba's. (This cannot be overstated. He is a nasty, nasty man on the court.) Plus, there is no amount of pressure capable of tripping up Paul, and those are the folks Kobe enjoys balling with.
When it comes to the question of a superstar added, a constant area of concern is always how much space Kobe would allow another elite player to operate. I happen to think he'd react quite well to Paul's presence, both as a teammate and the obvious candidate pegged to follow Kobe as the franchise "face." And until that changing of the guard is announced, we're looking at one seriously dangerous backcourt at the art of play-making.
- The Lakers desperately need another guy who can create his own shot. Paul qualifies as such.
- For all the (legitimate) concerns about Paul's health, save an injury-riddled 2010 campaign, he's been reliably in uniform over the last four seasons. Plus, his game has always been decidedly below the rim, so an inevitable loss of explosiveness has it's detrimental limits. That's not to say I wouldn't be concerned about, but at the very least, he's a safer bet for health than Drew.
- The NBA is evolving into a guard's league, and to keep up with the Joneses, fighting fire with fire rather than size might be necessary.
- If the Lakers aren't sold on keeping Bynum long term, there are few better exchanges than CP3.
Plus, there's one more reason I'd make this trade: Chris Paul is a better player than Andrew Bynum. End of story.
To put in perspective just how great he is, last season's numbers -- nearly 16 points, 10 assists, five rebounds and 2.5 steals -- prompted whispers about a steep decline. Obviously, Paul's one-man demolition crew showing against the Lakers in the playoffs put that issue to rest, but if those stats represent an "off-year," I'll take my chances.
Obviously, there are potential drawbacks, not the least of which is Drew's talents being missed. Making this move also means adding another reliable frontcourt player, since Gasol will get gassed playing 40+ minutes of center each night. And that could end up Emeka Okafor, as it wouldn't surprise me if N'Awlins demanded that contract be taken off its hands. Were that the case, maybe Odom or others would join Drew. (Here's one approach using the Trade Machine.)
Between Paul's extension and Okafor's contract, this would be a hefty investment for the Buss family. Then again, they're already paying a lot as it is, so it's worth considering what's the biggest return on those massive dollars.
A starting lineup of Paul-Kobe-MWP-Gasol-Okafor could do some damage, no?