The Lakers had a real problem with outside shooting last season.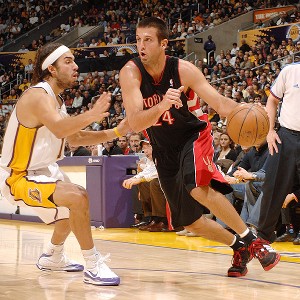 Evan Gole/NBAE/Getty Images
Jason Kapono likely won't be putting the ball on the floor much this year, but if he hits his 3's, it'll be $1.2 million well spent.
Outside shooting happens to be something-- really the one thing, from a basketball standpoint-- Jason Kapono is very, very good at. Plus, he comes cheap.
Mash those ingredients together, and the news from ESPNLA.com's Dave McMenamin the Lakers have agreed to a one-year, veteran's minimum deal for about $1.2 million makes some sense. The 30-year old Artesia High graduate and former UCLA product's career mark of 43.7 percent from downtown instantly making him the most accomplished bomber on the roster, and the Lakers don't commit anything substantial in dollars or contract length.
The move obviously comes with some potential downside. Kapono barely played last season in Philadelphia, averaging only 4.7 minutes in 24 games, and in '09-'10 he appeared in only 57. His effectiveness from beyond the arc has slid every season since converting an astonishing 51.4% with the Heat back in '06-'07. If Kapono isn't hitting triples, he's not bringing anything of value. Of course, if he wasn't in some way flawed, the Lakers couldn't actually afford to sign him. So you take what you can get, and in L.A., with so many dominant players requiring double teams in the post, Kapono should have opportunities to succeed.
How much he'll play or in what configurations is still an open question (I suspect the minutes won't be heavy) but as SI.com's Zach Lowe points out, the Lakers are in decent position to absorb Kapono's shortcomings, at least defensively: "This is where players such as Ron Artest and Matt Barnes, who willingly defend multiple perimeter positions, become so useful. The Lakers will have the luxury of hiding Kapono wherever they'd like if the right people are on the floor."
The Lakers still have plenty of work to do going forward in bolstering the roster. Looking at my list of "skill set free agents," Kapono isn't my first choice from the shooter bin, but he's not my last, either, and more importantly the Lakers bring him in without burning their mini mid-level exception, the only real lure they have in the F.A. derby. They needed a shooter and found, potentially at least, a very effective one, so long as expectations for other contributions are tempered. Plus, the price is such they can always go try and grab another.
Like most moves they'll make in this truncated offseason, you have to cross your fingers and hope it works out.
To subscribe to the K-Bros podcast via iTunes, click here. Subscribe to our YouTube channel for full video coverage of the Lakers.