"When a team trades u and it doesn't go down? Now what?"
Lamar Odom didn't even require 140 characters to pose the $64,000 question.
For those who felt it impossible to top the PR nightmare that was the NBA lockout, prepare to scoop your jaws off the ground, because the unthinkable has happened. Shortly after a newly ratified CBA announced the Association officially back in business, a huge deal was agreed upon by three teams. Chris Paul to the Lakers, Pau Gasol to the Houston Rockets and Lamar Odom, plus some assorted ex-ex-Rockets, to New Orleans. (Conventional wisdom also dictated this trade was a signal the Lakers were going full steam in their pursuit of Dwight Howard, with a still-on-the-roster Andrew Bynum as bait.)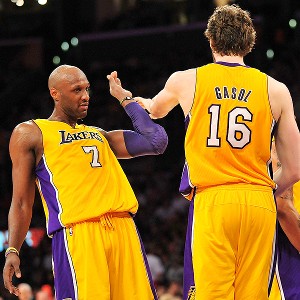 Gary A. Vasquez/US Presswire
Do not expect this joyous reaction when Pau and Lamar see each other at Friday's practice.
Was it ironic, since the new CBA supposedly made "superstar leaving his small market team for a marquee franchise" deals difficult? No doubt. Still, the Lakers sacrificed two very good players to obtain Paul. The Rockets got a four-time All-Star. And while I think the Hornets could have done better, they nonetheless obtained some quality players, including the reigning Sixth Man of the Year. The deal was hardly outrageous. Apparently, David Stern disagreed, because he decided out of nowhere to veto it. According to numerous reports, the Commissioner nixed the transaction due to pressure from owners. NBA spokesman Mike Bass disputed this, issuing the following statement:
"It's not true that the owners killed the deal, the deal was never discussed at the Board of Governors meeting and the league office declined to make the trade for basketball reasons."
It's an explanation that reeked of "pants on fire" even before Yahoo! obtained an email from Cavaliers owner Dan Gilbert urging Stern to veto. No word as to whether the opus was written in Comic Sans Font.
This is an absolute disaster for the NBA. It creates the appearance of a league office, not to mention players, at the mercy of a spite-driven agenda by owners. If Quasimodo, Anita Ward and Tattoo from "Fantasy Island" all joined forces to ring a 10-ton bell, it wouldn't make this much noise. And once that bell's been rung, you can't escape the sound.
And beyond the muck Stern submerged his league into, for the Lakers, a season already filled with question marks and the complications of a compressed schedule just grew even stickier.
I can't imagine what's going through the heads of Pau, Lamar and even Drew right now. I know these guys are professional athletes who know getting traded is always a possibility. Pau has been traded. As has Lamar, who, like Bynum, has basically been "on the block" his entire Laker career. That's often the deal, and these guys generally accept it.
However, it's one thing to hear you're available and it's quite another to KNOW it for a fact. Pau and Lamar have received incontrovertible evidence they're not just being shopped, but the Lakers would pull the trigger. For his part, if Drew wasn't sure the Lakers were moving heaven and earth to turn him into Howard, there's absolutely no question now. I've previously expressed my suspicion Drew might actually want to be moved for several reasons. Well, he's gotta be picturing his next destination now, because the front office has made pretty clear the plan to relocate him if possible.
In the meantime, Odom, feeling blindsided, bewildered, and downright sad, spilled his guts to Stephen A. Smith on 710 ESPN. Lamar didn't just express feelings of being under-appreciated, which probably run through the head of every player after being traded. He actually questioned whether this was a matter of being disliked. Here's a sampling of thoughts expressed:
"I don't know, I think maybe I rub people the wrong way. Maybe with doing ["Khloe and Lamar"] or something, you know... I thought I played ball. I thought I showed that doing other things didn't affect me, you know what I'm saying? But maybe it affected others. I'm not sure. Again, now I'm guessing because of what's in the air.
"I mean, I got the Sixth Man of the Year award, and my teammates came. Some coaches didn't come to see me get the award. That was a little, like, that was weird, right?"
Odom later expressed disappointment on Twitter and with Brad Turner of the L.A. Times (although even unhappy, he still felt "weirded out" by the league's actions.)
Pau and Lamar are both very sensitive, introspective people susceptible to letting this bizarre turn of events fester in their heads. Unfortunately, this situation doesn't offer much breathing room before a direct confrontation. Both (and to a very large and similar extent, Drew) will be forced to enter Friday's now-exceptionally awkward first full practice uncertain as how they fit into the team's short term plans, much less any long term vision. Are they Lakers for the rest of the season? Until Jerry Buss, Jim Buss and Mitch Kupchak come up with a suitable "plan B" trade? Until a theoretical lawsuit forces the NBA to reverse its decision? (And would this put Union President Derek Fisher in the rather undesirable position of having to lobby hard for the trade of two friends?)
Their teammates have to pretend nothing's wrong, but in the back of their heads, this is gonna be strange as hell. And not just because they'll naturally feel sympathy for LO and Pau being thrust into outlandish circumstances. Throughout the extended offseason, they kept hearing plans about an offensive game plan replicating the Tim Duncan-David Robinson Spurs. Clearly, Paul entering the mix put the kibosh on that, at least temporarily.
So what direction are the Lakers moving in, exactly?
Along those lines, Kupchak as recently as last week stated confidence this team could win a title as currently constructed? Can Kupchak say that again, as he inevitably will, with anybody possibly believing him?
Oh, and in case anybody's forgotten, the clock is ticking on Kobe Bryant's prime.
(And speaking of ticking clocks, Stern is outta time as a Commissioner. Before the lockout, his image was that of increasingly arrogant, petty mean-spirited bully. Once the lockout began, he's devolved into a mousy presence whose power has been usurped by small market owners leading him around by the nose. Neither is a good look. It's in the league's best interest he step down.)
In any event, whatever excitement, anticipation and even nervousness leading into this season has been suddenly replaced with an absolutely bizarre uncertainty. And like all things nowadays, the Lakers will have figure it out on the fly.