To steal a line from "Blazing Saddles," what in the wide, wide world of sports is going on here?
Seriously, can anybody get a bead on just what the heck is happening right now with the Lakers? Because I certainly can't, and more important, neither can the players.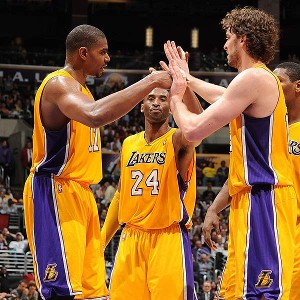 Noah Graham/Getty Images
We know Kobe Bryant will be a Laker this season. Andrew Bynum and Pau Gasol? Not so much.
The lockout's official end signaled a return to business, but for the Lakers, business has been anything but usual. Thursday's attempt to obtain Chris Paul in a blockbuster three-way deal got the kibosh from NBA commissioner David Stern, an unprecedented turn of events putting the Lakers in a painfully awkward situation. NBA trades, particularly involving superstars, are often likened to a game of high-stakes poker. Along these lines, the Lakers' front office was subsequently forced to play a brand-new hand with its hole cards exposed.
The rest of the league now knew with iron-clad certainty the plans to get Chris Paul and Dwight Howard. Pau Gasol and Lamar Odom, respectively shipped to Houston and New Orleans, became bystanders as a team they'd helped win two championships worked overtime to trade them again. Andrew Bynum, the obvious bait for Howard, was left to wonder if his exit papers were on the horizon. And for a veteran core determined to reestablish its championship mettle together, this situation represented more than just the unlikelihood of that opportunity.
It was a signal the front office doesn't entirely believe in them.
Whether you liked or hated the idea of swapping size for an elite backcourt, there's no denying how radically different the Lakers would have looked and operated with Paul in the fold. A massive sea change was in place.
I wrote on Thursday how this debacle represented the metaphorical bell that can't be un-rung. If anything, the din has only grown louder in the passing days.
The Lakers tried to concoct a more suitable version of the original deal with Houston and New Orleans, only to get shot down once again, then pull out for good. The sights are presumably now set on Howard, even though the rumor mill has Superman more interested in becoming a Net. Odom, who never recovered emotionally from being deemed expendable, told the front office to actually move him for real. That the same front office which weathered the storm of Kobe Bryant's 2007 radio tour would not just acquiesce so quickly was surprising in and of itself. But to ship LO to the same reigning champion Dallas Mavericks who swept the Lakers, and for nothing but a trade exception and a protected first-round pick? That's flat out shocking. I mean, Dirk Nowitzki doesn't even know what a trade exception is .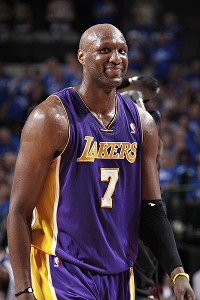 Glenn James/Getty Images
The smiling face of Lamar Odom will be missed on and off the court.
Fair to say, Odom's now ex-teammates, including one Kobe Bean Bryant, have not reacted well to this development.
One assumes -- or hopes -- there is a method to this madness, but for now, all we know for certain is the Lakers are moving forward without their most versatile player and emotional leader. These days, LO's ability to coax a smile would come in handy. To say the least, this is an edgy crew of Lakers. Nobody knows who's coming or going, when the theoretical newbies will arrive, or if status quo will win out. Poor Pau is stuck in basketball purgatory, trying to keep a stiff upper lip while treading water in a sea of uncertainty. (On a related note, Gasol's willingness to practice and address the media under these circumstances is the polar opposite of what a mentally "soft" player would do. Just sayin'.)
And for Lakers fans, this chaos stirs the worst of their fears. It's no secret Jim Buss has been increasingly calling the shots, and it has felt to many like the unproven heir wants this transition announced with authority. Cutting ties to the Phil Jackson era by hiring Mike Brown, while declining to keep Kobe in the loop, smacked of Jim puffing out his chest. The attempted makeover with Paul, and perhaps Howard as well? Even more hubris. And this chaos occurring so close to Dr. Buss' recent hospitalization, while perhaps a pure coincidence of timing, creates the vibe of a teenager throwing a kegger and trashing the house while his parents are out of town.
Obviously, the endgame to this wheeling and dealing could wind up just hunky-dory. But if the Lakers don't end up with Howard -- or worse, strip the cupboard bare landing him -- the inherent skepticism toward the next generation of ownership will only increase. The remainder of Kobe's prime years could be wasted while simultaneously laying an improper foundation for the future.
Under normal circumstances, this would have been an edgy time for the Lakers. The extended offseason has been spent stewing in failure, then waging war against Stern and nearly every owner in the league. Once a resolution to the lockout was reached, the Lakers were staring down the physical challenge of a compressed season, along with the task of learning Brown's new systems on the fly. No longer a favorite, the Lakers' work is clearly cut out for them.
Still, once NBA basketball finally returned, it was logically assumed excitement would push away those clouds to spread sunshine throughout L.A.
Improbably, those clouds have returned, and appear to be darkening.