This season will, if nothing else, bring no shortage of track metaphors.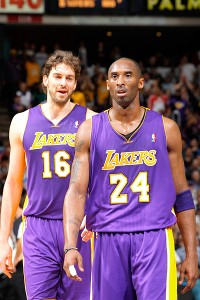 Rocky Widner/Getty Images
As of Tuesday, the Lakers are led by Kobe Bryant and Pau Gasol. Can they lead L.A. through a tough schedule?
So as someone who never ran a day of track and these days only runs when chased, allow me to try my hand.
Down from 82 to 66 games, the 2011-12 season will indeed be more a sprint than a marathon for every team across the league. Not just any straightforward footrace, though, like the 100 meters, or even the 200 with a tight left turn. No, I'm thinking it'll be more like the 400-meter hurdles, requiring the same full-out sprint while clearing seemingly endless obstacles along the way.
Someone will finish first, but a bunch of bodies will be strewn about the track along the way.
Among the challenges facing the Lakers:
17 back-to-backs, of which only three have two games in L.A. and eight are entirely on the road, plus a back-to-back-to-back opening the season.

Older legs (at least for now). Every starter (see previous parenthetical) save Andrew Bynum, missing the first five games because of suspension, is over 30.

A new coaching staff led by Mike Brown installing fresh systems on both sides of the floor and selling itself to a championship group, but hamstrung by a jam-packed travel and game schedule, limiting practice time.

Rampant roster confusion. Some other teams are struggling because they don't have enough guys under contract to run their practices. The Lakers have enough bodies, but nobody outside Kobe Bryant and the recently signed Jason Kapono knows for sure where he'll be playing this season. Meanwhile, holes still exist behind Kobe at the 2 and in the frontcourt behind Gasol and Bynum, so new bodies are likely to arrive, even in the absence of a blockbuster deal. In the presence of one? Sew a "Hello, My Name Is ______" patch on the practice jerseys.
Returning to the track meme, in theory every team begins at the starting line. In reality, certain things put some behind others, far more than in a normal season. Some teams don't have a full complement of players available, while others are seemingly not allowed to make trades. L.A.'s age and potentially weary legs have garnered most of the "Whoa, look at that schedule!" attention and could be issues going forward, but for the Lakers it's the other stuff adding extra meters and hurdles to issues already potentially problematic.
Brown, a guy who loves him some practice, has already conceded he won't be able to get as deep into his system as he'd like thanks to an almost laughably short training camp and lack of open work days once the season begins. As a result, Brown said last week the Lakers will likely need to use games as a laboratory. And that is where all the roster uncertainty comes into play. Brown's well-earned reputation for meticulous preparation is mitigated if he doesn't know exactly what or who he's preparing for. Not when two of the team's three best players could be somewhere else two hours, two days or two weeks after I finish this post, and the fourth-best is already in Dallas.
Other bodies are on their way in. (They're on their way in, right?) Maybe they're role guys, maybe they're franchise changers. A drastic transformation of the roster might bring optimism in the long term, but inevitably it creates a learning curve. All told, the uncertainty makes it tough to get off the blocks (back to the track thing) when the gun goes off.
Particularly in the early going, this season will require patience from coaches, players and fans alike. Despite an "every game matters" theme developing since the schedule's release, the advantage come playoff time will go to teams most successfully preserving their legs while building to the highest possible level of play. Phil Jackson used to drive fans nuts with his willingness to risk wins to serve the greater good. While it might seem counter-intuitive in a calendar missing 16 games, such a philosophy might be even more effective this season. A few losses early in the year might cost a rung or two on the seeding ladder but will be worth it if it means the Lakers enter the playoffs playing as well as they're capable.
The balance will undoubtedly be delicate, and there's really no blueprint off which to work. Meanwhile, the pressure to win now is enormous.
Welcome, Coach Brown!