Mitch Kupchak talked Monday about how Lamar Odom's response to being included in the scuttled Chris Paul trade. In short, he didn't take it particularly well, and unable move on emotionally, he asked to be moved. ESPN Dallas' Jeff Caplan covers LO's new team, the Mavericks, and relayed some elaboration from Odom about why he was so upset.
As Odom explained, he wouldn't have liked being a Hornet, but he could have lived with it. The mechanics of how everything went down, however, left too bitter a taste in his mouth.
"It wasn't about going to New Orleans. It was just about how they did it. I felt a little disrespected. After being here for so long and going through so many things, I felt like they could have just told me and I probably would have accepted it. If someone is telling you that you can't be here or there's no more room for you, you got to understand that. I think because it's just how they did it is the reason why I took it so personal.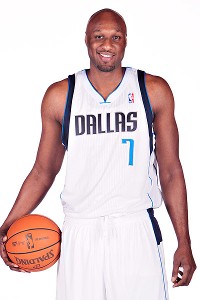 Glenn James/NBAE/Getty Images
Ick.
"Usually, I would hear something from (agent) Jeff (Schwartz) early on, but it was just like overnight he told me they wanted to move me to New Orleans and we didn't feel like that was in our best interest. I told (Kupchak) that what he should do for me, I'd be thankful if he could work with my agent, my representation so I could play for a team like the Mavs."
I expect mixed reactions to these sentiments from Laker fans. Some will say NBA basketball is a business, getting traded is part of said business, so quit your crying. Others will note how the Lakers always claim to be not just a franchise, but a family, so a seven-year member of said family deserves more consideration. Personally, I'm in the latter camp, if not even for the courtesy I'd personally want to receive in LO's shoes, but the practical ramifications: It reflects well on the organization, whether for fans or perspective players who may one day be pursued. Class stands out, and conversely, a lot of NBA players of stature (and LO qualifies as such) would take a sucker punch trade as anything but classy. In addition to the negative fallout from this situation, Kobe Bryant and Brian Shaw receiving no heads up about Mike Brown's hiring clearly rubbed them the wrong way.
It might behoove the front office to learn from this repeat pattern as similar scenarios undoubtedly present themselves down the road.
Based on comments from a few of LO's now ex-teammates at Tuesday's practice, they would concur. Here's a sampling of what was said.
KOBE BRYANT
"Yeah. I know about that whole process. Not knowing about coach Brown and so forth and so on. But the Lakers do things a certain way. This is the way that they do it, and you can't take it personally. This is how they do business."
On whether he gets Odom feeling "disrespected"
"Yeah. You want to be told things before they obviously come out in public. Somebody that wins a couple championships with you, you'd think that's what would happen. But it's nothing personal. This is the way they go about doing it."
"Lamar is a sensitive guy, though. Takes a lot of things personally. He won't see it that way... You take it how you take it. But they've done it to him, they've done it to me, they've done it to Brian Shaw. It's nothing personal, it's just how they handle it… You can't take it personally."
PAU GASOL (who, by the way, also was thrown for a loop as part of the CP3 deal)
"I understand [Lamar's] response and I understand how he felt about it and how you could feel that way but you have to look at it from a different perspective and not try take it so personal. I understand those kinds of things happen. The way the rules are now, it's going to happen more and more. You're going to see more transactions like that. It is what it is. As a player you can only focus on it so much."
"It was hard to deal with and go through and it still is but I try to get myself out of those emotions and thoughts and try to get myself towards a more positive way and path because I think it's healthier at this point more than anything."
"I never got any indication from my agent. Not at all. It caught me off guard. I came a couple days before training camp started to see how they were going to use me, the principles, try to get ahead of myself and then everything started."
"I started hearing rumors the morning before training camp started and Mitch approached me and told me straight up, 'I'm sorry about all these rumors, we didn't leak them or anything but it's something that is going on and it's a possibility. You're name has come up and it's a possibility something might happen.' It shocked me but I appreciated the honesty and then I confirmed it with my agent. Then rumors started to get stronger and the deal almost went through.
"Those days were very stressful and very tense. You might find yourself in a different situation, a different scenario, different franchise, a whole different thing. It was tough to swallow when you're not prepared to move on and you're not willing to move on and haven't demanded it."
"There's still talks. Mitch said it clearly yesterday. The franchise is looking to make some moves and one has been made and I think that leads to another one."
MATT BARNES
"I definitely understand where he's coming from. It's a shame that they ask us to play with our hearts, but then when it comes to being traded, cut, or moved, it's a business. So there's always emotional ties when it comes to situations like this, especially when it comes to someone like Lamar that did so much for this team. To kind of be in the dark and then have the trade voided, and then next thing you know you're traded somewhere else. It's a very tough business."
On whether there's a right way for a franchise to handle these situations
"It's sad to say, it's hard, but there's no really too much loyalty these days. It's all about what's best for the team, and what's best for business. Lamar is a great example of that."