By trading Lamar Odom, the Lakers created a major hole for themselves up front, something they have attempted to address with the signings of Josh McRoberts and now Troy Murphy. With the season about a week away, fans continue to clamor for an upgrade at point guard, as well. (Baron Davis, out at least a couple months with back trouble, remains an option for the time being, though my guess is he won't end up in L.A.)
Murphy's addition leaves the Lakers with 14 players likely to make the team. The supposition has been the Lakers would also try to fill the apparent hole behind Kobe Bryant at shooting guard, following the departure of Shannon Brown to Phoenix.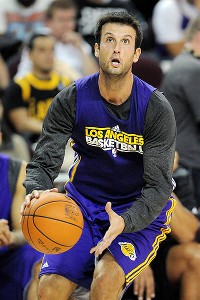 Jayne Kamin-Oncea/US Presswire
Jason Kapono, traditionally more a small forward, is the leading candidate to back up Kobe at shooting guard. Matt Barnes and Devin Ebanks could see time there, too.
Or maybe not. As we learned Saturday in El Segundo, Mike Brown is prepared to go forward without someone behind Bryant fitting the traditional shooting guard profile. We asked him how he plans on filling that spot in the rotation:
Q: At least on paper, there's a hole behind Kobe at shooting guard. With the guys you have now, how do you envision things playing out there in your rotation?
Brown: When you have a guy like Kobe, and no disrespect to anybody else, but that's a big drop off when you put somebody else in the game. Jason Kapono has played very well in practice. I thought he had a solid outing [Friday] in our scrimmage. He's a guy who may get that opportunity. But having said that, we've got plenty of options, when you talk about [Devin] Ebanks or [Matt] Barnes. We can only start one of those guys. Metta [World Peace] is going to be the backup.
I'm not really big on "He's a 2, and he's a 3." You've got a point guard, two wings, and you've got two bigs. Hopefully one of your bigs is a little bigger than the other so he can guard the biggest big, you know? So it's real simple for me. Anybody can play 2 for us, from Ebanks to Matt Barnes to anybody else including Kapono. But right now, I've been playing Kapono at that backup 2 spot. He's a guy we can run plays for, in terms of running him off of screens. Not only that, you know that when he's out there on the floor, he's got to be guarded. So it gives guys that much more room.
Q: Is that a spot where you want a guy comfortable with a lot of ball handling, or can you work around that?
Brown: I feel like I can work around that. We never really felt that, or I never really felt, that your 2 or your 3 need to be great ball handlers. Now if they are, then to me that's obviously a positive. But as long as they have a skill set or two, you feel pretty good about what you have. As a coach, it's my job to try and put them in a place where they can help this team have success. That's what my job will be with Kapono.
Q: A guy like Matt, or Devin, playing the two, a lot of people would say they're playing out of position. Do you care more about how that works offensively, or defensively?
Brown: I go back to one of the teams that I've coached where I've had quote-unquote more guys out of position than any other time on the perimeter was in Cleveland in '07, when I started Larry [Hughes] at the point and Sasha Pavlovic at the 2. Really, Pavlovic is a small forward if you want to get really finite in the definition of what a small forward and what a 2 guard is. And Larry Hughes really is a 2 guard. But because those guys had ball skills and they were willing to defend and give effort and they were long, we were pretty good defensively, and we found ways to score offensively because of LeBron James.
So again, I get back to, OK, I need a point guard, and I need two wings, and when I have two wings I look and [say] I need one guy to be able to guard our opponent's small forward, so he needs to be a little bigger than a 2 guard, and same with my bigs. I need two bigs. One should be a little bigger than the other, and hopefully he can guard the biggest center.
Q: So you think defensively first, and branch out from there?
Brown: Yes, defensively first in terms of matchups.
So there you have it. It'll be interesting to see how this works for the Lakers through the season, should they ultimately choose not to add another player to the backcourt, and will only intensify the focus on Derek Fisher and Steve Blake as ball handlers in a more traditional offense. Blake should be fine -- I get the distinct impression he's shedding no tears for the triangle's demise -- but Fisher has traditionally operated as a Phil Jackson-type point guard.
Having traded their point-forward, the Lakers leave themselves light on rock-toting options. Perhaps they can get by with a shooter like Kapono and guys who can defend opposing shooting guards (Ebanks, Barnes) even while coming up a little short in traditional guard skills. Not that you'd expect him to say otherwise, but Brown seems confident he can make it work, and he does have some options.
Hopefully one doesn't become leaning on Kobe that much more.