Per the Lakers' media relations folks:
EL SEGUNDO -- Los Angeles Lakers guard Kobe Bryant, who suffered a right wrist injury in Monday night's game against the Clippers, was examined today by Dr. Steven Shin of the Kerlan-Jobe Orthopaedic Clinic and underwent an MRI exam. Results show that Bryant has a torn lunotriquetral ligament.
Bryant will not play in tonight's game against the Clippers and his status is day-to-day.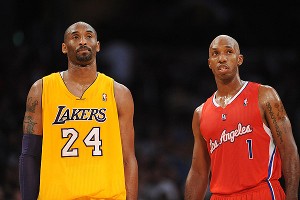 Win McNamee/Getty Images
The Lakers can't seem to catch a break this preseason.
I don't know exactly what a lunotriquetral ligament is. Frankly, I don't even know how to pronounce "lunotriquetral." But a torn "pick any ligament" is never a good thing. The injury, by the way, happened when Kobe took a tumble after getting blocked at the rim by DeAndre Jordan early in the second half. That Kobe continued to play deep into the fourth quarter of a preseason game, wrist injured and outcome already decided, raises the question of whether he should have been on the floor in the first place. As someone who expressed his displeasure at Phil Jackson's tendency to play starters in similar situations, I certainly get that. But in this case, I have no issue with Mike Brown.
Phil used to do this stuff, from everything I've gathered, as a means of maintaining momentum or sending a message, neither a good enough reason to risk injury, in my humble opinion. Brown, however, has two preseason games and a shortened training camp to teach new offensive and defensive systems, figure out floor combinations, develop chemistry and condition his players. Thus, Kobe's time on the floor, even while injured, contained tangible purpose. The setting may not have been ideal, and I wouldn't have blamed Brown if he took the precautionary route with Bryant, but I don't think he deserves any criticism in this case.
It'll be interesting to see how Kobe approaches this injury. He famously grits his teeth through nearly any injury known to mankind, having played with an aching ankle, knee, back and neck, plus that permanently screwed up pinkie. Depending on the severity of the injury (that information is unknown as of now), perhaps this will be present the latest chapter of Kobe gutting it out through pain.
However, this might not be pretty. Kobe's fondness of left-handed shots acknowledged, he's gonna need that right wrist to remain as effective a scorer. And beyond whatever shooting issues could be caused, when you factor in a right hand that's already problematic at times, Kobe's handle in general could be greatly compromised. Whether creating for himself or others, I wouldn't be surprised to see him struggle.
Plus, playing through this injury prevents the healing process from taking effect.
On the other hand, perhaps the only scarier vision than Kobe risking damage to his wrist is the vision of him on the bench in street clothes. Yes, the Lakers posted a respectable 6-3 record when Kobe missed nine games in 2010, and against some respectable opponents. However, that was a team two years younger, with Shannon Brown backing up Kobe, Lamar Odom on hand, and players operating in a system they knew inside-out.
These days, there's no designated reserve two-guard of note. (Matt Barnes or Devin Ebanks, who could miss tonight's game with a foot injury anyway? Andrew Goudelock or Gerald Green, neither of whom is even a given to make the team?) With Kobe out, the cupboard of wing players capable of creating shots is entirely bare. (Maybe Gilbert Arenas really does get a phone call?) And the Lakers are left to negotiate a new system on both sides of the ball, new teammates and the rigors of a shortened season without their best player and leader. In a shortened season where the magnitude of every game increases, that's a lotta pressure placed on the shoulders of Andrew Bynum and Pau Gasol.
Once Bynum returns from his five-game suspension, of course.
Obviously, we'll know more about this situation as the information presents itself, and perhaps the injury will prove relatively minor. But for a season that's already dealt with an inordinate amount of dark-cloud cover since training camp opened, this will do nothing to convince folks the sunshine is about to peek through.
(For more perspective on the lunotriquetral ligament and what this could mean, listen to the explanation from Dr. Robert Klapper, who appeared on 710 ESPN with Max Kellerman and Marcellus Wiley.)