Exhale, Los Angeles, the Lakers are on the board.
After consecutive losses to open the season, including a worrisome nine-point loss Monday in Sacramento, the Lakers overcame a slow start to blow out the Utah Jazz on Tuesday night at Staples Center. Up 10 at the half, the Lakers pulled away from Ty Corbin's crew with a 30-15 third quarter, and from there were able to throw it in cruise control.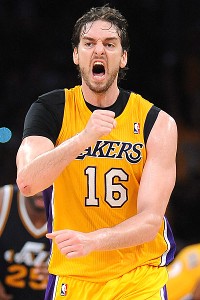 Jayne Kamin-Oncea/US Presswire
Pau Gasol cracked the 20 point barrier for the first time in a while Tuesday night.
Here are five takeaways...

1. Utah's offense was bad, but give the Lakers some credit.

This is the NBA. Hold a team, any team, to 32 percent shooting from the field and 71 points, and it means a lot of things are being done well. More than anything, the Lakers were very active on their end of the floor. They rotated well, were strong with weakside help, and made the multiple efforts coach Mike Brown wants. It was particularly noticable near the basket. The Jazz missed a lot of shots (and I do mean a lot) from down low, leading to a ton of offensive rebounding opportunities near the basket. Still, rarely did the Lakers give up on any plays. When Utah went up, there was almost always a Lakers hand to go over, whether from the primary defender or someone coming to help. It can be tough to keep jumping on that second, third, or even fourth chance on a possession, but the Lakers did.

More than the very strong defensive numbers, I suspect that's what Brown will most appreciate about Tuesday night's game.

2. Pau Gasol had his strongest game of the (very young) season.

Sure, it's not as if the other two were hard to beat, though until the last two minutes or so I thought his work against the Chicago Bulls was solid, but a good game is a good game. It wasn't really that he put up a solid stat line (22 points, 6-of-11 shooting, nine rebounds, two steals and five blocks in 37 minutes) but how. For the first time in three games, Gasol was very aggressive from the get go. The decision making, whether choosing to pass out of a double team or look for his own shot, was strong, and when Gasol did decide to call his own number, he frequently did so by attacking the basket, evidenced by 12 trips to the free-throw line.

Oddly enough, the only line he couldn't fill in the stat line was assists, but not for lack of effort. As is always the case, Gasol moved the ball well and put teammates in position to succeed. Defensively, Gasol gave Al Jefferson fits, helping hold Utah's star to 2-for-16 from the field, and chipping in with the aforementioned blocks. As evidenced by his fist pumping, banshee screaming reaction to his bucket to beat the halftime buzzer, as he cleaned up a miss from Kobe Bryant at the rim.

POSTGAME UPDATE: Just to give an idea of how long it's been since Gasol was this productive as a scorer, his most recent 20 point game was April 10, 2011 against Oklahoma City. Counting the postseason and the first two games this season, that's a stretch of 14 games.

3. The Lakers needed a game in which Kobe Bryant wasn't asked to do a lot, and got it.

Kobe played well, scoring 26 points to go with eight rebounds, five assists, a steal and a block, and seemed to enjoy those moments in which he got the better of Utah's Raja Bell whether driving from the right wing, spinning and pulling up from mid-range or with a shot clock beating triple. He helped push the team's aggressive tone defensively, as well. But by his standards, Bryant really wasn't required to do a whole lot. This is a good thing, and the more it happens, the more it means the Lakers are accomplishing as a team.

4. Mike Brown putting Kobe and Gasol back in during the fourth quarter illustrates this season's challenges for a coach.

Without a full training camp and a full slate of preseason games or a regular-season schedule affording a typical number of practice days, Brown is put in a bind. Literally every moment of court time, whether in practice or games, is precious. Every trip down the floor means something, building the reps they need to get where they're trying to go. That said, Bryant is playing with a torn ligament in his right wrist, Gasol with a sprained right shoulder, and both played their third game in three nights. The Lakers play again on Thursday, before a weekend home-and-home against Denver. Those are tough games.

Under more conventional circumstances, Brown might have given both a break, but nothing about this season is conventional. So which is more valuable? The chance to rest key stars, already dinged up, in a blowout, or the chance to continue refining an on-court product that remains underdeveloped?

Among the more interesting casualties of the lockout-shortened 2011-12 season could very well be the concept of garbage time.

5. Another strong night for Metta World Peace.

He darn near brought down the house with a driving first-half dunk off the left wing, in which he skied (relatively speaking) from the bottom of the free-throw circle with his right arm fully extended. It was an explosion we haven't seen much of from MWP over the last year or so. Fireworks aside, World Peace built on Monday's effort in Sacramento, in which he was basically L.A.'s big bright spot. Fourteen points on 5-for-9 shooting (including a slick baseline drive and lefty finish for his first bucket of the game), five boards, a steal and a block.

Troy Murphy, it's worth noting, kicked in with 11 rebounds and four dimes off the bench, and Josh McRoberts was great as well, with six points, six boards, two blocks, plenty of floor burns and no apparent ill effects from the sprained left toe suffered Monday night.