Sweet Virginia, the Lakers are a .500 team again! After a week spent biting fingernails and ducking in fear of a falling sky, things seem to be stabilizing a bit. Obviously, there's still more work to do, but it's nice to see the team seemingly moving in the right direction. With Andrew Bynum about to return, the path only gets rosier. Here are six takeaways from the game:
1) Devin Ebanks is ready for a place in the rotation...
... But perhaps not quite ready to guard a superstar wing like Carmelo Anthony. I asked Mike Brown before the game if he was curious to see how the second-year player -- who might as well be a rookie after the limited playing time he had last season -- would fare in his first assignment shadowing an elite scorer. The coach admitted he was in fact intrigued, but Ebanks would also receive a short leash for mistakes. To say the least, Brown wasn't lying.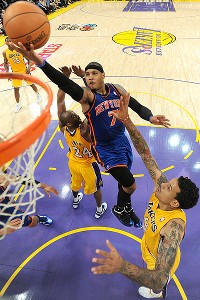 Andrew D. Bernstein/NBAE via Getty Images
A guy like Melo is a handful for most seasoned defenders, much less a youngster like Ebanks.
Devin only ended isolated against Melo on a handful of possessions -- for reasons I don't quite understand, the Knicks didn't seem particularly interested in milking this matchup -- but when they faced off, Ebanks drew whistle after whistle. As a result, he received quick hooks in the first half for Metta World Peace, then in the second for Matt Barnes. Only 14 minutes of PT logged, with very little impact to show for it.
I'd be surprised if his showing cost Ebanks a spot in the rotation, considering his solid previous three outings, plus the potential the organization and Brown sees in him. But in his first truly prime time matchup, Ebanks revealed he still has plenty to learn.
In the meantime, Barnes appears to be back in the rotation, although it'll be interesting to see how his minutes fluctuate throughout the season. If Ebanks holds his own, I imagine Barnes will play fewer than tonight's 18 minutes. If Ebanks is overwhelmed and/or the matchup dictates his presence, maybe more. But either way, Barnes got some run, which will make him happy.
2) In the first half, the Lakers moved the ball exceptionally well
Which explains in large part why they shot a whopping 71.9 percent from the field, connected on 5 of 6 attempts from downtown, and ran absolute circles around the Knicks. Of their 23 buckets, 15 were assisted, and the extra pass was on full display as well. Were it not for the Knicks getting to the line 26 times, the Lakers' 12-point lead at intermission probably would have been doubled.
3) In the second half, the Lakers decided to stop moving the ball
Which explains in large part why they weren't able to put away the Knicks until late in the game after 24 opening minutes spent in complete control. In the third quarter, things really got oogly. The Lakers shot just 33 percent from the field, turned the ball over four times after a first half with just six, and seemed determined to knock out the Knicks strictly through an iso-beatdown. The result was a frame outscored 21-17, followed by a fourth quarter which began with the lesson seemingly unlearned.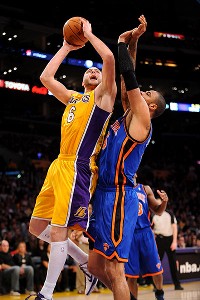 Andrew D. Bernstein/NBAE via Getty Images
McRoberts hustled hard to get his points.
With 6:15 left in the fourth and an 11-point lead, Kobe Bryant found Steve Blake in the corner for a drained triple. The ball began sticking in one guy's hands less often, and, shockingly enough, the haymaker was finally delivered. Amazing what can happen when everybody does the punching at once, rather than one dude swinging at a time.
4) Josh McRoberts is kind of the American Ronny Turiaf
As we watched the game, Brian made this observation that both encapsulates tonight's performance and why McRoberts feels destined to become the same kind of fan favorite as Ronny a few seasons ago.
Like Ronny, McRoberts never stops moving, which creates both an infectious hustle throughout the team, along with opportunities for himself. Whether cutting to the cup for a slick bounce pass from Kobe or an alley oop from Blake (McBob City!!!), good things came for those who don't sit around and wait. Like Ronny, McRoberts is more of a disruptive defender than a true lockdown artist, but that vigor can go a long way when applied relentlessly. Like Ronny, he's got a flair for big swats, his most emphatic coming at the expense of Amare Stoudemire along the baseline. And like Ronny, he moves the ball well for a big man, allowing him to take part in creating baskets even if he's not doling out the actual assist.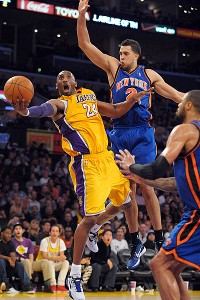 Kirby Lee/Image of Sport/US Presswire
Kobe had his way against Landry Fields and any other Knick guarding him.
No word yet on his sideline dancing skills, but either way, McRoberts is off to a nice start filling a fun role for any team.
5) Kobe Bryant REALLY loves to light up the Knicks
Bryant's preferential ground for stomping may be New York (what player doesn't love a showcase at the Garden?), but at the end of the day, he just kinda likes crushing this team. The man's 26.5-point career average against the Knickerbockers entering this game is clearly not a fluke. His evening was a flurry of stutter steps, spins, ball fakes, doubles split and slick footwork. There was even a four-point play on a 31-foot bank shot. In other words, the bag of tricks was emptied.
I'm not saying he didn't force the issue on a few possessions, and his five turnovers were a byproduct of this. But at the same time, dude scored 28 points on just 17 shots, and a few of his passes were straight out of a video game.
I'd be lying if I claimed not to have been entertained.
6) The Knicks take bad defense to a whole new level
They're, like, indescribably bad. In particular, I've never seen a team more oblivious to the idea of monitoring action happening away from the ball. It's as if they received a memo that guarding the baseline was illegal in the new CBA. As Brian tweeted, if Brown coached this team for five minutes, his head would explode.