They say you don't get style points for a pretty win, which, by extension, means you don't lose points for an ugly win. And that's fortunate, because the Lakers otherwise might have ended the night with -2 on the scoreboard. The W was secured, but they didn't look so hot making it happen.
Here are five takeaways from the game:
1) Kobe Bryant played an exceptionally well rounded, efficient game.
I was curious to see how Kobe's game might be affected by the presence of Tony Allen (among the best in the league at defending Kobe) and his wrist, which might leave him susceptible to the former Celt's relentless, hawking D. It took just over four minutes, however, for this issue to be rendered dead in the water. After getting caught with his hand in the cookie jar on a turnaround J from Kobe, Allen had to sit with his second foul. Right on cue, Bryant made both of his free throws, then set up Matt Barnes for a three-pointer, a clear announcement of this being a strong night in the making.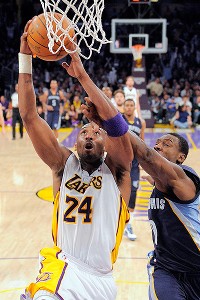 AP Photo/Mark J. Terrill
Kobe did a nice job balancing his scoring and play-making.
Whether setting up teammates to the tune of nine dimes or putting up 26 points on a clean 50 percent shooting, Kobe was aggressive, but also under control and worked extremely hard to involve his teammates. During the first quarter, he ran pick-and-pop to perfection to perfection with Troy Murphy, putting the stretch forward in perfect position for a long deuce. Later, he manufactured an alley-oop for Pau Gasol and set up Steve Blake for a corner three via a cross-court fastball tossed with enough heat and accuracy to make Mariano Rivera jealous.
And I specifically used the Yankees pitcher for the baseball parallel, because Bryant also went into "closer" mode, albeit not during the literal last minute. With 4:38 remaining and the Laker lead down to five, Kobe drilled back-to-back J's from 14 and nine feet, creating enough separation on a night where the fourth quarter turned muddy.
There was even a toe dipped into the fountain of youth. The Staples Center faithful was whipped into a frenzy after Bryant drove the baseline past Rudy Gay, then threw down a reverse jam with the authority of his days in a #8 jersey.
Good stuff.
2) The Lakers really need to stop turning the ball over.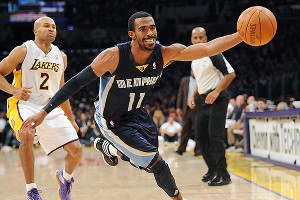 Jayne Kamin-Oncea/US Presswire
The Lakers made life even easier for a Memphis D already great at coaxing steals.
It's been a problem for the purple and gold throughout their opening nine games, and the tenth was no exception. Given how meticulous Mike Brown is, I have to imagine his team was warned to be careful with the ball against the Grizzlies. After all, Memphis entered this game with two players (Mike Conley, Allen) in the top-10 for steals, and Marc Gasol is among the top 10 for legit big men. Thus, it doesn't take a basketball genius to realize this is an opponent capable of making hay through disruption. Instead, the Lakers made the work even easier.
It's one thing to turn the ball over, but it's quite another when the majority of gaffes are avoidable. In the Lakers' case, they coughed up plenty of the latter variety. Whether through traveling, careless "home run" passes, or over-dribbling, the Lakers turned the ball over a comically bad 27 times. Even worse than the ensuing empty possessions was Memphis' ability to capitalize. 24 points were scored off turnovers, and 31 on fast break situations. That's a unacceptable tally in any setting, but when you consider Memphis only scored 82 points on 40.9 percent shooting, it really drives home how big a favor the Lakers did their hapless opponent by giving them the ball.
3) Matt Barnes is not about to lose his starting gig at small forward anytime soon.
And not simply because Metta World Peace is playing poorly enough to lose his place in the rotation and Devin Ebanks won't get the burn necessary in the first place to challenge Barnes until that happens. For the second straight game, Barnes played a terrific game on both sides of the ball, filling up a stat line (15 points, 10 rebounds, two assists, three blocks, one steal) through his calling-card hustle. The jolt Barnes provided was epitomized after he reentered the game early in the fourth quarter when Brown decided to pull every reserve. Barnes quickly swatted O.J. Mayo's shot on one end, then scored a layup in transition off a feed from Derek Fisher. Two possessions later, he was off to the races again in transition, this time stopping on a dime to pop a J.
This prompted a time out from Lionel Hollins, along with Brown patting his small forward on the head.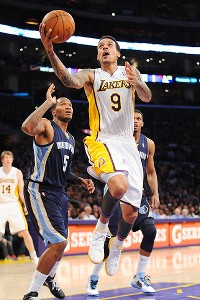 Andrew D. Bernstein/NBAE/Getty Images
Barnes has a stranglehold on the starting small forward gig.
4) The second unit remains a work in progress
The raw numbers won't look horrible on the surface, between Blake's 13 points (6-of-9 shooting) and Murphy chipping in another six, but the reserves are struggling to succeed as a unit. Possessions feature either very good ball movement and purpose (the first half), or utter confusion. Brown said after the Golden State win he hasn't decided on a firm second unit rotation, and I can't imagine tonight answered every question. I asked him before the game about the team's lack of players capable of creating for themselves or along the perimeter, and he said this particular issue illustrates the need for precision. 10 games in, the bench isn't offering much on a regular basis.
5) The "We're gonna win ugly" credo may be taken a little too literally
I respect the Lakers' collective pride in their "lunch pail" mindset of defense first, toughness, and scrapping out victories at whatever cost. That's precisely the attitude enabling them to overcome the Boston Celtics in Game 7 of the 2010 Finals. But at the same time, it wouldn't kill these guys to occasionally make matters on the court look easy. When the wheels come off for this team, it tends to resemble the crash you'd see at a NASCAR race.