Monday, I shared how, despite being competitively wired in a way that flirts with insanity, Kobe Bryant isn't looking forward to a potential mano y' mano with former teammate and current Phoenix Sun Shannon Brown. Kobe took Shannon under his wing from the moment he was traded to the Lakers, and the two developed a tight bond, as mentor and protege, plus good old fashioned friends. Thus, derailing Brown's success, even for just one game, isn't an enticing prospect.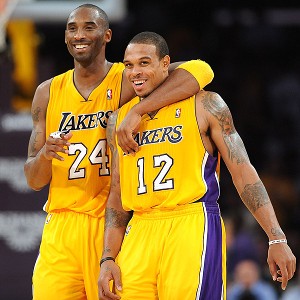 Noah Graham/NBAE via Getty Images
Obi Wan Kenobi on the left, Luke Skywalker on the right.
"I don't like playing against my little brothers," said Bryant after Sunday's win against Memphis. "I don't like it. I watched him develop. I watched him grow. Taught him a lot of things. Those are always tough games for me."
I wondered, however, if Brown might view the situation differently. He is, after all, the student in this relationship, as well as the player with considerably more to prove. What better way to demonstrate just how far you've grown than holding your own -- or even besting -- your future Hall of Fame "big bro?" But as Shannon admitted during Tuesday's shootaround, those same conflicted emotions exist for him as well.
"It's almost kind of the same way," acknowledged Brown. "I don't want to have to steal the ball from him. I know he doesn't wanna have to steal it from me. The competitive part is still there, but you never want to see a person that you built a close, close relationship to fail in any type of way. Even though, if we win, we win, but [as far as] our personal relationship, it's kind of tough."
This situation lends Brown insight towards what goes through Pau Gasol's mind while matched up against Marc. "They've probably got scars and war wounds from they was young going at each other. But I can definitely understand the vibe and the feelings that nobody really wins, even though somebody wins."
This being "probably the first" relationship Shannon's ever had with a veteran superstar, those feelings get mixed even further.
"It's special for me, because him being the type of person he is, he didn't have to embrace me the way he did. He could have just helped me a little bit and then kept it an on-court relationship. But it went off the court and we built it into a friendship. I'm grateful for that, also."
For that matter, there's boatloads of gratitude towards the Laker organization in general. Shannon's career hadn't gained much traction before getting traded here. Three seasons later, he left an established role player with two rings. Shannon acknowledged during May's exit interview -- that felt like a unspoken but literal "exit" -- how much his time in L.A. meant on a personal and professional level. Eight months later, those sentiments haven't changed.
"I'm grateful, man," said Shannon when I asked how he looks back on his Laker career. "I came from Charlotte and when I got here, Mitch [Kupchak], Phil [Jackson] and the whole team received me real well. They told me what I needed to do to help this team and two championship later, I can't complain. They let me go out there and showcase my talents to the world. It was good to have helped this team and this franchise win two championships and then help my career, also. So it's definitely unbelievable. I'm definitely grateful and thankful.
"The sad part about it is you build relationships and friendships with these guys and then you gotta leave, you know what I mean. And that's probably the most hurtful part. You're not really around the guys all of the time that you're around, pretty much, every day. Talking to, kicking it with, laughing, joking, talking about personal stuff, on the court stuff. All of that... that's the saddest part of it."
Players, particularly younger ones, have a tendency to get really fired up for a game against a former team, and often to their detriment. Trevor Ariza (another of Kobe's "little brothers") is a prime example, and it took a couple seasons before he cobbled together a quality showing against the purple and gold. Suns Coach Alvin Gentry expects some jitters from Brown, even though he's talked to his guard about the situation.
"You try to tell them to relax, but it never helps," said Gentry. "It really doesn't. And it doesn't matter, it can be a young player or an older player. Obviously, when you leave a team and go to another team, the most important thing is that you play well against that team, and anybody that says, 'Oh, it's just another game,' it's just not true.
"He's gonna be a little jacked up. If he wasn't jacked up, I would worry about him."
"Hopefully he's wrong about that," laughed Brown when told about his coach's comments. "Hopefully, I'm relaxed enough where I come out and just have a great time. I think the fans will receive me well. i don't think I'm gonna get boos. More cheers. And hopefully, I can put on a great performance for them and we can get a win."