Don't look now, but the Lakers have quietly won seven of nine after starting the season 0-2, following a 16 point win over Phoenix Tuesday at Staples.
There was much to like on a night where the Lakers had a few things stacked against them.
Here are six takeaways...
1. Leaning on Kobe Bryant this much has to stop (though watching him be leaned on can make for serious entertainment).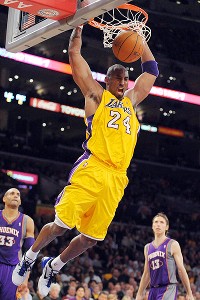 Kirby Lee/Image of Sport/US Presswire
Kobe Bryant would like you to know he's still very, very good at basketball. 48 points Tuesday night is the NBA's high water mark for the season.
Kobe started the game on fire, working from all his comfort spots to light up the board with 17 points in the first quarter, hitting eight of his first 11 shots. He was effective in the mid-post, then working on the perimeter with catch-and-shoot opportunities. As the game went along, the looks generally got harder, with more looks in isolation, and some of the choices weren't so choice. But down the stretch he was extremely effective and overall it's virtually impossible to dispute the efficiency of Kobe's 48-point night, a league-high for the season. 18-of-31 from the floor, with a tidy 12-of-13 from the line.
It was a spectacular display of offensive skill.
Spry as Bryant looked-- mileage, bum wrist, etc. notwithstanding-- it's not a healthy way to proceed. First, expecting/relying on him to produce like this for another 55 games is basketball suicide. It'll wear Kobe out before the playoffs arrive, and equally important will stunt the development of the team's offense. The Lakers have to find other ways to consistently generate offense, and make sure they don't get lulled into the (understandably easy) trap of always looking towards him. Mike Brown and Co. have a great feel now of how to put Kobe in position to succeed, and now they have to figure it out for everyone else.
Great game from Bryant -- one hopefully not replicated too often during the season.
POSTGAME UPDATE: Our bosses in Bristol will be pleased to know Kobe noticed this summer's extensive NBA Rank project. "Not bad for the seventh best player in the league," Bryant said of his game.
2. Luke Walton gave quality minutes.
With Josh McRoberts (toe), Troy Murphy (stomach bug) and Jason Kapono (welcoming newborn twins into the world) unavailable, the Lakers dusted off Walton for more minutes than he's played in a long, long time. April 13, 2010 against Sacramento to be exact -- another game where players sat (Kobe, Bynum) or were limited by injury (Jordan Farmar). Given the rust, Walton acquitted himself well. He was active on the glass, sustaining a few trips with good work on the offensive boards, including a key offensive rebound with three minutes to go, setting up a nice lob from Matt Barnes to Bryant and effectively icing the game. Add to that a few nice passes and even a good defensive play or two, and he becomes one of the team's bigger stars, context considered.
He doesn't get many chances, and on a night where the Lakers needed some support, Walton was able to provide it. Final line: 26:21 of PT, six points, eight rebounds, three assists.
POSTGAME UPDATE: Brown, not surprisingly, had nice things to say about Walton's game. "Walton was phenominal. He hadn't played since Sacramento. You talk about a pro's pro, he's kept himself ready, his number was called, and he stepped in and ahd a whale of a game for us. You talk about eight rebounds, five of those offensive rebounds, six points and three assists, you know he was very good for us in the 26 minutes he played, especially having not played for a long time."
3. By the way, the defense is still very good, particularly at home.
The Steve Nash/Marcin Gortat pick and roll went goonybird on the Lakers for the first 30 minutes or so, but during that time little else hurt the home team save a brief flurry of jumpers from Channing Frye. Hakim Warrick hit some jumpers in the second half, but overall the Lakers put a lid on Phoenix's secondary scorers. Grant Hill, Jared Dudley, and Shannon Brown combined to shoot 8-of-36 from the floor.
Even better, the Lakers absolutely shut the door on Phoenix down the stretch. Over the final 5:53 of the game, the Suns were limited to one point. One. Point. Meanwhile, the Lakers busted out for 16, helping explain the final margin of victory. The offense may be a (stop if you've heard this before) work in progress, but defensively the Lakers are already very good, particularly at Staples.
Maybe a consistent flow of tacos is their way of apologizing for the lockout?
POSTGAME UPDATE: Brown credited Gasol for much of the late defensive surge. "Pau, you know, he gave us 16 and 12 but, I'll tell you what, he was terrific with his defense. The way he jumped out and attacked the ball screens specially in the last part of the game was very fun to watch. You talk about a guy who is 7'1" that's long and being aggressive like that in a pick and roll situation to try to help slow those guys down was amazing... His defense down the stretch on Nash, just kind of flying around, was phenominal. He's like the Energizer bunny rabbit."
4. Keeping both bigs on the floor against small/stretchy teams like Phoenix is still a tough mission.
One reason Walton played so much is the inability of Bynum to find a comfort level defensively. As it has been historically with the Suns, when they spread the floor, the Lakers were forced to go small right along with them. Normally, a guy like McRoberts would have come in handy thanks to his athleticism and mobility, but tonight the Lakers were able to get by with a skeleton crew.
5. The Lakers dominated the glass.
They held the Suns to 42.5 percent shooting, and still managed to do good work on the glass. Phoenix finished with nine offensive rebounds, but did little damage in second chance points (10). Overall, the Lakers finished plus-14 in rebounding margin, which will win a lot of games. Good work on the offensive glass helped limit Phoenix's break (only four points). Gasol led the way with 12, including four on the offensive end. Bynum had eight, Walton eight, and Metta World Peace seven.
6. Outside shooting is still an issue.
2-of-17 from downtown. Lather, rinse, repeat.