What should have been a blowout Friday night evolved into an actual game, and the failure to close out was pretty disappointing. Obviously, the bottom line is a record pushed to 9-4, but lapses such as these do provide pause. And if repeated against an opponent such as the Clippers (on the docket Saturday), they'll likely result in a 9-5 record, rather than 10-4. Still, we move forward, with six takeaways from the game:
1) For one game, the Lakers looked like a team drenched in point guard strength.
Ironically, this development took place as their best overall point guard, Steve Blake, watched in street clothes while starting his three- to four-week recovery period from a fractured rib. For a team lacking in both ball handlers and play-makers, this felt like a recipe for (at best) Kobe Bryant shouldering a heavier burden to manufacture buckets for himself and others or (at worst) an inconsistent offense bogging down even further.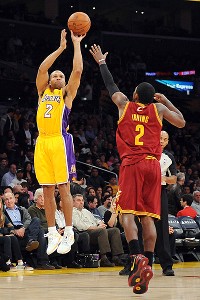 Noah Graham/NBAE via Getty Images
Fisher didn't do much offensively, but his passing was outstanding.
But a funny thing happened on the way to Strugglesville. The tandem of Derek Fisher and Darius Morris, the former beaten up 24/7 as the Lakers' weakest link and the latter making just his second appearance this season, joined forces to provide some quality minutes. In particular, Fisher had himself one heckuva night. His first half rounded out with nary a shot attempt or point, but his passing created nine Lakers buckets. Fisher got off to a great start by creating the Lakers' first two scores with dishes inside to Andrew Bynum, then later threw a gorgeous left-handed baseball pass to Pau Gasol after drawing a double-team on a pick-and-roll. He also was particularly in sync with Matt Barnes' off-ball movement, setting him up with a couple of baskets while the small forward ran curls away from the action.
And in a moment I'm sure the veteran enjoyed, given his distaste for the "Fish can't hang with the kids because he's older than dirt" narrative, he stripped No. 1 overall pick Kyrie Irving on one possession with shocking ease, then converted the turnover into a layup for Gasol.
Fisher finished the night with 10 assists (against zero turnovers), the 15th 10-plus assist game of his career, the previous one coming Jan. 11, 2009.
As for the rookie Morris, he wasn't quite as prolific, but he was largely solid and even improved from his credible debut Wednesday in Utah. He quickly drilled a corner 3 upon checking in, then pushed a Cleveland miss to hit Barnes in stride for a lefty layup past the outstretched arms of Anderson Varejao. In the second half, he did a nice job recognizing a play in development, waving Troy Murphy off the top of the key to feed Kobe for an eventual and-1 drive. A potential highlight-reel dish was dashed when Gasol was surprised by a pretty over-the-shoulder feed, which resulted in an unconverted layup.
All in all, Morris finished with four dimes, along with an acceptable amount of rookie mistakes.
The play-making quest also was given a boost from "El Spaniard," who successfully ran the break on separate possessions and hit Bynum for a critical lob layup late in the fourth quarter. Nights such as these make crystal clear Gasol's roots as a guard. They also make Gasol feel like the Lakers' best, if wholly impractical, option for starting lead-guard honors. And with Blake about to miss a string of games, the odds favor the issues experienced all season -- as well as last -- to continually present themselves.
But for at least one night, the Lakers handled business at the 1.
2) Metta World Peace didn't remove his warm-ups.
Granted, Lakers.com reporter Mike Trudell reported the anointed bench boss was dealing with a sore Achilles and back, so it's hard to know for certain whether he sat for medical reasons or has fallen out of the rotation. However, the latter scenario feels believable. MWP's production and playing time have steadily tailed off since 2012 began, and given Mike Brown's willingness to tinker at the drop of a hat, I wouldn't be shocked if he's now experimenting with a Barnes-Devin Ebanks pairing.
Obviously, if Metta actually has taken up residence in DNP-CD County, there will be approximately one zillion eyes studying his reaction down the line. The mercurial forward has been an extremely good soldier about decreased touches, adjusting to roles outside his comfort zone and surrendering his starting position. But a place outside the rotation entirely could stretch the limits of his cooperation. And even if this was just a precautionary move by Brown, it underscores how fragile MWP's footing is at the moment.
3) The second unit's issues don't begin and end with MWP.
In fact, based on Friday night's showing, they're exacerbated by his absence. Without him or Blake on hand, the reserves struggled about as badly as humanly possible to manufacture points. Morris contributed their lone bucket, and Ebanks added a point at the free throw line. And that's it. Seriously. For reals. The problems ran deep than just missing shots. The ability to generate good looks was in short supply, especially during the fourth quarter when a double-digit lead rapidly slipped away.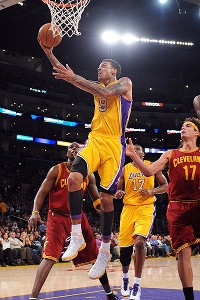 Noah Graham/NBAE via Getty Images
Barnes can do a lot without his number called.
This drought was the difference between a game put on ice and the starters retaking the floor to preserve a W by the fingernails. Without some subs stepping up, it won't be the last time this scenario is experienced.
4) Matt Barnes is easily the best Laker at the art of moving without the ball.
Seemingly the only Laker immune to the disease of standing and watching Kobe (or whoever else) do work, Barnes notched 15 points Friday night, most of which were opportunities created by his perpetual motion. Good things happen to those who don't stand around and wait.
5) For about 2 1/2 quarters, the Lakers looked more like a true team than we've seen in quite some time.
The downside of Kobe's torrid scoring tear (42 points this time around) is it reinforced fears from skeptical fans heading into the season: This team is no longer good enough to contend, and therefore Kobe needs to don a cape (most likely Batman, his personal favorite). During the first half, however, the Lakers played like a true unit. Three double-digit scorers. Eighteen assists to create 24 buckets. Cleveland held to just 35.7 percent shooting, with the final 3:42 of the second quarter an absolute buzz saw of disruptive team defense.
Granted, this group effort came against mediocre competition, and a bad fourth quarter almost undid all that chemistry. But this offered a glimpse, along with a hopeful foundation, for the unity needed as the season progresses. If this team truly has its sights on a championship run, reliable depth and balance are a must.
6) Did I mention Kobe had 42?
It don't think it's hyperbole to declare the dude's in something of a scoring zone right now.