For all the talk about Shannon Brown's hops, springiness making him a YouTube fixture, asking others about him inevitably leads to mention of his hands.
Sam Forencich/NBAE via Getty Images
This has become a familiar sight for Lakers fans.
"He's got big hands. Extremely big hands," marvels former Charlotte Bobcats teammate Raymond Felton, who played against Brown in the 2005 Final Four.
"He's blessed with great hands," praises Bobcats assistant coach Jeff Capel, who grew close with Brown during the guard's half-season with Charlotte.
"I wish I had those hands," says Nuggets guard J.R. Smith, former dunk contestant (and sick athlete in his own right) who's known Brown since their AAU days. "If you get a set of mitts like that, it's hard to stop."
"They're pretty big," admits Brown with a chuckle as he sits on a medicine ball after Lakers practice in El Segundo.
In a nutshell, dude's hands are ginormous.
Combined with elevation capable of making a trampoline jealous, they're a Godsend for dunking a basketball, a skill Brown will be showing off at the Slam Dunk Contest during the All-Star Weekend. But during Brown's time as a professional, those same hands weren't just used to smother a Spalding. They were gripping onto an NBA life, and just barely at times.
The Staples Center buzz Brown creates by merely checking into a game makes it hard to remember how before arriving in L.A., his career was an exercise in uncertainty. Three teams in three seasons. D-League stops. The 2008 summer spent sweating a contract offer, wondering if his NBA dream was ending in a blink. But through a combination of perseverance, ridiculous athleticism and unexpectedly landing in the right place at what didn't initially appear the right time, Brown is finally carving out the NBA existence he always believed possible with a real chance.
Too much of anything can be bad, and Shannon Brown's basketball career has at times served as living proof. For example, natural athletic ability allowed him to dunk at the early age of 13, a skill literally and figuratively taking him higher and higher. But while a Pavlovian ability to spark "ooh's" and "aah's" is fun, people have a tendency to muddle together highlights and forget the rest, which can mean getting pigeon-holed.
"When I first started dunking, that's all people used to talk about," notes Brown. "He dunks! He dunks! He dunks! I might have 30 or 40 points (in high school), but I probably had like one or two dunks." The high-fly act was continually reminded of possessing a skill set beyond jams by his father Chris, a police officer in his native Maywood, a hardscrabble area eleven miles west of the Chicago Loop.
"He pushed me pretty hard to be the best, especially on the basketball court. If you're gonna do it, you might as well do it right and be the best at it. Don't just do it to do it. Conquer it."
Conquering basketball also meant conquering physical gifts that, like Spiderman's, occasionally doubled as his curse. Those same hands coveted by many of Brown's peers created an obstacle in developing as an all-around threat. Absurdly wide palms may provide ridiculous strength gripping the rock while elevating through traffic, but they're not necessarily the ideal conduit for ball handling and soft English on a release.
"Sometimes the ball feels small in my hand," says Brown. "I gotta get the right grip to make everything right with the jump shot. Sometimes I really don't realize it until I'm watching myself on TV." Or back in the gym, where Brown decided as a youngster to spend hours working his craft. Not to mention avoiding the pitfalls of the streets.
"Sports definitely saved me from a lot of things," says Brown. "I had the choice of whether to hang at the gas station or go to the gym. I chose to go to the gym."
The work paid off, as Brown was named a high school McDonald's All-American and 2003 Illinois Mr. Basketball, honors taking him to Michigan State University. As a junior, 17.2 ppg, All-Big Ten second team and Big Ten All-Defensive team honors were added to Brown's resume, along with a trip to the Final Four, where MSU lost to eventual champion North Carolina. Despite his success, Brown often felt "restricted," discouraged to do certain things on the court and reminded to "wait his turn." Frustrating instructions (not the last time they'd be given), but he worked to tow the company line and "respect the game."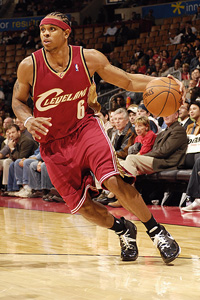 Ron Turenne/NBAE via Getty Images
Shannon Brown's time in Cleveland
was very up and down.
Hindsight being 20/20, Brown is now able to see how much improvement was needed.
"I think I've come a long way considering when I first started playing the game of basketball, I couldn't shoot. In college, I really couldn't dribble, I guess. But the one thing I did, I was aggressive, and that got me over the hump a little bit until I started to need those skills."
Forgoing his senior season, Brown was taken 25th overall in the 2006 NBA draft by the Cleveland Cavaliers. It wasn't the first time he'd crossed paths with LeBron James- Shannon placed second to The King in a legendary high school dunk competition- but this time around, the two were on anything but equal footing.
Brown played in just 23 games as a rookie at fewer than nine minutes a pop, averaging a scant 3.2 ppg. That campaign, featuring frequent time on the inactive list, DNP-CD's and a brief D-League stint, set a tone for his uphill professional climb. PT during his second season grew so sporadic he actually requested a Rio Grande Valley Vipers assignment to get some run. The Cavs declining his third-year option made showcase opportunities a must, and the situation grew more dire after a trade to the Chicago Bulls, where Brown appeared in a grand total of six games for a combined 22 minutes.
Time in Cleveland and Chicago was an eye-opener for a guy who entered the league with a goal of being "impact player." Instead, he was met with a dose of how the NBA's uglier side can affect a career. Brown declined to get into specifics, but implied politics and business of the league affected him in ways outside his control. Clarifying details have since emerged, but being "blind" to his situation at the time made it difficult to deal with. But even acknowledging these events, Brown emphasizes he's "not really one to blame anyone else for the things that have happened to me."
"There are definitely some things I could have done better to make my road less bumpy."
Asked how he's improved most since those days, his immediate answer is concise: "Maturity."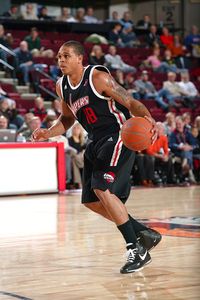 Garrett Ellwood/NBAE via Getty Images
Shannon playing with the NBDL's
Valley Vipers.
My Pops has big hands," notes Brown when asked about family genetics. Big enough for their presence to be felt on a shoulder while comforting his son. And big enough to cradle a phone.
Chris Brown's hands were among the few picking up a receiver to speak with Shannon during the 2008-2009 offseason. With no contract and little experience, remaining positive about the future was an exercise in hard-fought belief. Not to mention solitude.
Disillusionment over suddenly being team-less makes negative influences around Maywood even more predatory. "Coming where I come from, with the background that I have, it's very easy to get caught up. You've got to see the big picture... I had been down that road. That road ain't really one people want to travel."
Despite having just recently turned 24, Brown's voice, a baritone mixed with equal parts syrup and gravel, registers the timbre of a man having lived.
"It was hard," admitted Brown, tapping an empty plastic sports drink bottle against the medicine ball. "I went through a time where I cut my phones off and just sat around. Didn't really want to talk to nobody. Didn't want to see nobody. Didn't cut on the TV. I was just trying to figure out life, I guess. I've always had high expectations for myself and failing is not really an option. I had to sit back and evaluate myself, my life, the things that I've been through. Where I was, where I could possibly go."
"I did a lot of praying, man."
Brown was also expecting his first child, which theoretically meant even more pressure. But instead, a son on the way offered something to focus on besides question marks: Being a father. "My son came and gave me almost a new life," says Brown. "He gave me a breath of fresh air and really helped put things in perspective." Brown eventually received a one-year contract from the Charlotte Bobcats, but the birth coincided with the first day and a half of training camp, inconvenient timing for a player hoping for an immediate impression. Larry Brown, however, allowed Shannon to miss camp to witness his son's arrival, an experience he "wouldn't trade in for the world."
As it turned out, the infant served as the first bookend to a season about to drastically change Brown's career.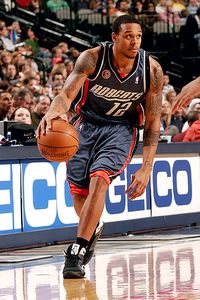 Tim Heitman/NBAE via Getty Images
The Bobcats saw glimpses of what
Shannon would regularly do for
the Lakers.
"I was feeling pretty good in Charlotte," says Brown. "I wasn't playing a lot of minutes, but I was getting in the rotation. I was working hard." His coaches also liked what they saw, on and off the court. "He's a great teammate," praises Capel. "A great guy in the locker room."
That work ethic and attitude also helped offset Brown not yet solidifying the best spot for himself on the floor. "Some people told him he had to be a point guard to survive in the league," says Capel. "He doesn't really have those kind of skills."
Phil Jackson gives those sentiments a firm seconding.
"I wouldn't have called him a guard a year ago at this time. I would've called him a small forward in a guard's body."
Still, "the relentless worker" as Capel described Shannon, was pleasing the Charlotte brass, which made his eventual inclusion in a trade sending Adam Morrison to the Lakers in exchange for Vladimir Radmanovic hardly the "throw-in" Shannon labeled it during his exit interview. "We didn't want to lose him," says Bobcats Head Coach Larry Brown. "He was just part of the deal."
As for Shannon, who was literally parking at the airport to hop the team plane to Miami when his agent called, a whirlwind of emotions ran through his mind. "Everything slowed down and went numb for a second."
On one hand, he was suddenly part of a championship-caliber squad, playing alongside Kobe Bryant (who Brown describes as "one of the best players to ever touch a basketball") and learning from The Zen Master, "one of the best coaches." On the other more pragmatic hand, Brown's contract expired at season's end and his presence around the league needed establishing, no easy mission on a squad this stacked.
"All that ran through my head," admitted Brown. "That whole day, that whole night and the next day, I was trying to figure out what I can do to help myself and how I was going to be able to help this team that was already number one with a set roster with good players."
His worries were quickly set at ease after conversations with Jackson and Lakers General Manager Mitch Kupchak explained the blueprint for Shannon to succeed as a Laker. "They told me to play defense, learn the triangle, play hard, and do what I do." This mission was helped considerably by teammates showing "mad love" for the young guard, encouraging him to seek whatever answers or help needed for acclimation.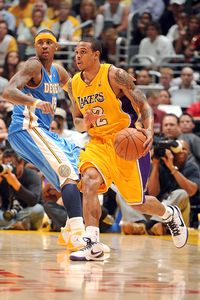 Andrew D. Bernstein/NBAE via Getty Images
Brown dribbles by 'Melo during the
2009 Western Conference Finals.
Those specific instructions and open arms proved valuable when Jordan Farmar's sudden benching opened an unexpected chance for Brown to back up Derek Fisher at "lead guard," to use PJ parlance.
Brown often looked like an out-of-position shooting guard (initiating the offense and creating for himself and others remains a work in progress), but played under control and acquitted himself nicely. Farmar eventually earned his way back into the coaching staff's good graces, but Brown has remained a rotation fixture and his minutes continue to jump after signing a two-year deal in July of 2009.
"So many guys don't really get noticed until they get on the right team and the right situation," says Felton. "He bounced around until he found his spot. This is his spot.""
So how do you go from struggling to stand out with the likes of Charlotte and Chicago to carving out a spot with an elite team seemingly overnight? For starters, it's easier to play within your strengths when balling alongside Kobe, Pau Gasol, Lamar Odom, Ron Artest, etc. "He's with a team that I think his talents are well-suited," says Larry Brown. "He doesn't have to be primary ball-handler. He doesn't have to be a primary scorer. He can just use his athleticism and play."
Ironically, Brown's never actually felt freer as an NBA player than the moment he joined a team where he wasn't asked to do too much. "When I came here, there wasn't no restrictions, man," smiles Brown. "It wasn't, 'don't do this, don't do that.' Just go out there and play basketball."
Either way, the kid has improved tremendously in a short amount of time, and according to his current coach, credit goes to the player. "I'm not surprised at his growth," says Jackson. "He's the first guy in here every morning and he works very hard at his game."
All that labor has not only paid off, but finally come full circle, as Brown's attention to the smaller details has placed his comic book athleticism front and center on the biggest stage. He's divulging no hints about his plans (outside of a certain partner in a 24 jersey), but the details may not even matter, as Capel thinks Brown's a guaranteed winner. "I've told Gerald Wallace he's got no chance in the contest," laughs the coach about his star player's odds.
How did the All-Star forward react?
"He understands. He's seen Shannon do some amazing things himself."
Win or lose this Saturday, Brown has finally been able to make a name for himself in the league after hanging by a thread. And more so than some other players, seems acutely aware good fortune can't be taken for granted. After noting he's "very satisfied" with where he is now, his words are immediately checked, stating instead he's "happy where I am now."
Like a guy with the whole world in his hands.