Mike Brown can insist he's not worried about the Clippers. Matt Barnes and Blake Griffin can claim there's no bad blood between these teams (if not necessarily each other). And people can debate whether the Lakers and Clippers have entered a "rivalry." Some will say the Clippers need to win more games (or banners) to make this a "rivalry." Others won't be able to agree on what constitutes a "rivalry" to begin with.
But this much can't be disputed. There are stakes riding on this game.
The winner of the Pacific Division is probably guaranteed at least one round of home-court advantage in the playoffs. The runner-up could end up fighting just to make the postseason in a loaded Western Conference. If the Lakers can't snap a three-game losing streak with a win against their Staples Center roommates, they've lost any shot at forcing a tiebreaker. Winning the division would require leapfrogging the Clips, which means making up the ground of four losses in the standings. With only 47 games remaining afterward, the mission's not impossible, but it won't be easy.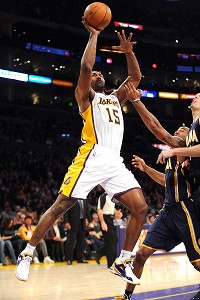 Andrew D. Bernstein/NBAE/Getty Images
Metta needs to repeat his performance against the Pacers. Others need to pitch in as well.
Here are four items to watch once the ball is jumped:
1. Bench production
The upside of Metta World Peace's 11 points against Indiana on Sunday? It provided hope of a corner potentially turned, or at the very least, evidence of a concerted effort to park him in the lane that essentially makes or breaks his effectiveness. The downside? It was a stark reminder of how rare such an outburst is for a Lakers reserve. Before this night, the last Lakers reserve to hit double figures was Steve Blake on Jan. 8 against the Grizzlies.
The second unit's struggles to chip in points is an issue during any game, but could be spotlighted in particularly painful fashion against the Clippers. In an extreme example, you have Mo Williams, whose 14.5 points off the bench bests the combined averages of MWP (5.5), Josh McRoberts (3.7) and Darius Morris (3.6), the top three scorers among healthy reserves. There's even a reminder in the form of second-leading bench scorer Randy Foye, whose 7.9 points is hardly eye-opening ... except on the Lakers, where he'd be the clubhouse leader among subs. And despite Williams' presence, the Clippers remain just the 28th-ranked team for bench scoring and 29th for efficiency ... and still beat the Lakers on both counts.
The Lakers have enough trouble keeping pace with opponents without their reserves digging them further into a hole. This is not a group rich with natural scorers, nor playmakers capable of making life easier for the role players. And while some combination of Kobe Bryant, Andrew Bynum and Pau Gasol will undoubtedly be on the court to help carry the load, there's enough burden placed on those six shoulders as it is. In the first meeting, five Lakers reserves joined forces to offer a baker's dozen. That paltry sum didn't lead to a win then, and I'm no more confident about the prospects today.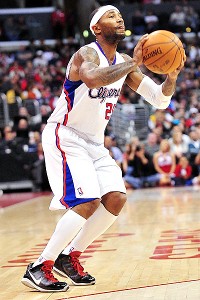 Gary A. Vasquez/US Presswire
Mo's been killing it from outside.
2. 3-point shooting
The Clippers allow 37.3 percent shooting from behind the arc, ranking 28th in the league. The Lakers shoot 25.9 percent, ranking 29th. Does anything have to give here? There's actually evidence either way. On one hand, the Lakers' marksmanship has been so bad all season, it feel like a "it's not you, it's me" problem, rather than the result of opponents ferociously guarding the downtown stripe. Over the past four games, the Lakers have averaged a comically bad 23.1 percent on 3-pointers, and the number would be even lower had Derek Fisher's game winner against Dallas not prevented a 0 percent outing. However, the last time the Lakers actually did well from distance (41.7) came against ... you guessed it ... the Clippers. The timing may be nothing more than pure coincidence, but given how a successful trey arrives with the regularity of Haley's Comet, it bears mention.
In the meantime, the Lakers haven't been terribly effective guarding the arc of late. Recent percentages allowed include 55.6 (Indiana), 44.5 (Orlando), 50 (Miami) and 42.9 against ... you guessed it ... the Clippers, a team treated well recently by the 3-ball. The red, white and blue have shot 38 percent or higher in every game but one since these teams last did battle. Against Indiana in particular, the Lakers collapsed too heavily upon penetration, resulting in one wide-open outside look after another. And that was often with Darren Collison running the show. If the pride of Etiwanda High can carve up the Lakers that badly, think what Chris Paul can do ...
3. ... even if he's not at full strength.
It's still not guaranteed Paul will suit up, although the signs point to him on the court. Paul participated in a full practice Tuesday and as Arash Markazi reports, barring any setbacks at shootaround, Vinny Del Negro plans to start him, but monitor his minutes. In L.A., we've grown accustomed to hearing Phil Jackson say he'll "monitor" a player's minutes upon returning from injury -- Gasol, for example, who was also nursing a hamstring injury -- only to play him 35-40 minutes. But I have a feeling this will be different. From everything I've read or heard, the Clips have treated this situation with kid gloves, knowing what their star point guard's health means to this season and how finicky a hamstring can be. Should Paul play, I doubt he'll be pushed to the limit, especially in a season with so many games piled on top of each other.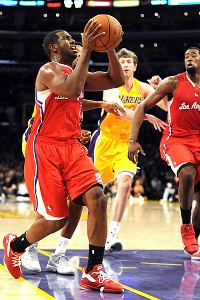 Harry How/Getty Images
It'll be interesting to see how much Paul can play.
When Paul is on the court, though, it'll be interesting to see how hard he can go and if there are any limitations. Will he be able to invade the teeth of a defense as effectively? Can he be taken advantage of defensively, even if matched up against Derek Fisher? (Remember, the only reason Lakers fans get to complain about the old man's forays into the lane is because he got there in the first place.)
Then again, CP3 at, say, 75 percent, is probably still a pretty dangerous player.
4. Big men and free throws
Andrew Bynum is shooting 54.1 percent from the stripe. Blake Griffin, slightly less at 51.4. DeAndre Jordan, who's already received the "Hack-a-Shaq" treatment this season, hits his freebies at a prolific 48 percent. And during those two times on average Reggie Evans visits the stripe, the dude's shooting a comically low 35 percent at the stripe. That's just scandalous for someone actually collecting an NBA check. Essentially, if the big man in question isn't named "Pau" or "Gasol," unless your team would enter the bonus early, it's worth preventing any basket near the rim with a personal.
These free throw issues may not come into play during the game's closing minutes, but depending on how often Bynum, Griffin, or Jordan shoot not-so-freebies, they could shape the final outcome. For all the talk after the Indiana loss about offensive/defensive execution, and where Gasol has been stationed on the floor, if the Lakers made three more free throws ... winner, winner, chicken dinner. Those misses add up, and could swing the game in either direction.