Noah Graham/NBAE via Getty Images
Lamar Odom has built his career around rebounding and passing, despite a hefty ability to score.
A partial list of impressive acts performed by Lamar Odom, in the starting lineup with Kobe Bryant and Andrew Bynum on the sidelines, during Monday night's 101-89 win over the Spurs:
Grabbed a rebound at the defensive end and pushed coast to coast, finishing at the rim.

Grabbed a rebound at the defensive end and pushed coast to coast, finishing with a dish to Pau Gasol for an easy two points.

Grabbed a rebound, took two dribbles, then whipped a nearly sidearm pass almost the full length of the floor to Shannon Brown, hitting him perfectly in the hands.

Used a face up game to drive and score when matched up against Matt Bonner.

Used an effective low post game when matched up with Richard Jefferson both to score and earn a team-high seven free throws.
So do night's like those, or his 10/22/6 effort Saturday against the Blazers, help or hurt LO in the eyes of fans? Why doesn't he do that all the time?
Odom is now into his 11th season of answering far more questions about what he isn't rather than what he is. Of being too passive, too flaky, too inconsistent. No question, at one point or another over the course of his career, he's been one, two, or all three. There are things about his makeup as a basketball player seemingly unable to jibe with the incredible skill set he packs into a 6'10" frame.
He will never be a number one scorer, he'll never be a superstar.
But before burying him, how about a moment of praise? Saturday night, the guy who for many has on balance been a disappointment, became the eighth youngest player in NBA history to gather 6,000 rebounds and dish out 3,000 assists. The seven who did it faster than Odom's 716 games: Larry Bird, Chris Webber, Kevin Garnett, Oscar Robertson, Kareem Abdul-Jabbar, Wilt Chamberlain, and Elgin Baylor.
Pretty good company for a disappointment.
In so many ways, LO is the basketball equivalent of those Team Aniston/Team Jolie debates. You're either an Odom guy, or your not. I am, and have been for a while. Basically from the moment I learned to stop worrying and enjoy Odom for what he is (call it the Dr. Strangelove approach). Strip away a decade's worth of expectations and what's left is a pretty productive player.
He arrived in L.A. miscast as a number two option behind Bryant, even more unfortunate considering his presence was a constant reminder of the breakup of the franchise's championship squads of the early decade. So much focus was placed on his scoring, the one area of Odom's game where he's always been reluctant to place consistent emphasis.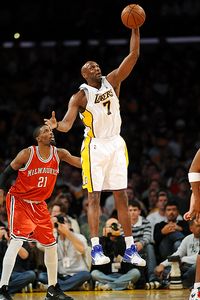 Noah Graham/Getty Images
One of Lamar Odom's 6,000-plus rebounds.
Even as it took him even further away from a consistent on-ball role and eventually moved him out of the starting lineup, the arrival of Pau Gasol liberated Odom most nights from that obligation and provided a perfect opportunity to play in the way he'd always wanted and be validated by team success. As the team has improved, it's allowed Odom to become more outspoken and protective of his philosophy. He'll speak of "making the basketball play," with a degree of reverence a priest might have for the Holy Scripture.
It's the principle, even if the principle can be difficult to practice or isn't always met.
"I knew I was going to have to adjust, and still make do," Odom said Monday night about his time after arriving in L.A. "A lot of people can't. A lot of people would have demanded trades, but I saw winning at the end of the road. Winning with a great franchise, I felt like has always been my destiny. To be known as a Laker, known as a winner now, a guy who can help a team to a championship."
An oversimplification perhaps, but given how hard it's been for Odom to reach this point, I'll forgive him for allowing present conditions to mold memories of past seasons. For the Lakers, all that matters is how Odom fits into this group, and in that regard it's monumentally important.
"I really believe Lamar gets true joy out of passing the basketball. I don't think he worries about his points. If you look at what he does on the basketball floor a lot of times it's not related to point production, but rather to assists that he gets, and rebounds, and the ability to share the ball with his teammates," says coach Jim Cleamons, who smiled wide when I floated the notion of the 6K/3K milestone being "a particularly appropriate record" for Odom since it almost flaunts any mention of points and scoring.
Cleamons says some of the "inconsistency" fans see with Odom is a reflection of what the coaching staff asks of him.
"There are nights when we do need his point production, but he walks that thin line because people know he's unselfish and they expect the ball from him," he says. "Teams have personalities, guys fit certain roles. We ask him to be one of those people to have many roles on this team. Some nights, LO, you need to score. Other nights, we need you to rebound. Other nights we need you to play defense, other nights we want you to push the basketball. So how many masters can you serve and still say, "Who am I?" So I can understand the trepidation he feels. He's doing what he needs to do on all given nights, and it's not just to score points."
No question, and that's why some nights I go home and say we don't pat him on the back enough. Why can't you do this, why can't you do that? Well, be happy for what he does give you, because he leaves it out there every night. You have to accept what he does and be happy that he does it. We should give him some more sugar."
There are certainly moments where Odom's "others out front" philosophy makes him too passive. Asked if the team requires LO to play outside his comfort zone in order to accommodate the skill sets of his teammates (and this, generally, is code for Kobe Bryant), Phil Jackson was adamant they don't. "No. The answer to that is no," he said. "A lot of times we have to tell him that he has to go ahead and play with a disregard for Kobe's plea for the ball at times because it's more important that he keeps it. It's one of our best features, is rebound-and-push."
There's an irony to how Odom performs in Kobe's absence, and not just because of how it reinforces to some the notion he somehow slacks off when Bryant is around. In many ways, the two represent opposite sides of the same coin. Bryant is furiously competitive, and is criticized for inserting too much of himself into games, often at the expense of his teammates. Odom, brought in to complement 24's skill set, is criticized for leaving too many tools unused when a little selfishness would benefit the team.
Each deals with his own double standard. That which makes Kobe a superstar when the Lakers win and he plays well can be seen as selfish and untrusting when he doesn't and they lose. A bad game for Odom isn't simply that, but an indication he's flaky, uncaring, and untrustworthy.
The numbers, however, don't lie. And while there will always be the nagging feeling Odom has left some potential to dominate on the table, the company he joined in the "Fastest to 6K/3K" club shows he must be doing something right. It's yet another opportunity to see and appreciate him for what he is. If that doesn't do the trick, Odom has one more strategy.
My time will come," he says, "with winning. When you win, then people start to notice the smaller stuff about you."