If the Lakers are going to finish 4-2 on the trip, seen by many as a good measuring stick for success, they'll need to sweep the remaining three.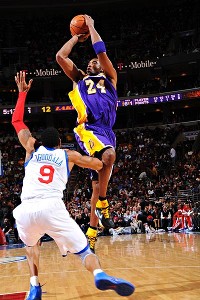 Jesse D. Garrabrandt/NBAE/Getty Images
Kobe Bryant put up big numbers in the first half, but was shut down in the second.
L.A. dropped yet another one on the road, overcoming a strong start with something less impressive down the stretch in a refusal to buck their negative trend away from Staples Center. In a vacuum, a loss to an elite team in their building isn't a big deal, except clearly the Lakers aren't living in one of those. Right now, every loss puts them further behind the eight ball in a tight Western Conference. Every road loss reinforces the notion this team can't win away from Staples.
Things have to improve, and quickly.
Here are five takeaways.
1. Kobe Bryant wanted to get past Shaq ASAP, did it in spectacular fashion, and then things went south.
He'll often play off the significance of days like this one, where he climbs another rung on some all-time list. Clearly though, this one meant something. Bryant entered the game needing 24 points to pass ex-teammate Shaquille O'Neal as the fifth-most productive scorer in NBA history. He didn't even need four quarters. By halftime, Bryant was there, thanks to an array of jumpers and range extending out to Allentown. A 29 percent shooter from 3-point land heading in, Kobe hit four of his first six hoists from beyond the arc.
Unfortunately, while Bryant was strong, the Lakers never established much of an offensive rhythm. They were a decidedly outside-in team.
In the second half, Doug Collins had seen enough, deciding to send the kitchen sink at Bryant every time he touched it. Perhaps not coincidentally, the Lakers lost their way. The third quarter featured a run of turnovers over the first six minutes as the Lakers struggled to adjust. Periodically, there were moments Philly paid for the extra attention delivered to Bryant, whether from Kobe delivering passes out of the aggressive doubles and triples or finding the open spaces vacated by Sixers defenders.
The Lakers were also forced repeatedly into late clock situations. One action. If it worked, they got a decent look. If it didn't, they didn't. Too often, it was the latter.
Bryant's shot was taken away in the third and went ice cold in the fourth. Overall, he made only two of his 12 attempts from the floor (2-of-14 after passing Shaq) over the final 24 minutes, and turned it over three times. Was it a matter of Kobe launching too much, or the Lakers not effectively making them pay for all the bodies they threw at him? Both. Did they start on a stagnant note with Bryant playing so aggressively from the perimeter in the first half? Probably. Did he get enough help? Outside of Andrew Bynum, I'd say no.
Certainly Bynum was beasting down low, and didn't see enough action (when he did, Collins managed to double him, too, a sign of how good Philly is defensively), though he also had turnover issues. The Lakers would have benefited from a larger role for Bynum down the stretch. Overall, this will be one of those games goosing discussions about offensive balance.
Put all of it aside for a moment, because the basic truth is simple: The Lakers offense doesn't operate very well, and they don't seem particularly close to fixing the problems. The big issue isn't Kobe, or (on most nights at least), Bynum or Gasol. There are simply too many holes in the roster, meaning on most nights the Lakers are operating with a tiny margin for error.
2. The Lakers got it done on the boards.
A major point of emphasis entering the game, the Lakers clamped down on an active, athletic Philadelphia team, severely limiting second-chance opportunities for the home team. Leading the way was Bynum, who played human Hoover, sucking up nearly every errant Philly shot while he was on the floor en route to a 20-rebound night. (This in addition to three blocks. The "Who cares how much Drew scores, we just want him to be a rebounder/shot blocker!" crowd enjoyed this one, unless they resented his 20 points.) But he had a lot of company. Pau Gasol chipped in with 11, and as a group the Lakers made sure they found some bodies when the ball was in the air.
Even better, they were very strong on the offensive glass, again led by Bynum. His eight ORB's headlined the team's 21. So productive were the Lakers, at halftime they only had one fewer offensive rebound (13) than the Sixers had total rebounds (14).
Overall, L.A. finished a staggering plus-25 on the night. Bynum nearly matched Philly's entire body of work by himself. Shame they wasted it on a loss.
3. The Lakers got it undone turning the ball over.
They managed to keep control a little better down the stretch, but by then their generosity had kept Philly in the game on a night where Kobe scored a lot early and the Lakers sucked up enough offensive boards to slow their break. Sixteen turnovers against a good team isn't going to get it done. The Sixers certainly cashed in, scoring 20 points off the giveaways. In a tight game, that's more than enough to swing things.
4. Pau Gasol has to pick up the efficiency.
Only once in his last four games has Gasol hit the 50 percent mark from the floor (5-of-10 vs. Denver). Over his last nine, he's only hit the mark three times, and in five he was below 42 percent. They simply can't get by with him scoring inefficiently. They don't have the horses. Pau finished with 16 points, 11 rebounds, and a pair of assists, but was 5-of-13 from the floor and particularly when Kobe doesn't post an efficient line -- and in three games on the trip Bryant hasn't, shooting under 40 percent in each -- Gasol has to fill that void. Too often of late he's not doing it, even if other numbers are there.
5. Matt Barnes has fallen off a cliff.
I can count the number of points he had on one hand, and have all my fingers left over. No points, after scoring five in Utah and only two in Denver. Save a 10-point game against the mighty Bobcats, he hasn't seen double figures since scoring 14 against Indiana. Obviously things are different coming off the bench for him, but with that unit he is, at least in theory, one of the better guys available and expected to produce. It doesn't help that he can't create much for himself and that unit often lacks guys who can make him more effective, but none of that explains why his perimeter shooting has gone into the tank.
Not that he's a brilliant gunner, but he's better than the current 3-of-19 run from 3-point range he's enduring.
With Metta World Peace continuing to struggle offensively, the Lakers are back to getting nothing out of the small forward spot.