Just two seasons ago, the Lakers and Celtics battled for the NBA championship in a seven-game series for the ages. They meet Thursday as squads good enough to be taken seriously, but because both are old and flawed, they are widely regarded as outsiders looking into the 2012 title chase. However, neither team seems ready to pack up the tents. And even if they were, there's enough bad blood remaining from a split pair of Finals ('08 and '10) to guarantee a spirited battle.
Along with ESPN Boston's Chris Forsberg, we pondered three questions heading into this game.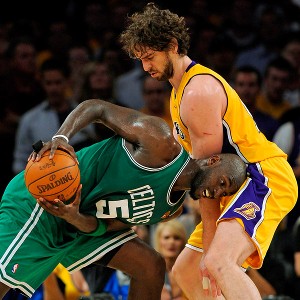 AP Photo/Mark J. Terrill
It's always interesting when these chums meet up.
1. What matchup are you most looking forward to seeing?
Chris Forsberg: Kobe Bryant vs. Mickael Pietrus: We sorta know how the starters match up, so I'm interested to see if Pietrus can be a Tony Allen-like Kobe stopper off the bench. Pietrus has been spectacular since being picked up on Christmas Eve after the Suns released him. And Pietrus supposedly said this summer that Bryant wanted him on the Lakers. (Runner-up: Troy Murphy vs. Anybody. Really, he's one of the Lakers' top reserves this season?!)
Andy Kamenetzky: Paul Pierce vs. Metta World Peace. There have been signs that MWP is rediscovering his defensive mojo. Most recently in Denver, he did the lion's share of the work in limiting Danilo Gallinari to just six points. Of course, there are still games where his defense is as ineffective as his offense, which renders MWP a total nonfactor. The Lakers need Paul Pierce kept in check, and much of that responsibility falls on MWP. We'll see if he's up for the task against a potential All-Star.
Brian Kamenetzky: Pau Gasol vs. Kevin Garnett. Pau's output against what will surely be an extra yappy, extra chest-puffy KG will get the attention, and Gasol needs to produce more efficiently (eight of last 12 games with FG% at 45 or below). If he doesn't, L.A. will have to find alternative options against a top-end defensive squad. Meanwhile, Garnett's scoring has picked up, but Gasol has held opposing PFs to a respectable PER (14). If one goes off at the expense of the other, a victory for his team is highly likely.
2. Name a factor or two that could swing the game in either direction for the team you cover.
CF: It's always about rebounding when these two teams meet. As usual, the Lakers are one of the best (second in total rebounds) and Boston is one of the worst (28th). Boston has been better on the glass during its recent winning streak, but the Lakers are a different beast. Also, turnovers should play a key role. The Lakers are 30th in the NBA in forcing them, but Boston isn't immune to giving the ball away in bunches.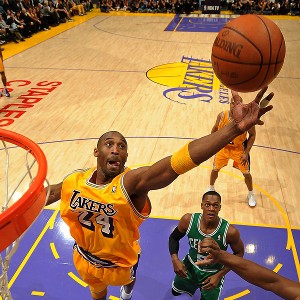 Andrew D. Bernstein/NBAE/Getty Images
If the Celts miss shots, Kobe and the gang need to keep them off the glass.
AK: The offensive glass, specifically Boston's: Several Lakers identified the defensive glass as a factor in struggles outside Staples. As a team that lacks even semi-consistent scoring beyond the Big Three, L.A. can't allow opponents multiple chances at buckets. The Celtics score even less, but given extra rope, they could outpace a squad prone to cold spells. By any measurement, the Celtics are bad on the offensive glass, so if this happens, the Lakers have nobody to blame but themselves.
BK: In those rare moments a little light escapes from L.A.'s black holes, they have a chance. Via HoopsStats.com, the Lakers are 29th in point production at the point (12.9 ppg), and dead last at small forward (11.6, dropping to 8.8 on the road) and off the bench (20.2 overall, 18.2 on the road). Maybe it's Derek Fisher hitting a few shots, or Metta World Peace outperforming his 32.6 percent mark from the floor, or Matt Barnes ending his slump of the bench. If they can widen the Big Three's margin for error, the Lakers can win.
3. Which team needs the win more?
CF: Lakers. The Celtics have won a season-high five straight (and nine of 10 overall) and all the panicked "blow it up" chatter from earlier this season has quickly morphed into lighthearted speculation about where Pierce ranks among the Celtics' greats (and whether he can catch John Havlicek for the top spot on the team's scoring list). Sure, Boston could use a statement win against a top rival, but clearly Los Angeles needs one more at the moment.
AK: L.A. The Eastern Conference's bottom half offers Boston an easier playoff entrance, but Danny Ainge has also mused openly about the possibility of blowing up the Big Three. Their handwriting is basically on the wall either way. The Lakers, however, are trying to squeeze every ounce of opportunity as a team built around Kobe. I don't think they're a legit contender, but they can't disprove my opinion without making the playoffs. Every win or loss matters.
BK: The Lakers, in a walk. The C's are on a roll, and because the Eastern Conference's eight-seed will be occupied by some Washington Generals clone, Boston doesn't need to worry about making the postseason, despite the slow start. The Lakers almost surely will make it, too, but they have had monumental problems on the road. Losing Thursday would mean three bad outcomes against the four good teams they'll see on this Grammy road trip, reinforcing the idea they can't defeat quality opponents away from Staples.