It wasn't easy (when is it easy in Boston?) but as they did in Denver against a high quality Nuggets team, the Los Angeles Lakers again dug deep to beat a heretofore hot Boston Celtics squad Thursday night in overtime.
With the win, the Lakers now have a great shot at finishing the trip at a strong 4-2. Here are five takeaways:
1. The big three were big.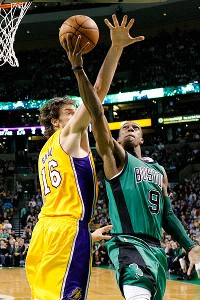 AP David Butler II/US Presswire
The long arms of Pau Gasol helped swing the game for the Lakers Thursday in Boston.
Kobe Bryant was a catalyst for his teammates early, moving the ball well and providing opportunities around the floor. When he did start shooting, Bryant made each of his first four attempts, and after a lull in the middle of the game got things going. In the third, he beat Ray Allen (and others) on a wicked step through in the paint, then canned a couple J's off the mid-post against Allen. Later, he made a nice one-dribble move on Mickael Pietrus. Overall, he finished 11-of-24 for 27 points, along with four assists and five boards. Against a Boston team that loves to bait opponents into low percentage plays, Bryant played a very controlled game.
He certainly pulled his weight, but when support was needed or the shots didn't fall, Bryant was picked up by the other two members of L.A.'s triumvirate.
Pau Gasol was huge, playing an excellent floor game providing all the scoring, facilitating and rebounding the Lakers need from him. On the night he was officially left off this season's All-Star team, Gasol turned in one of his best games of the season. He put the ball on the floor effectively, showed some good footwork in the post, and made some excellent passes as well. Then there were three key second-half putbacks, including one that tied the game at 82 with only 8.2 seconds remaining. Save a couple truly horrible decisions early, leading to turnovers and opportunities for the home team, Gasol was on point.
Defensively, Gasol was big against Kevin Garnett, who basically disappeared as the game went on, then saved the game by blocking Allen at the buzzer on what would have been a game-winning putback off a Paul Pierce miss. Gasol finished with 25 points (12-for-20), plus 14 rebounds, three dimes and that one massive swat.
Andrew Bynum struggled from the floor, making only six of his 15 shots, but he was a beast on the boards (17) and produced three huge plays on the offensive glass. The first two produced and-1 opportunities at the end of the first half off a miss from Bryant, then again in the fourth off a corner 3-pointer from Gasol. In OT, Bynum tipped in a Bryant miss to give the Lakers a late lead. Add in three blocks, and you get the sort of game people want from Bynum, in which he doesn't let problems putting the ball in the hoop prevent him from working hard in other areas.
Games like this point more to problems with the rest of the roster than they do the Lakers' big three. Asking more against a high-end team like Boston simply isn't realistic. On Thursday night, it was just enough to get it done.
2. Matt Barnes had a bounce back game.
To say Barnes came into Thursday's game in a slump does a disservice to slumps. Thursday night, though, he was much improved. He had 11 points on 3-of-5 from the floor and, more importantly, was active away from the ball, providing the sort of energy the bench needs, chasing loose balls and crashing the glass (a fourth-quarter offensive rebound off a Derek Fisher miss sent him to the line) making himself available. The activity helped inject a little confidence in the rest of his game, too. In the fourth, one trip after keeping a broken play alive by grabbing a 50/50 ball and delivering a good pass to Troy Murphy on the baseline, he came over a screen on the right wing to hit the sort of jumper it seems like he hasn't made in three weeks.
3. As it was in Philly, the Lakers did their work on the glass.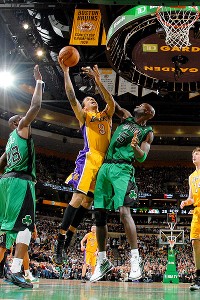 AP Brian Babineau/Getty Images
Matt Barnes busted out of his slump Thursday in Boston.
I mentioned Gasol and Bynum's work here already, but Troy Murphy's contributions -- nine rebounds in 24 minutes-- were key as well. For most of the season, the Lakers have performed well when they can force teams into structured, half-court sets. Where they run into trouble is with turnovers, transition and second chance points. Anything forcing them to scramble. Against Boston a few breakdowns put the Lakers on their heels, but generally speaking they took care of the ball (11 turnovers) and kept the Celtics off the glass.
The high-end rebounding (+10 overall) reflected strong work by the Lakers, defensively. There wasn't much to complain about on that end.
4. Steve Blake's return helped, but the Lakers still aren't getting anything out of their PG's.
Fisher scored as many points as you and I, missing each of his seven hoists. And in his first game since suffering a rib injury last month, Steve Blake provided a first-half 3-pointer then a lot of emptiness before an admittedly clutch toe-on-the-line 2-pointer in overtime. Even understanding the 1 isn't an offensive focal point for the team, this sort of thing is a killer, and puts a ton of pressure on the rest of the team. Particularly when Metta World Peace, called a shell of his former self offensively by Mike Fratello during TNT's broadcast of the game, already puts limits on the team's productivity and increases the burden on L.A.'s big three.
World Peace compensated by doing some very good work on Paul Pierce, but on the other end the Lakers spend a lot of time playing three-on-five. It's a lot to overcome. So unproductive was Fisher, who missed all seven of his shots and matched his assist and turnover totals with two, Mike Brown went with the Tin Man rusty Blake down the stretch and into overtime.
5. After a brief respite, the 3-point shooting was again an issue.
Just 1-for-15 overall, a number that might have improved had the Lakers paid more attention to where they put their feet. (Seriously, name another team in the league that hits more toe-on-the-line would-be triples. I dare you.) Even your average, run-of-the-mill off-shooting night likely means the Lakers run away with it.