Among the surprises this season has been the strong record of the Atlanta Hawks. Despite a first round upset of the Orlando Magic in the first round of the 2011 playoffs, most folks (myself included) seemed to think this core, which had been together a while, had likely maximized its potential. Regression is usually inevitable for teams that run in place long inevitable, and rising squads like the Pacers and Sixers appeared ready to push Atlanta down the standings. After Al Horford injured his shoulder, this felt even more inevitable.
Instead, the Hawks have emerged one of the more consistently strong Eastern Conference teams as the All-Star break approaches. In retrospect, this actually makes sense. A truncated season rewards continuity and this team hasn't experienced much significant roster turnover. Throw in some improved defense, and the Hawks still may not be a true "contender," but they're looking like a team the real deal would just as soon avoid in the playoffs.
For the skinny on the Hawks, I threw a few questions at Bret LaGree, who runs Hoopinion for the True Hoop network. Below are his responses to four questions, plus a couple thoughts of my own.
Land O' Lakers: I didn't expect the Hawks to play this well, especially with Horford out this long. What are the main factors for the strong start?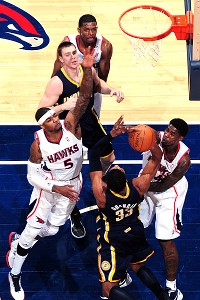 Scott Cunningham/NBAE/Getty Images
Was Smith a victim of not "playing the game?"
Bret LaGree: Unlike last season, Joe Johnson and Marvin Williams are healthy, while Jeff Teague and Zaza Pachulia are getting regular minutes. That's not enough to make up for Horford's absence completely but it is enough to keep them comfortably in the Eastern Conference's middle-class, beating up on the lower third and competitive with their peers.
LO'L: Josh Smith hasn't been shy in letting folks know he should have been selected as an All-Star? How valid is his complaint?
BL: It's valid but it's not like he makes it easy on himself. I completely understand the difficulty people who don't watch Josh Smith every night have in accurately evaluating him. He is very productive without consistently playing to his strengths. His weaknesses (shot selection, one-on-one defense) are as obvious as his strengths (finishing at the rim, help defense). The way he expresses his valid complaint, "It's all about politics," exemplifies why he plays the way he plays and why he's not on the All-Star team. It's like he diminishes his own agency in how he plays basketball.
LO'L: Many Laker fans (including this one) hoped Tracy McGrady might wind up in L.A. to bolster a weak second unit. What effect has he had on Atlanta's?
BL: When he's physically able, T-Mac has been extremely effective, especially in fourth quarters, where all seven of the 3-pointers he's made this season have come. The downside is that he's missed four games and played less than nine minutes in four others. On nights his body is unwilling, the Hawks suffer from their lack of quality depth.
LO'L: What matchup are you looking most forward to seeing?
BL: I'm most looking forward to Josh Smith and Pau Gasol further dispelling the relationship between All-Star status and quality play.
Good stuff from LaGree, and I'd like to offer two more elements worth watching.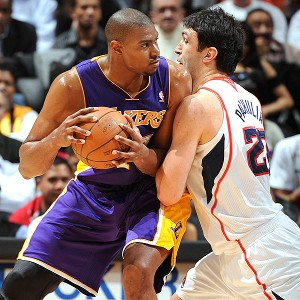 Andrew D. Bernstein/NBAE/Getty Images
Getting position against Zaza will require work on Drew's part.
1) How will Andrew Bynum fare against Zaza Pachulia?
To clarify, the answer shouldn't be found in the numbers. It would be surprising (perhaps even alarming) if Pachuila finished with better stats. Drew is the team's second or third option, while Pachulia is a dirty work specialist. However, he happens to do the dirt very well. The pride of Georgia (this one, not this one) is among the NBA's premiere bangers. He's physical as all get out, reflexively confrontational and has a penchant for hard fouls. If not a truly dirty player, he's certainly "dirty-adjacent." Pushing him off spots for deep position isn't just a matter of Drew imposing will, but perhaps digging deep.
As the road trip wore on, Bynum's energy admittedly flagged. As someone with concerns about Drew's physical and mental ability to handle increased responsibilities over a full season -- the pure talent is there -- I'm not surprised. But with a day to recuperate and a crowd cheering him, maybe Bynum begins this mini-home stand recharged. But if he continues to look tired against a strong defensive body, it's not just a disappointing trend. That lack of effectiveness places that much more pressure on the shoulders of Kobe Bryant and Gasol.
2) Precision from the visitors
The Hawks average 22.4 assists per game, good for fifth in the league. They also average just 13.8 turnovers, making then the NBA's fourth best at taking care of the ball. In other words, they move the ball, and don't make a lot of mistakes while doing so. The Lakers must work hard to disrupt this rhythm, but given how they force the fewest turnovers of any team in the league, the advantage appears to be in Atlanta's corner. Thus, Plan B may have to be playing with eyes on the back of their head, crisp rotations and active help defense.