A full 48 hours won't have passed since these teams battled in L.A., which means by definition very little has changed. In theory, the Lakers remain the superior team, even on the road that's doubled as a purple-and-gold Achilles' heel. However, familiarity doesn't prevent items to watch for. Here are three.
1. Marcin Gortat, roll-man extraordinaire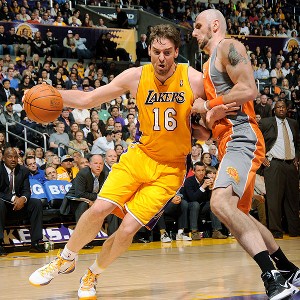 Andrew D. Bernstein/Getty Images
These two guys could play a big role in deciding Sunday's game.
Marcin Gortat may not boast Amare Stoudemire's name recognition, but has nonetheless played at an All-Star level since arriving in Phoenix last season. Specifically, he's excelled in pick-and-roll sets, providing Steve Nash his best partner in crime since STAT bolted to the Big Apple. The Lakers experienced firsthand Friday how dangerous he can be working in tandem with the future Hall of Fame point guard. A nice chunk of his 21 points came while on the receiving end of a bounce feed from Nash, and I don't see why either would stray from what's buttered his bread. Andrew Bynum, Pau Gasol and Troy Murphy must take greater responsibility to monitor Gortat's whereabouts at all times. The Polish Hammer roaming free like an organic farm-raised chicken is a dangerous thing.
2. Pau Gasol's shooting prowess and focus
Gasol's accumulated excellent February numbers, but his shot has been noticeably off. The Grammy trip featured three games at 45 percent or below, and home cooking against Atlanta yielded a 9-for-22 effort. But such trends would theoretically be impervious to a date with the Suns. A bad defensive team by any standard, Phoenix is particularly vulnerable preventing shots at the rim or 10-15 feet out, areas where Pau is often deadliest. Thus, it raises eyebrows to see him go 4-for-13 from the field, especially when the looks were often clean by his own admission. That his focus in general appeared scattered didn't help perceptions, either.
This performance coming on the heels of the latest El Spaniard trade rumor (to Minnesota, for a bunch of dudes not named "Love" or "Rubio") makes it easy to finger persistent gossip as the culprit. Still, he has managed to carve together far more good performances than bad ones. He's hardly performing like a scrub, so the timing may be little more than a bad coincidence. Then again, maybe not. Kobe Bryant openly suspected the recent days have been "emotional" for Pau, who's admitted tuning out the noise isn't easy. (It doesn't help he's fairly convinced the front office is actively shopping him.)
Professional as Pau may be, he's also human, which makes the uncertainty difficult to negotiate. But that's unfortunately what the job entails for him right now. And all things being equal, US Airways Center is an optimal venue to tackle the gig's less pleasant side.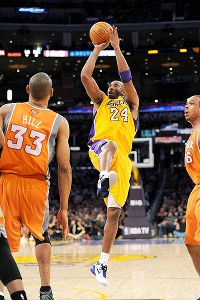 Noah Graham/Getty Images
Note to the Phoenix Suns: You ticked off the wrong cat.
3. Hell hath no fury like a Mamba scorned
When it comes to his vendetta against the Suns, Bryant has the mentality of a Hatfield and the memory of an elephant. Dude makes no bones about a grudge dating to 2006. Doesn't matter that Nash is the only remaining member of that '06 Suns squad. Doesn't matter that Bryant's team has since bounced Phoenix en route to the second of his recent championships, which is roughly two more than that organization has won since its founding. Doesn't matter that his protege and close buddy Shannon Brown now wears purple and orange. Kobe won't let the past go, and if need be, will find new reasons to spice up the present.
For Sunday, I'm guessing he's pretty honked at the way Phoenix so rudely interrupted his streak of 40-plus-point games against them. Three consecutive outings was his goal -- before resetting the number to four, of course -- but Friday's 36 points means having to start over from scratch. I expect a reaction reflecting this annoyance.