If the Lakers thought the 48 minutes encompassing their loss Sunday night to Phoenix was unpleasant, they can find solace in the fact that come Monday, it won't be what people are talking about.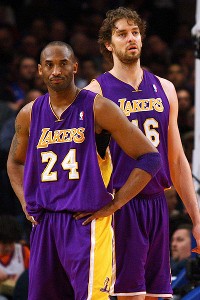 Chris Chambers/Getty Images
Sunday night in Phoenix, Kobe Bryant made it clear he wants to see a resolution to the ongoing Pau Gasol rumors.
Following the game, Kobe Bryant managed to change the subject in a big way, firing shots across the bow of management regarding the future of Pau Gasol. Among the highlights, via ESPNLA.com's Dave McMenamin:
"Basketball is such an emotional game, you got to be able to have all of yourself in the game and invested in the game. We didn't have that," Bryant said after Gasol had 17 points and 12 rebounds against the Suns. "Pau, it's hard for Pau because of all this trade talk and all this other stuff, it's hard for him to kind of invest himself completely or immerse himself completely into games when he's hearing trade talk every other day. I wish management would come out and either trade him or not trade him."
And...
"It's just tough for a player to give his all when you don't know if you're going to be here tomorrow. I'd rather them not trade him at all. If they're going to do something, I wish they would just (expletive) do it. If they're not going to do it, come out and say you're not going to do it. This way he can be comfortable, he can go out, he can play and he can invest all of himself into the game."
And...
"I'm sure we'll make some tweaks here and there, but the foundation obviously starts with myself and Pau and the emergence of Andrew (Bynum). But you can't have one of our pillars not knowing if he's going to be here or not. Do something. One way or another, do something... He's been the consummate professional. He's going out, he's trying to do what he can, but let's be real. If you didn't know you were going to be here tomorrow, if your head's on the chopping block, you feel like you're just waiting. It's tough to put all of yourself into the game."
Bryant's words echo some of the things Pau told me last week, he believes the Lakers still plan to trade him and would like a resolution one way or the other. In absolute terms, Bryant is also absolutely right. It doesn't help to have such an important player on the team distracted by off-court issues. The context of trade talks surrounding Gasol is unique, because he already has evidence the Lakers will move him following the failed trade for Chris Paul. It's not theoretical, making the rumors a lot harder to ignore. Gasol's situation is also different than, say, Andrew Bynum's, because while Drew has blown in the breeze of trade winds for years and has never expressed a burning desire to leave, he's also made it pretty clear it wouldn't crush him, either.
Gasol absolutely, unequivocally wants to stay.
It's hard to argue with Kobe's basic point, particularly in the wake of the botched Lamar Odom trade: Don't screw with Gasol. Move him and get us our next pieces, or pull him off the block and let him play, unburdened.
Still, I'm not sure what Kobe accomplished. His words don't fundamentally change the team's ability to make a trade involving Pau. It's not like they have an open offer from the Nets to bring in Deron Williams and are just kicking the idea around the office, all wishy-washy. Nor can they make Houston pull the trigger on Kyle Lowry, or make a good trade with Minnesota, or Chicago, or any other team out there who might have interest in Gasol. The timeline is what it is, and it's almost certainly going to stretch right up to the March 15 trade deadline.
More importantly, while he probably felt like he was sticking up for a teammate, I don't think Kobe did Gasol any favors. The here-or-gone? story with Pau was already a point of conversation, no question, as was the way in which Gasol was handling the situation. Now, though, Kobe has ratcheted up the intensity. Every game, perhaps every play, is going to be a referendum on Gasol's emotional state, increasing the pressure on him to perform (unless he wants to face endless questions about why he's crumbling). In a situation where Gasol aims to, as he told me, "Let it go," Kobe just made the elephant in the room elephantier.
Kobe again said he expects the front office to do something -- another signal he's not interested in using this season as a bridge to next -- and perhaps there's a little message there to Gasol as well, telling him to suck it up and play through the emotion.
Either way, the likely result is many days of great talk radio fodder, more questions for Gasol and his teammates, and greater scrutiny of Pau's play, but it doesn't change the speed with which an actual resolution will come.