Last season, the Lakers tore out of the All-Star break to the tune of a 17-1 clip. Is history about to repeat itself? Declarative statements in either direction would be premature after just one game, but for the time being, they've done the requisite work. Here are five takeaways from the win.
1) Kobe looked like Kobe.
Aside from the mask, of course, and once it was announced a plastic shield would be covering his face, Twitter went crazy speculating the exact point in the game when he'd eventually remove it. (That, and coming up with funny masks he could wear.) Well, Bryant surprised a lot of folks by keeping the mask the entire time, and for a guy who needed to jump through neurological hoops to get cleared for action, he didn't even miss a beat.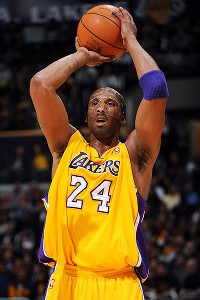 Andrew D. Bernstein/NBAE/Getty Images
I got your "flu game" right here, MJ!
Like many games this season, Kobe aggressively sought out his shot from Jump Street. 10 went up in the first frame alone (five drained), just two fewer than the rest of his teammates combined. Bryant's 10 points (along with a nice feed to set up Metta World Peace for an and-one layup) helped create early separation generally protected in strong fashion. In the second quarter, he set up back-to-back triples for Steve Blake, and found Troy Murphy under the bucket on a slick, semi-no-look pass. The rim was continually attacked (10 free throws in all) and loose balls relentlessly pursued. Bryant's energy level was in no way indicative of a medical issue recently conquered.
After a long spell on the bench during the fourth quarter, Mike Brown opted to bring The Mamba, along with Pau Gasol and MWP back into the fray to "protect" a lead "down" to 19. (Yes, quotation marks do in fact equal sarcasm.) Ever the good soldier, Bryant immediately calmed his coach's nerves with baskets from the elbow and at the rim. Thankfully, he was only on the court a few minutes before Brown mercifully came to his senses and sat the starters for good.
Yes, Kobe's handle didn't always cooperate (five turnovers) and that unnecessary fourth quarter appearance allowed him fix a wonky shooting line, but truthfully speaking, missed shots and turnovers were issues heading into the All-Star break anyway. In a weird, roundabout way, this actually created a comforting sense of "business as usual." All things being equal, there were absolutely no worrisome signs. I mean, dude flirted with a triple-double (31/8/7) a couple hours after undergoing medical tests. Any way you slice it, Kobe Bryant played like Kobe Bryant, and that's as good as it gets for a Wednesday filled with concerns about a potentially extended absence or cobwebs in need of shaking.
2) Metta World Peace found -- and sustained -- an early groove
The Lakers' first two points were scored by Metta World Peace on a reverse layup, and little time passed before the mercurial forward assisted two more buckets. I suddenly experienced a strange sensation I haven't felt in a while: An early feeling MWP was in for a good game. My hunch was correct. His stat line wasn't ferocious, but on both sides of the ball, he was solid, which is precisely what's needed from him as a starting small forward.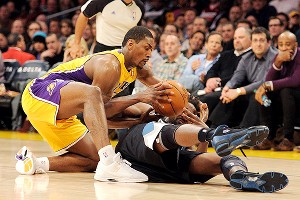 Harry How/Getty Images
Metta's presence was felt in a good way against Minny.
MWP quickly established an inside presence for his points, and during possessions camped along the perimeter, his instinct was to move the ball, rather than jack up a questionable jumper. Excellent court vision accounted for five assists and in the third quarter, he set up Gasol for an and-one layup and Kobe for a pair of freebies. Metta even redeemed himself after one of his few poor decisions, a long jumper created off the (excessive) dribble. The Wolves were off to the races after that miss, but MWP sprinted back, then swatted Anthony Randolph's shot at the rim. His reaction, a pumped fist, felt like a moment taken to smell the metaphorical roses.
I don't blame Metta for feeling happy. He remains a player still seeking his way, and games like these will go a long way towards reestablishing his utility. It's not necessary MWP play like an All-Star. He just can't be a liability. Tonight, he wasn't.
3) Pau Gasol's third quarter was huge.
After a first half spent in control but with feet disappointingly far from their opponents' necks, the Lakers used the third frame to put Minny away for good. Much of that success was due to El Spaniard, who'd been fairly nondescript heading into intermission. 11 points were accumulated on four-of-six shooting, along with three dimes and a few hockey assists setting up eventual buckets. Gasol's ability to see and read the floor was often nothing short of spectacular as the Lakers continued to bump their lead. Toss in a steal and a pair of blocks, and it was another reminder of just how talented a game-changer Pau can be at the top of his game.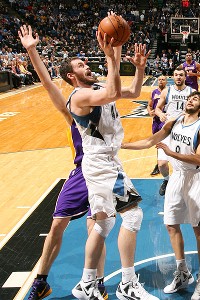 David Sherman/NBAE/Getty Images
The game obviously would have been much different with Love available.
4) Matt Barnes could barely buy a bucket from point-blank range.
Not that the guy played badly, and as his eight rebounds indicates, the usual hustle was on display. I don't recall Barnes ever missing so many shots right at the rim, often without a challenge. Sometimes, as the saying goes, that's just how the ball bounces.
5) The Wolves are considerably worse without Kevin Love.
I'm not raining on the Lakers' parade, but rather repeating sentiments expressed by Gasol and Andrew Bynum (whose 13/13/three block showing bears at least a mention). Frankly, the dip is as predictable as the endings of every M. Night Shyalaman movie since "Unbreakable." Love's putting up All-NBA type numbers and has easily established himself as one of the two or three best forwards in the game. Did you really think Minny wouldn't miss him?