While Jim Buss draws most of the attention -- and the ire -- when fans consider the next generation of Buss children taking over the family business from their father, there are two other sons learning the business. Most prominent is Joey, once that random Buss you'd never heard of who accepted the '09 championship trophy from David Stern after Game 5 in Orlando, now the President/CEO of the organization's D-League team, the D-Fenders.
The 27-year old USC grad is in his fourth year running the minor league squad. Where Jim worked his way up through the Lakers organizational structure as part of the player personnel division, Joey is getting a more holistic education with the D-Fenders. A few weeks back, we sat down with him for an extended interview.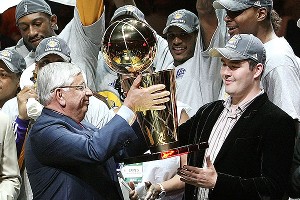 Elsa/Getty Images
Dr. Buss let his son sink or swim in Orlando.
Q: How did you get into your role with the D-Fenders?
Joey Buss: When I graduated college, the first year I spent with the Lakers and Phil Jackson, shadowing him for the year. Traveled to all the away games, went to all the coach's meetings. That was one of the best experiences I've ever had, just getting in there. We also invested in the D-League as the first NBA team to buy its own affiliate at around the same time. I was trying to learn different roles, and different parts of the organization to see where a good fit would be.
As I talked with my sister Jeanie and my dad it seemed that the minor league sport was an open opportunity to take on, and invest my time into fully to try and build it as an asset for the Lakers. From the business part, from the basketball part, just managing the whole deal. Go out there and do it. This is your team, go do it.
Q: What did you learn in that year shadowing Phil?
Joey Buss: Candidly, I learned it's very hard work. I learned all about the triangle offense, and the inner workings of how Phil likes to manage games. Coming from college you're kind of outside looking in. This was an inside, behind the scenes look. Growing up with the team, it was more just about the players, meeting guys. That's all I really cared about. What this really taught me was the strategy of the game. Getting that coaching insight was very valuable basketball knowledge.
You really quickly start realizing that it's not as easy to say it as it is to do it. Their point guard scored a lot, why couldn't we do something about? But then the coaches, you [see they] tried everything you possibly could. You did this substitution, you did the zone, you tried this different on the pick and roll, you tried different avenues. You really get to see that they try everything. They don't not think of anything. And really having a realization of how difficult it is for these guys to maintain an energy level through a whole season.
Q: How has moving D-Fenders home games to Toyota Sports Center worked out?
Joey Buss: The Staples Center is a great venue, but it's too big for minor league sports. The reason why we even had the team there in the first place was more for basketball purposes. Allowing Jordan Farmar to have the ability to play a D-Fenders game and then get called up and play a Lakers game in the same night. That's a very convenient situation to have, but ultimately we decided it was in the best interest of the D-Fenders to try and branch out.
This facility is kind of a great way to replicate the Bakersfield Jam's model, which is a D-League team that built a practice facility in Bakersfield for their team. They were going to go under and sell the team, but they decided to host their games at that practice facility, and to make it an intimate experience. Almost like a country club experience where you can not only utilize the gym to watch basketball, but I think they also take appointments to cater to business professionals holding meetings, and have boardrooms, and I know they use their facility all the time for their season ticket holders and sponsors and everything like that. So we looked at that and thought it was really cool. How can that apply to us?
One of the things that Lakers fans always are looking for are Lakers tickets. The demand is so high and the supply is limited. So with the D-Fenders, if you have season tickets you get Lakers season ticket benefits, which include purchasing tickets, getting early access to tickets during the regular season and during the playoffs. So it really allows us to hit people up on the waiting list [for Lakers season tickets] and say, instead of waiting in line and hoping to watch basketball, come do this and get almost a preview package. That's kind of what we've really tried to do here, is to push this as a preview package for people who are waiting on the list so they can see how it feels to be a Lakers season ticket holder, and they also have the opportunity to purchase Lakers tickets.
It gives them access to a difficult product to access.
Q: How much do you draw from your dad, in terms of how to sell the product? Does he provide feedback, or is he more a sink or swim type?
Joey Buss: He's always about the sink or swim type. Just go out there and do it. Don't ask me about anything. This is kind of like a test. That's kind of how the trophy thing happened. [Ed. Note: Joey Buss accepted the Larry O'Brien trophy from David Stern after the '09 Finals, a surprising move to everyone.] He had always said that he was going to come out if we were in a clinching opportunity in Orlando. So we were in a clinching opportunity and I called him and said, "When's your flight out?" He said "Tomorrow." So tomorrow comes around and he doesn't show up. I hope everything's ok, so I call him back and he says, "Oh, I'm still at home. I decided not to go."
"Well, what are you going to do if we win? What's going to happen?"
He said, "I was thinking that you could just go ahead and do it. It's not a big deal."
I'm like, OK, thanks.
Given that, he was just saying go out and do it. Sink or swim.
Q: Do you think he planned that?
Joey Buss: To be honest with you, after Game 2 when we almost lost I don't think anybody would have realized that we would be clinching in Orlando. I think the assumption was always that we were coming back, and I think that is the reason why a lot of people didn't make the trip out there. None of my siblings. Jeannie did not, Jimmy did not, because I think the assumption was that we'd be coming back, especially with how close that Game 2 was.
Q: But there was still time to make it, if he wanted.
Joey Buss: You're right. Especially after Game 3, and obviously Game 4 when you're able to clinch, there's still the opportunity to come out. For him, I think it was kind of that proud moment, where he says let's see how this works.
Q: How do you think you did?
Joey Buss: B, B+. Pretty good...One thing I didn't realize was how loud the crowd gets. You can't hear yourself talk in that situation, so not hearing yourself talk you overcompensate by speaking louder. I think that is really what kind of drove the loudness into that speech. It was all coming from passion, so at the end of the day I was very passionate, I spoke from the heart. It's exactly what it was supposed to be, and I'm happy about that.
Q: What do you see as your role with the Lakers, long term?
Joey Buss: I think Jimmy and I are a generation apart, so there's still that aspect where I have, like, 80 years in front of me. Maybe not 80, but a long time to [grow] into taking a very deep role into the Lakers. Right now the goal is to train me, for lack of a better word, in this D-Fenders role. As I gain more experience, then bring me along more so with the Lakers. The better I do here, the more confidence people have with me. Not just the Lakers side, but also, mostly I think, from the public side.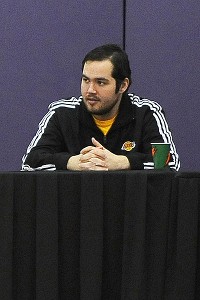 Andrew D. Bernstein/NBAE/Getty Images
Joey Buss is using his time with the Defenders to grow as an exec.
Q: Had you always wanted to go into this business?
Joey Buss: I would say yes... I was always very passionate about basketball and I had always wanted to be involved in the business. I don't know if I've ever thought about doing anything else other than entrepreneurial deals away from basketball, because I feel my life is basketball. That's how passionate I am about it... I've always had an eye on basketball. I don't even follow any other sports... I just don't have the same passion that I specifically do with basketball.
Q: Do you picture yourself as someone who focuses more on business or personnel once you feel you've reach the point where you can contribute to either for the Lakers?
Joey Buss: It's overwhelming to manage the brand and manage the players. Even in a smaller scale as the Defenders, there's still challenges with it. As long as I can contribute into a philosophy or a leadership role, then I need to have trust in those around me to do their jobs. And I also have plenty of siblings. (laughs) My other brother Jesse, a few years younger than me, we're gonna obviously grow into our roles. Like the Maloof brothers, I guess. When you have family... you're always bouncing different things [off each other]. It's not like, "You go in there. I go in here. I don't want to talk with you about anything about basketball. You don't talk to me about anything about business." It's always gonna be kind of melted together.
You always have to have people working for you that you trust. You have to put that trust and that responsibility in them, because it would be silly of me to try and insert myself into a CEO, CMO role or whatever. It would be arrogant of me to think that I can do that better than a Tim Harris. I'm not going to even touch that. (Laughs) So I'm not going to be like, "You move aside. I'm going to come in." That's not my style. My style would be to grow myself and my knowledge into the D-League role and then grown into the Lakers in a more natural way.
Q: What have you learned from the way Jim has been criticized?
Joey Buss: That you have to have tough skin. I've learned that no matter what you do, you're going to be criticized. That you just gotta kinda take it, then keep your head held up high and stick to what you believe... I think that my dad has been at it so long, the experience factor is there for him in terms of, "He's been around since '79, so he knows what he's doing." As Jimmy is around more for a longer duration, he'll get more credit and more experience. Because like what you're saying, he's getting criticized right now. And I think as time goes on, I think that will lessen for him.
What I learned from that is to try to build myself up from a lesser role with the Lakers. That's why I'm focusing on the D-League. I think that it best serves everybody, including myself. But it also serves, I guess, a reputation that if I succeed with the D-League team, people can see that and it'll be on my resume, so to speak.
Q: Do you think that might be in part why Jim can be a magnet for criticism? The notion of too much too soon, as opposed to moving up from where you've started.
Joey Buss: Well, I'd say he has more experience than I do.
L'OL: But the position where he started would be considered higher than yours.
Joey Buss: Yeah, I get your point. I think that when I did the trophy thing (in Orlando), people were like, "Wait, who is this guy?" (laughs) It went from 0-100... [Jim's] been around for a little bit, and it seems like the media has kind of [decided] as of this year, he's gone from nothing to 100. In reality, he's always been around. I don't know where that perception came from.... He's been a part of the Lakers for quite some time now, so I don't know what he could have done differently to escape the criticism that's going on now.
With Jim, there was no option with the D-Fenders for him, so it was always the Lakers. He started out scouting and grew into the role he has now. And scouting, that path, that's brutal work. You're traveling all the time. That's obviously paying your dues, so to speak. But without the separation, people are just like, "You've always been with the Lakers. You've always had this, [etc.]" People assume. So I think utilizing the D-Fenders for me as creating separation is very helpful.
Q: Do you ever look at the level of success this franchise has enjoyed and wonder how you're gonna match it? There's almost nowhere to go but down.
Joey Buss: (smiles) Right. My dad has always told me his goal is always, obviously, to be competitive, but he always measures the playoffs [as a gauge]. And something I've done with the D-Fenders this season, I've created three or four milestones. While the ultimate goal will always be a championship, how many milestones can you get along that way... So the milestones that we had for the season... Callups... Since we've started the team, we've had three callups [in total]. This season, we've had four. (Editor's Note: Since the interview, the total rose to five.) We were looking to break the record for one season, which is, I think, two.
Q: Because that reflects the quality of players you're getting?
Joey Buss: It's something to sell. I'm always looking for a way to sell something. So if we break a record, you put it up on a PR release, you can sell that. We have three All-Stars. That's the most in franchise history as well. Another [milestone], and I should knock on wood, 32 is the record for wins for a season and we're on pace with our current winning percentage to get higher than that. (Editor's note: The D-Fenders currently have 32 wins.) So that's another thing to sell. It legitimizes the product. It creates excitement for the fans... And then obviously, another one would be to make the playoffs, and we have the second best record overall. (Editor's note: The D-Fenders are currently 32-11, 1stin the NBDL.) Hopefully, barring any incredible crisis, we'll make the playoffs. And obviously, the fourth one is to win a championship.
Q:Your dad is extremely competitive by nature. How much of that has been passed down to you?
Joey Buss: I think it's a gene, you know? I think there's a competitive gene in the entire family. I'm very competitive. That's why the metrics are what they are for success. Those are basketball metrics. Business metrics would be to get a TV deal, get a radio deal (for the D-Fenders). Get the brand recognized by every Laker fan. Sell out the building every night. Those kind of things.