Ever since getting swept from the 2011 playoffs, the Lakers have been in search of a championship identity. That quest has looked largely fruitless this season, but recently, reasons for optimism have surfaced. Increasing point totals. Road games turning less treacherous. A quiet string of wins fueling a quiet rise toward the top of the Pacific Division. Still, the Lakers haven't quite looked the part of champions. They've been in need of a signature win, a seminal moment.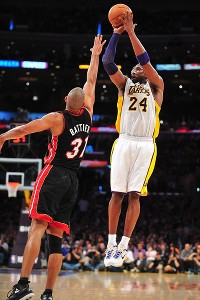 Gary A. Vasquez/US Presswire
The Lakers beat Miami, but the asterisk can't be ignored.
Sunday's contest against the Miami Heat theoretically placed such an opportunity in their laps. LeBron James & Co. were predicted by many (including yours truly) to win the whole shebang. They've also spanked the Lakers in the three previous "Big Three"-era games. Another loss, and envisioning the 2012 Larry O'Brien trophy in El Segundo would have required the combined imaginations of Lewis Carroll, Salvador Dali and Tim Burton. Damning evidence can only be viewed so long before being treated as fact.
This importance openly acknowledged, the court on Sunday was taken with a focus, energy and defensive intensity unmatched all season. The Lakers drew first blood, then withstood Miami's second-half charge. But the ensuing 93-83 win came with a caveat. The Heat played without Chris Bosh, which can't be ignored. He's probably the most ridiculed seven-time-running All-Star in NBA history, but Bosh is a highly skilled big man who drastically enhances the effectiveness of Miami's attack.
Thus, the W felt a bit like champagne sitting too long in an uncorked bottle. It still provides a buzz, but nonetheless tastes a little flat. That's not to say it wasn't a quality win. Beating LeBron and D-Wade always matters. But the fine print matters, and in many ways, mirrors how the Lakers' recent success still leaves lingering doubts. Take, for example, their eight wins over the past 10 games ...
1. 94-92 win at Toronto: No Andrea Bargnani, the Raptors are terrible, the Lakers barely won. A long trip only excuses so much.
2. 87-78 win against Atlanta: A solid win.
3. 111-99 win against Phoenix: The Suns aren't very good.
4. 102-90 loss at Phoenix: See above.
5. 103-92 win against Portland: A win that perhaps looked more impressive before reports of a Rip City meltdown.
6. 96-91 win at Dallas: A commendable road victory, but it's worth noting the Mavs went winless in Lamar Odom's absence (irony alert!).
7. 100-85 loss at Oklahoma City: In a vacuum, these things happen. For the purposes of gauging the Lakers' ability to hang with elite teams, it doesn't bolster confidence.
8. 104-85 win against Minnesota: The Wolves were down Kevin Love, arguably enjoying the best season of any power forward in the league.
9. 115-107 win against Sacramento: The Kings are bad.
10. 93-83 win against Miami: Again, no Bosh.
Even taking into account NBA wins are rarely easy, the "yeah, but" factor becomes more glaring with those details piled on top of each other. Peel one layer of the proverbial onion, and you realize just how many skins remain. Peeling that onion raises the bigger question of buying into the Lakers as a contender.
Do you buy into the Lakers being able to overcome the lack of perimeter players, beyond Kobe Bryant, capable of creating their own shot? Andrew Goudelock has been a wonderful surprise, but rookies often hit walls, and in the playoffs, often get overwhelmed.
Or the lack of perimeter players beyond Kobe capable of breaking down a defense? Steve Blake will have his moments, but that's not, nor will it ever be, his strength.
Or the inconsistent 3-point shooting critical to spacing the floor so Bryant, Pau Gasol and Andrew Bynum can do damage in the paint?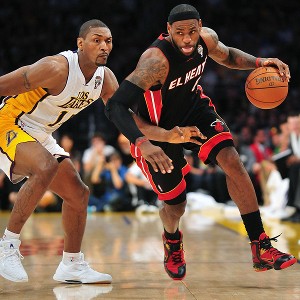 Gary A. Vasquez/US Presswire
Has MWP truly turned a corner on his slump?
Do you buy into Metta World Peace's sudden resurgence? Recently productive on both sides of the ball, MWP talked after the Miami win about his improved body and conditioning, which in turn swelled his confidence. Of course, there were also flickers of light last season, but then-Ron Artest mostly languished in a career-worst campaign. Even as someone who's been reluctant to bail on MWP, relying on him to emerge as a quality fourth option feels dicey.
The same can be said about the supporting cast in general. Or the idea of this offense being capable of putting up points on a regular basis against good defense. Or the roster, without a new face added, hanging with the big boys in a seven-game series.
It just feels dicey.
Maybe that's because after so much time focused toward what hasn't been working, wholeheartedly accepting positives can be hard. Maybe I'm subconsciously giving the Lakers too small a benefit of the doubt after offering too much slack last season. Maybe I'm not recognizing enough Mike Brown's frequent credo about a process requiring time. Maybe, after many bumps in the road, that time has come.
Or maybe it's just because of an undeniable truth: Winning a championship is seriously difficult. The margin for error under the best circumstances isn't particularly big. For these Lakers, as Kobe has continuously reminded, it's even thinner. This team just hasn't struck me as capable of beating those odds.
But ultimately, whether or not I buy in doesn't matter. I'm just some dude writing from the sidelines, and my opinion sways nothing on the court. What matters is whether those controlling the action buy in. Thankfully, signs of belief among those who count most have been displayed.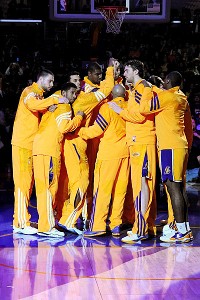 Noah Graham/NBAE/Getty Images
The Lakers now believe in themselves, even if you don't.
We're seeing this in the way Brown, who for much of the season walked a fine line between "meticulous" and "over-coaching," has ceded control -- and by extension, trust -- to his players. After 20-ish games tinkering like a mad/maddening scientist, a rotation has been set and, for the most part, honored with regularity. Fewer plays and instructions are shouted from the sidelines. A veteran core that won championships running a read-and-react system has been allowed the freedom to read and react. This leap of faith has been gratefully accepted by the players. Brown in turn has been rewarded for loosening his grip, an act Bryant said was the mark of "a great coach."
"The real testament for any championship team is to understand what your weaknesses are and to cover those, protect those and understand what your strengths are and play to those," Kobe said Sunday. "I feel like we're starting to understand how to support each other in that department."
Along these lines, the players have become a unit bonded by belief. This mindset was adopted at a players-only meeting after the Portland win, which came on the heels of Kobe speaking for Pau (and his other 12 teammates, really). By all accounts, the central message was to worry only about what can be controlled on the court and get each other's backs. From there, strap on a set of blinders. Having spent most of the season seemingly awaiting disbandment, a sense of purpose and confidence has spilled onto the court.
As Derek Fisher, who led the meeting, told ESPN.com's J.A. Adande after the Miami win, "The light finally went off that we believe we can win it."
How far that mindset will carry this group remains to be seen, but I'll say this much: However difficult it remains to envision these Lakers as legitimate contenders, relative to just a week ago, it's actually a hell of a lot easier. That I'm simply open to the possibility marks steps in the right direction. Baby steps, perhaps, but ones I didn't expect to take at all.