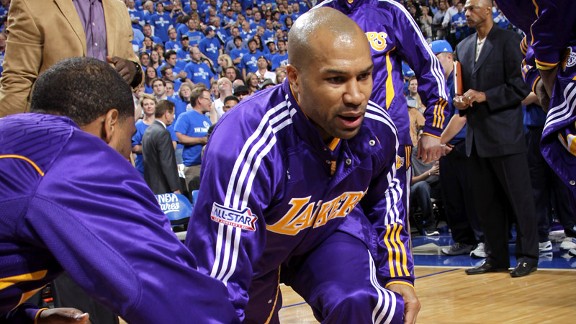 Glenn James/NBAE/Getty Images
Fisher's time with the Lakers won't be easily forgotten.
We always hear athletes, media and fans alike talk about how sports is a business. This summer, we witnessed a harsh reminder of this reality when the season was jeopardized by a lockout that often turned ugly. Millionaires and billionaires squabbled over more money than most people will earn over 10 lifetimes. Nobody was destined to come out of this situation looking good. But were the season lost, the damage would have been horrific.
Among the key principles who sat in a room, day in and day out, to discover the middle ground necessary to ensure basketball would be played: Derek Fisher.
As president of the Players Association, he put himself through the physical and mental wringer as his peers caught up with their families, took vacations and solidified overseas options should the meetings many didn't attend prove fruitless. His offseason was spent grinding out a win, life-imitating art as we've come to expect from the veteran point guard.
And in return for helping save the season, Fisher has been shipped unceremoniously to the Houston Rockets in a move that's as cold as the Arctic. Not necessarily cruel and definitely not unreasonable, given the severely reduced role he faced with Ramon Sessions in the fold and the economic upside to shedding his salary. But it's nonetheless cold, a reminder to us how professional sports, for all the glory, wealth and privilege provided to its fraternity, is occasionally just like the job the rest of us punch in and out of. Every now and then, the gig feels pretty thankless.
Ultimately, this turn of events symbolizes what Fisher's career has always been about, even in a scenario outside of his control: strapping on your metaphorical hard hat, then doing what's necessary because of the bigger picture and what it means to others first, rather than yourself. In adopting that mentality from the moment he entered the league, Fisher has managed to carve out one of the most unique, special and memorable careers of any role player in recent memory.
Clichéd as it may sound, Fisher's strength has never been found in the numbers. He has been a double-digit scorer at times, but more often than not, he has been pegged a streak shooter whose inconsistent production requires offsetting, particularly in recent seasons. He's not an assist machine. He has never been fast nor overly athletic. His best days as defender are behind him. Frankly, at 37, so are his best days as a player.
However, what Fisher brought to the table above all else was character.
Character on the court, where he consistently summoned the fortitude necessary to step into crucial moments when Kobe Bryant wasn't an option and others may not have had the stomach. This was evidenced in the 3-pointers drilled throughout the 2001 playoffs after missing most of the regular season with a foot injury. The willingness to give up a starting spot to Gary Payton in a contract year, yet still build on his iconography with ".4" against San Antonio. The knockout jumpers against Orlando. Game 3 against Boston, where Fish took the keys from a struggling Bryant and drove the Lakers to victory. And countless clutch baskets over the final minutes of regular-season contests, including Wednesday's overtime go-ahead jumper against New Orleans in what ended up as his final game as a Laker.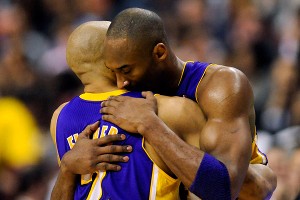 Howard Smith/US Presswire
Kobe may never trust another teammate the same way he's always trusted Fish.
Character off the court, where he quickly grew into a leader wise beyond his years. In a three-peat era locker room divided between Kobe and Shaquille O'Neal, Fisher managed to earn the respect of both without alienating either. His return after a tumultuous 2007 offseason was a critical first step toward getting a severely disgruntled Bryant to buy back in. Countless speeches, whether along the sidelines of tight games or tense team meetings, were offered with a seemingly flawless track record. His status in the players union was never the reason this guy was referred to as "El Presidente" among teammates.
Along these lines, there will be pieces to pick up on this team in terms of leadership. Kobe Bryant may have to soften his presence a bit. Pau Gasol must step into the role of a team's introspective conscious, balancing 24's alpha dog nature. Andrew Bynum, clearly champing at the bit for larger voice, has the opportunity and perhaps even an obligation to fill a void.
Not everyone becomes Kobe's right-hand man, and being bestowed with this title speaks volumes about the man exiting town. So does the fact that soon after the news broke, Kobe abruptly canceled his post-trade deadline appearance on 710 ESPN with Mason & Ireland. I'll go out on a limb and predict these events are not unrelated.
I say all this as someone who understands and even supports the front office's rationale for this trade. Pro's pro that he may be, Fisher is also prideful, and it's easy to wonder how well he'd truly accept diminished or non-existent minutes. And fiscally, this will aid the bottom line as the CBA turns increasingly cruel. But from a personal standpoint, it's hard to wrap my head around. Like everyone reading this post, I've been a longtime Lakers fan, and Fisher has always been exceptionally easy to root for. As a member of the media, I have found Fisher to be as classy, intelligent and friendly as any athlete I've ever covered. The grind of this job was often alleviated by his consistent willingness to thoughtfully answer questions, even sometimes challenging their premise. After a conversation with Fisher, I rarely walked away without something to think about, and that will be missed. Just like Fisher himself.
He's a player who has been, for all intents and purposes, a "career Laker," one indelibly etched into the fabric of this franchise's history. After five titles and so many memories, this doesn't feel like the right way for him to exit.
I'm not saying tears need be shed for Fisher, and proper aesthetics offer nothing tangible to a front office. Again, this is part of the business, and most businesses are periodically ugly. To quote Henry Hill, the Goodfellas mobster who earned millions in the ugly business of being in the mafia, "everybody takes a beating sometime."
But knowing Derek Fisher, the odds favor him dusting himself off, then going right back to work.