Among the best shows to hit television in the last few years is AMC's 'The Walking Dead,' an engrossing look at a post-zombie apocalypse containing plenty of gore and frightening moments, but even more storyline and character development. Among the more interesting of those characters is Hershel Greene, the aging veterinarian and farm owner who provides safe haven for the ragged band of survivors led by Rick Grimes.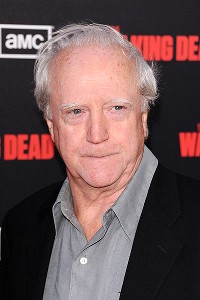 JB Lacroix/WireImage
Scott Wilson stars as Hershel Greene on AMC's 'The Walking Dead'
The role of Green is played by veteran character actor Scott Wilson, who in a career spanning almost 50 years has worked with directors including Norman Jewison and Richard Brooks, and along side legendary actors like Sidney Poitier, Robert Redford, and Gene Hackman. And in a nice bit of luck, he happens to be my upstairs neighbor.
Ahead of Sunday's season 2 finale (Sunday, 9 p.m. on AMC) Wilson joined us in studio for an extended conversation, answering all sorts of questions about the show, including whether he thinks Hershel knew Sophia was in the barn (if you watch, you know what I'm talking about). Highlights include:
His role on 'The Walking Dead,' and the larger themes of hope, death, and humanity explored on the show.

The ways in which the zombies are personalized, and what that adds to the show.

Wilson's long career in Hollywood, launched in unique fashion -- "I got drunk and ended up in an acting class" -- and including many ups and downs, and even moments of homelessness.

How Hollywood has changed over the course of his career. "If you think about it, about every 20 years, there's a huge change coming along. You had the silents. All of a sudden you have the talkies. All of a sudden you have Technicolor. All of a sudden you have television. All of a sudden you have VHS, you have cable, you have DVDs. About every 20 years, something comes along that revolutionizes the industry. Now you have the Internet, and the ability to download. So things evolve, and things change. I would imagine in 20 years from now, something else will come along that will be revolutionary for entertainment, and making product. Because there's a thirst for entertainment, and it keeps driving people to come up with better delivery systems, and better ways of doing it."
Finally, Wilson, a big basketball fan who earned a scholarship to play out of high school, talked about moving to L.A. at the same time the Lakers arrived, and going to watch Jerry West and Elgin Baylor in the days when struggling actors could actually afford to do it.
For fans of 'The Walking Dead' and of movies and Hollywood generally, it's a conversation worth hearing.