2012 has been a season chock full of uncertainty for the Warriors. Uncertainty about what the future holds for a roster in perpetual turnover. (The latest rebuilding phase features a nucleus of David Lee, perpetually-injured-but-undoubtedly talented Steph Curry and Andrew Bogut, plus promising rookie Klay Thompson.) Uncertainty about the long term prospects of rookie head coach Mark Jackson. And uncertainty about how much further the patience of a historically faithful fan base can be tested. It was a shame to see Chris Mullins' jersey retirement ceremony drown in a sea of boos directed at owner Joe Lacob. But as Bill Simmons recently (and convincingly) illustrated, the reaction was a long work in progress. And now 3-6 since Monta Ellis was dealt to Milwaukee, it appears more darkness will persist before any light finally shines on Warriors fans.
For a deeper look at the Warriors, we contacted Jordan Ramirez from Warriorsworld of the True Hoop network. Below are his thoughts on a few questions, plus one of my own.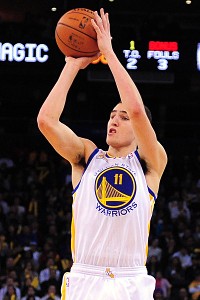 Kyle Terada/US Presswire
Klay Thompson can shoot the lights out, but is still learning the NBA game.
Land O' Lakers: The Ellis trade opened up more playing time for Klay Thompson. How has he responded, and what are his strengths and weaknesses, particularly areas that could be critical one way or the other against the Lakers?
Jordan Ramirez: Klay Thompson has responded well since replacing the Bay Area legend and fan favorite Monta Ellis. His strength will always be his shooting touch. Whether it's spotting up from the corner or coming off quick screens, Thompson has shown the ability to shoot the rock. But he still could improve on his drive and slash ability. He'll never be an Ellis-type slasher, but he should focus on improving his ability to get to the line (with his 89% FT shooting). If Thompson adds the ability to get to the hole with his shooting skills, his offensive successes will be endless.
Defensively, Thompson plays much like an NBA rookie would normally play: silly fouls, biting on pump fakes and getting burned on a semi-regular basis. Do I think these will be chronic problems? No, but against the Lakers – and Kobe Bryant – Thompson will have his hands full, to say the least. With a healthy Curry and Bogut next season it will be interesting to see the progress Thompson will made since his rookie campaign. The Warriors front office will have their hands full if he doesn't.
LO'L: With Curry out, what can be expected of those running the point?
JR: A healthy dose of Nate Robinson and Charles Jenkins never hurt anybody right?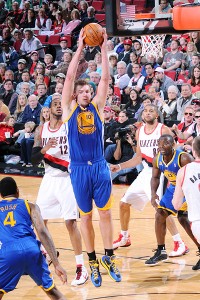 Sam Forencich/NBAE/Getty Images
Our fellow St. Louisan has his work cut out for him.
With Nate Robinson chucking up pull-up three pointers and the rookie from Hofstra backing him up, the Warriors backcourt isn't pretty. Robinson is the epitome of a bench player: high-energy, can score in bunches and not afraid to make the game changing play. Sadly (or happily, depending on which fans you talk to), Lil' Nate's game doesn't translate into the starting role at all. As for Jenkins, he's proven he can play in the NBA and filled in nicely for Curry before Robinson was signed earlier this season. At 6'3, 220 pounds Jenkins has the body to be a successful NBA point guard, but will he ever get the minutes to reach that potential? It's Mark Jackson's call to make.
LO'L: Do the Warriors even have a frontcourt beyond David Lee? How are the Warriors compensating for so few options down low at the moment?
JR: Jeremy Tyler, Mickell Gladness and some guy named Keith Benson. If you thought the Warriors frontcourt was bad before the Ellis-Bogut trade, the current abomination of a frontcourt is a sight to behold. David Lee continues to put up impressive numbers, but with Andris Biedrins – Kosta Perovic incarnate-- on the sidelines, Ekpe Udoh under the tutelage of Scott Skiles and Kwame Brown eating Twinkies in South Carolina, the frontcourt will be in shambles the rest of the season. As the leaders of the Tank Express, expect very little production from anyone not named David Lee. I'm sure most Warriors fans don't mind that, either.
Thanks to Ramirez for the insight. If I could add one quick additional thought, it's that Golden State's wretched defense allows the opportunity to fine-tune aspects of the offense still lagging despite the recent uptick in points. Pau Gasol's jumper has been oddly off the mark the last two games. We've come to accept Steve Blake as a shell of the player he was offensively before joining the Lakers, but lately, he's been a shell of that shell. And Sunday's loss to Memphis was a reminder Kobe and Ramon Sessions have yet to achieve consistent on-court fluidity.
Tonight offers a nice platform for repairs, as the Warriors can barely guard an exercise bike. Assuming, of course, the Lakers maintain focus against a bottom feeder, which is hardly a given. And assuming they're given opportunities to practice much of anything but free throws. Opponents average 26.6 trips to the stripe against the Warriors, third highest in the league. That's how a team gives up a nightly 99.8 points (NBA-5th highest), despite a middle-ish of the pack pace and field goal percentage. They foul. A lot.