The Lakers' 2012 season can essentially be divided into two parts: "Pre-Ramon Sessions," when everyone wondered whether the CP3-less Lakers were capable of surviving more than a round or two in the playoffs without a notable upgrade at the point. (For that matter, not everyone was entirely convinced the front office was committed to a long playoff run to begin with.) Then "post-Ramon Sessions," when the Lakers featured a lead guard capable of penetrating, distributing and potentially allowing the Big Three to operate with maximum efficiency. In turn, the Lakers are now evaluated through the prism of legitimate contention. Is this a team good enough to reach the Western Conference Finals? The NBA Finals? To raise the O'Brien for the third time in four seasons?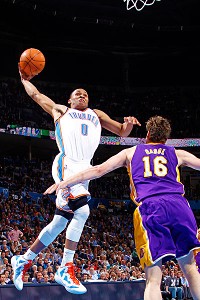 Win McNamee/Getty Images
Can Sessions help ground this man?
Thursday marks the first of five regular season games capable of providing, if not the definitive answer, strong clues.
The Lakers will then play the Spurs three times between April 11-20, then face OKC again on April 22. Days later, the playoffs begin. In between there will be notable opponents, such as the Clippers (4/4), a perhaps healthier Nuggets (4/13), and the Mavericks (4/15). But no games stand to be as potentially instructive as those against Oklahoma City and San Antonio. The Lakers have yet to play the Spurs and got waxed by 15 in their one February meeting against the Thunder. However, that was also before the playoff roster was constructed, so to some degree, that result can be dismissed to some degree.
Moving forward, only so much rationalizing can be offered in the face of losses. Conversely, wins could provide tangible optimism about the prospects moving forward. And either way, we'll have some clarification in regards to some specific questions. As for those Thursday against the Thunder:
- How Sessions affects a game matched against Russell Westbrook, a player of equal speed and better, more proven talent. It's a larger issue than simply whether Sessions can check Westbrook. Obviously, Sessions' ability to stay in front of the former Bruin matters, and this represents a major test for a player not known for his defense. But Sessions can also play a role in alleviating turnovers that allow Westbrook -- not to Kevin Durant, James Harden, etc. -- to be deadly in transition. And in the meantime, with the ball in his hands, perhaps Sessions can turn those same tables on Westbrook, whose own defensive effectiveness can wane.
And if things go poorly, this game could also serve as a stark reminder Sessions, as well as he's played, is a career backup who's never been given this much responsibility on a team with such lofty goals.
- Does the team with the NBA's leading or second-leading scorer come out on top? As of this writing, Kobe Bryant leads all NBA scorers with 28.3 points per game, and Durant is just percentage points behind him (27.8). Of course, it's worth noting Durant's getting his points on nearly four fewer shots per game, with percentages from the field (.502) and the arc (.375) dwarfing Kobe's (.429, .287, respectively). I mention Durant's superior numbers not to frame this as a contest, but rather to remind how, generally speaking, that level of success hasn't come against the Lakers. On a career, he's shot considerably below his averages against L.A., and this has been largely due to Metta World Peace's smart, physical, Edward Scissorhands-style defense. Not so coincidentally, the Lakers won the overwhelming majority of these games against the Thunder. However, the tide has been turning over the last couple games, where The Durantula made a combined 33 of 37 shots. 15 trips to the line were also earned, then converted at a highly efficient clip of 100 percent.
If Durant's either figured out this matchup or MWP simply can't hang with the kid like he once did, I don't like the Lakers' odds in a series. At all.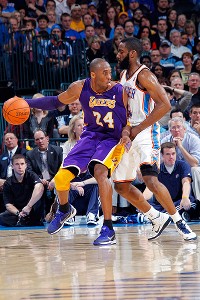 Layne Murdoch/NBAE/Getty Images
The Mamba vs. The Beard could get interesting.
In the meantime, Bryant's shots have traditionally dropped against the Thunder, but he suffered a miserable outing last February. But it wasn't just the seven-for-24 showing that raised eyebrows. It was Kobe klanging with OKC's designated stopper, Thabo Sefolosha, out of commission. Harden stepped up to the plate, and solidified his reputation as a burgeoning defender. Clearly relishing the challenge (as Daily Thunder's Royce Young said would be the case), Harden barked at Kobe all game and actually got under The Mamba's skin. Obviously, Bryant's track record as a scorer is much better established than Harden's as a defender. But if the man with the NBA's best beard (all apologies to Ronny Turiaf) really is capable of making Kobe work, the Thunder can now throw plus-wing defenders at Kobe over 48 minutes. That's huge for OKC, and potentially unsettling for the Lakers.
- Andrew Bynum and Pau Gasol force Serge Ibaka and Kendrick Perkins to play considerably more defense than the other way around. Then again, OKC's frontcourt -- along with the similarly non-scoring Nick Collison -- are no joke to score against. How much can the Lakers' talent advantage in the trenches be milked?
- Nobody would reasonably expect the Lakers bench to match the Thunder's production, given how skewed those numbers become with Harden as their sixth man. But can they at least collectively match Harden's output? If not, yikes.
- And finally, how weird will be to play against Derek Fisher after everything he's meant to the Lakers, and does that power of presence established in L.A. travel to Oklahoma City?
Like Big Brother, we will be watching.