Over the last week, Lakers headlines have been dominated by issues like Kobe Bryant's shin, otherworldly rebounding from Andrew Bynum, a string of quality performances from Metta World Peace, and the implications of a 20-point loss to Phoenix and a 14-point win over San Antonio, both with The Mamba wearing a well-tailored suit. Such talking points would always feel trenchant, and with the playoffs lurking, the urgency is magnified tenfold. In the meantime, another notable development has surfaced almost entirely absent of hype. Compared to the previously mentioned story lines, under-the-radar status for this trend is understandable, but it nonetheless shouldn't be mistaken as trivial.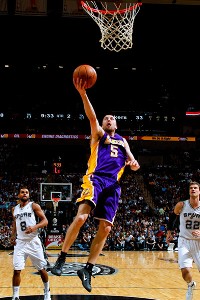 Win McNamee/Getty Images
Not a Photoshopped picture: Steve Blake did actually execute this finger roll.
Quietly and by any measuring stick, Steve Blake, who's suffered through a largely disappointing season, has played two very good games in a row.
From a statistical standpoint, his numbers are much improved. Over the last two games, he's averaged nine points (53.8 percent from the field/60 percent from deep), 3.5 assists, 2.5 rebounds, and .5 turnovers in 28.5 minutes. The stats aren't necessarily eye-popping, but they're perfectly fine from a backup point guard. And against the backdrop of his overall April splits (5.4 ppg, 41.4 FG, 41.2 3pt, 3.0 apg, 1.3 rpg, 1.1 TO), they're practically a revelation. While fellow reserve Matt Barnes has insisted the Lakers bench shouldn't be judged by scoring totals, this entire season has served as proof of how hamstrung the starters become without consistent support. In particular, Blake's cupboard has been bare. Nobody would reasonably expect a dude with a 6.9 ppg career-average to reinvent himself as a purple and gold James Harden, but some firepower off the pine is mandatory. For at least two games, Blake's brought a gun to a gunfight.
Blake's also managed to impact games beyond his numbers. In New Orleans, a pair of charges were drawn and he not only tracked down an otherwise certain turnover, but managed to huck the ball while airborne to Ramon Sessions. The possession ended with Barnes scoring at the rim, but Blake enabled the basket, even as the only principal who didn't enter the box score on the sequence. Against the Spurs, he prevented a fast break by hustling back on transition, squaring up Stephen Jackson and getting his mitts on the ball. Slowed by Blake, Jackson had to take the ball out, and the ensuing possession came up dry.
These type of plays reflect Blake's recent aggressiveness, a demeanor largely absent throughout the season as a whole. In consecutive games, Blake has both attacked the rim and finished, the basketball-equivalent of watching Halley's Comet two days in a row while in the company of a unicorn and the Chupacabra. Against the Spurs, Blake found himself matched against Matt Bonner in a switch. Rather than hesitating and eventually passing -- Blake's norm for the season -- he took a couple of dribbles, then fired and drained a shot with authority.
These are the kind of performances Lakers fans (not to mention, the Lakers) have been waiting on from Blake. Moving forward, it's extremely important he build on them.
We've heard constant cries from fans to hand Blake's PT to Andrew Goudelock, and I understand that urge. He may be little more than a quasi-point guard, but the kid nonetheless looks for his shot, has legitimate range, and is superior at creating for himself. A guy with those skills might come in handy, particularly if the alternative is Blake stuck in a rut. BK and I discussed the merits of this tack during a recent Lakers Late Night episode, agreeing Blake had until roughly now before Mike Brown would be forced to bite the bullet, bench Blake, and commit to Goudelock for better or worse. Like the overwhelming majority of coaches in any sport, Brown prefers veterans over rookies, particularly during the postseason. His insistence on riding out the storm with Blake has been made perfectly -- and times frustratingly -- clear. At least temporarily, that faith has been rewarded, but on a couple levels, it's imperative Blake doesn't backslide.
Lest anybody forget, Sessions is nursing a left shoulder injury limiting his effectiveness, and more important, has precisely zero minutes of playoff experience. I'm hardly expecting to see the fifth-year player overwhelmed by anxiety and lying in the fetal position, but jitters may nonetheless be felt. During the first round in particular, I wouldn't be surprised to see Blake get sizable minutes in a few games. However, should Sessions remain cooler than a hybrid of a cucumber and The Fonz, Blake will inevitably be needed to step up at some point during a hopefully deep playoff run.
That's just the way the playoffs work.
Yes, stars and starters are always asked to carry the day while reserves blend into the background. But like clockwork, teams that win championships feature bench players making the periodic difference. We saw it last year for Dallas with guys like J.J. Barea and DeShawn Stevenson. And during the Lakers' 2009 and 2010 title runs, Jordan Farmar, Sasha Vujacic, Shannon Brown and Luke Walton all chipped in a timely two cents. Expectations for players of this caliber may be lowered, but they nonetheless exist.
For at least two games -- and hopefully counting -- Blake is meeting his.