To be certain, Wednesday's win over the Spurs carries the potential of galvanizing the Lakers 59 games into a maddeningly inconsistent and often lethargic season. Taking down the Spurs at full strength in their house without the services of Kobe Bryant is both meaningful and a reminder of what this team is capable of when putting their minds to a task. Of course, there's also a flip side to this coin. On several occasions, whether against the Clippers, Celtics, Mavericks or Heat, a win initially labeled "signature" quickly faded into the ether upon failure to build any momentum. More often than not, the Lakers land themselves back at square one.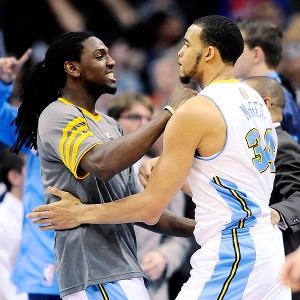 Ron Chenoy/US Presswire
The future up front for Denver?
But with a fresh start, even one frustratingly self-induced, comes fresh opportunity to grow as a team. Perhaps this contest against Denver, a high end opponent, will emerge a chance capitalized upon. For more perspective on the Nuggets, we called upon Jeremy Wagner from the True Hoop network's Roundball Mining Company blog.
Land O' Lakers: How has JaVale McGee's arrival and the departure of Nene impacted the Nuggets?
Jeremy Wagner: The Nene for McGee trade was certainly made with an eye towards the future at the cost of the present. The Nuggets miss Nene's interior passing and his post game although he has continued to miss games since arriving in Washington. McGee has certainly provided some highlight moments and shown some growth in his pick-and-roll defense although he lost his starting spot as quickly as he earned it.
The true benefit of the trade was that it unleashed "The Manimal." Rookie Kenneth Faried is now a starter and producing incredibly well for Denver. The Nuggets pride themselves on player development and with McGee and Faried they have a potentially dominant frontcourt for years to come.
LO'L: After a terrible start, Arron Afflalo seems to be back on track in the second half. What changed for him, and how does a fully functioning Afflalo change the complexion of the team?
JW: I really cannot point to anything Afflalo is doing differently. He missed what little training camp there was while he worked out a new contract, and that certainly contributed to his slow start. Afflalo is always looking to add something to his game every summer and this was his most ambitious effort yet trying to transform himself from a catch-and-shoot auxiliary supporting player on offense to one who can create his own shot. It's a role he is not particularly suited for.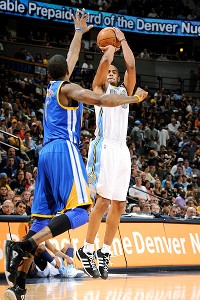 Garrett W. Ellwood/Getty Images
After a tough start, Afflalo looks like himself again.
As the season has progressed, Afflalo has seen his shot come around, so all the work he put in last summer has paid off. He has been very aggressive offensively and for a team without a true leading man on offense, it's a dimension that has helped Denver remain a top flight offensive squad.
LO'L: Healthy, the Nuggets have enough depth to run with anyone. Is there any hope of the team getting whole fast enough to play cohesively in the postseason (assuming they get there)?
It looks like injuries will continue to be a concern now that Al Harrington suffered a torn meniscus the same night Danillo Gallinari returned. Harrington has been one of the staples of the Nuggets closing five and George Karl had to go without him against the Timberwolves. The silver lining is that means the Nuggets might actually have a center on the floor in the fourth quarter which could actually help. Many Nuggets fans have grown tired of Karl's love of small ball.
Unless the injury bug bites again the Nuggets porous defense is going to be the number one culprit in their inevitable post season demise, but if Harrington is limited, it will make any attempt at competing in the playoffs even more difficult.
LO'L: What three things have to happen for Denver to beat the Lakers Friday night?
JW: First, Faried is going to have to hold his own against Pau Gasol. Gasol was a big time matchup problem for Denver even when they had a bigger and more capable defender in Kenyon Martin. Faried will be giving up a lot of size and cannot be rendered ineffective. Second, Ty Lawson has to be aggressive. The Nuggets are a much better team when Lawson is engaged and attacking. Too often he defers to his teammates and when he does the offense becomes too reliant on jump shots. Lawson has taken a step forward this season, but still lacks that night in and night out consistency. And finally, defend the pick-and-roll. The Nuggets have been incredibly weak covering the pick and roll this season and if their bigs do not engage, Ramon Sessions will rip them apart.