After seven games, a few surprisingly strong wins, and one semi-predictable shellacking, Kobe Bryant may finally be donning a Laker uni instead of one of those impeccably tailored, mega-expensive suits. On Friday, the Lakers will engage in a rubber match against the Spurs, the previous two contests having resulted in one blowout for each side. Obviously, fans will be paying close attention for, at long last, clues as to how these teams match up at full strength in a potential playoff series. But to some degree, that's the game within the game. The overarching story is how Kobe -- and the Lakers -- look after his hiatus, and what that means with the playoffs just around the corner. Here are five questions to consider as we await the opening tip.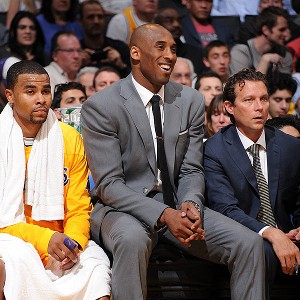 Andrew D. Bernstein/NBAE via Getty Images
The suits were killer, but fans prefer Kobe in purple and gold.
1) Should the Lakers have shut down Kobe until the playoffs, just to be on the safe side?
No. Beyond the fact Kobe knows his body inside-out and treats it like a temple, that he was willing to miss these preceding games speaks to his sensible, long-view approach while treating this injury. Because of this pragmatism, a benefit of the doubt should extended towards his decision to take the floor again. If Bryant says he's ready, then he's ready, and it's important to get everyone back in sync ASAP.
2) What's the key to as seamless a return as possible?
In a nutshell, it's all about balance.
Balancing the desire to reintegrate Kobe as effectively as possible with the importance of not playing him too many minutes at the outset. Balancing Kobe's touches and self-generated shots with the amount of possessions he's set up away from the ball. Balancing his dominance over the offense with possessions revolving around others.
And most importantly, prioritizing a balanced attack, which essentially equals the Lakers playing at their best regardless of Kobe's situation.
The Lakers are always most dangerous with everybody involved and chipping in his two cents. When the offense becomes too top-heavy in any particular direction, the Lakers become more predictable and easier to defend. It doesn't matter whether the specific issue is Kobe-centric iso-ball, tunnel-visioned urges to force-feed Bynum down low, or nobody beyond The Big Three making a dent. Everyone needs to be present and accounted for, even with some shots and touches inevitably returned to Kobe. A championship playoff run requires all hands on deck.
3) Which Laker will need to adjust most with Kobe back on the floor?
Without question, every rotation regular to some degree will be forced to change his recent style. They've all see increased touches and control over games, and to their collective credit, stepped up to that challenge. But with the NBA's ultimate alpha male back in business, the team's dynamic naturally will shift to reflect that superstar presence. Having said that, Andrew Bynum, Pau Gasol and Ramon Sessions all have solidified, important roles in the offense. Matt Barnes makes his living off garbage buckets, off-ball cuts and catch-and-shoot treys -- i.e., situations created for him -- regardless of the teammates alongside him. Steve Blake and Kobe don't play a boatload of minutes together either way.
But with Kobe sidelined, Metta World Peace's life became radically different. He's averaged 12.5 shots during that seven-game stretch, vs. a shade over seven on the season. Wednesday against Golden State, nine assists were dished, indicative of the sway he's often held over the offense. Metta has raved about being in a great rhythm, fantastic news for a player already thriving on the other side of the ball. Now, his spots may largely be picked for him on offense, which could result in a less effective player. To some degree, there's an onus on MWP's teammates to be mindful of the bigger, better picture, and make a point of keeping the small forward involved. But it's mostly on MWP not to allow himself to become a victim of change. He'll be reduced at times to more of a spectator on offense, but his overall intensity, energy and impact can't flag as a result.
4) What becomes of Devin Ebanks?
Before getting the starting nod in Kobe's absence, the second year swingman might as well have worn a Celtic uni beneath his warmups, given the unlikelihood of actually revealing that hated green across his chest. With Kobe back in action, life comes full circle. Mike Brown has stated an equally-out-of-position Barnes will serve as Bryant's primary backup, with Blake picking up occasional minutes. For Ebanks, receiving little more than a pat on the back for his efforts will certainly be disappointing, but that's life in the NBA sometimes, particularly as the playoffs approach and coaches tend to shorten rotations and rely on veterans. That leaves Ebanks on the outside looking in. But on the plus side, Devin acquitted himself nicely in Kobe's absence (the goal was simply to stay in his lane, and he succeeded) and is much readier than three weeks ago to lend a hand should a wing player get injured or encounter foul trouble.
5) The Lakers went 5-2 during this stretch and beat good teams along the way. Has Kobe really been missed?
Yes, assuming you've actually watched the games.
No question, the Lakers' collective focus, resolve and accountability has been outstanding with their leader on the sideline. From top to bottom, players stepped up in crunch time to secure victories. But fourth quarter success during tight games was much harder to come by without Kobe's services. It's not a matter of 24 being "the closer," but rather the attention he garners and the options he provides. Beyond his skills creating for himself or others along the perimeter, teams can no longer automatically double and triple Bynum -- sometimes even before the catch -- on every possession with Kobe on the wing. Sessions regains a stellar pick-and-roll partner in crime. Gasol and Kobe play off each other as well as any guard and big man in the league. Defensively, Blake won't be placed in the position of surrendering while size checking two-guards. And so on and so forth.
Bottom line, as a coach, Brown can never have too many options at his disposal. With Kobe on the floor, his basketball buffet just added several new platters' worth of tasty choices.