Phil Jackson arrived in Los Angeles for the 1999-2000 season having already steered the Bulls to six NBA titles. You'd think heading into his first playoffs with the Lakers six rings would outweigh any skepticism over incense and engender a little blind faith from his players.
Not so, Kobe Bryant said last week as the Lakers prepared for the opening round of the playoffs.
"Obviously he had come in having won six championships from Chicago, but at the same time you're still like, "Is this really going to work?"
"You don't know until it actually works."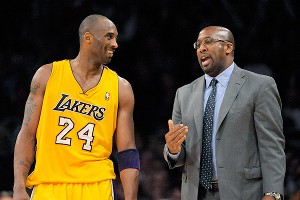 Kirby Lee/US Presswire
This is an important postseason for Mike Brown, and Kobe Bryant is willing to help in any way he can.
Mike Brown is not Phil Jackson. His resume includes an impressive .659 winning percentage through six sixth seasons running NBA teams, but it includes multiple playoff disappointments and in his lone trip to the Finals, back in 2007, Brown's Cavs were dropped by San Antonio in four straight. Supporters say he squeezed a lot of wins out of LeBron James and a perpetually limited supporting cast. Detractors say that his offensive playbook could be could be written out on a cocktail napkin, and whatever success Brown had belongs primarily to James.
In short, Brown is like the overwhelming majority of NBA coaches – constantly working to maintain his credibility, constrained by the limitations of his roster, and balancing his will against stars at least as, if not more powerful, than he.
Brown's title as an assistant under Gregg Popovich in 2003 was enough to lend some weight with a young Cleveland team short on championship experience. In Los Angeles, balanced against multiple rings for Bryant, Pau Gasol, and Andrew Bynum -- not to mention 16 for the franchise -- Brown's hardware is more a sparkly party novelty passed around between hors d'oeuvres during cocktail hour.
A dip in gravitas (between the old coach and the new one), as well as a change in offensive philosophy, has fueled a season-long question of whether Brown's players are buying in to his system and his leadership. With help from Bryant, Brown managed to keep the season on the rails, but it wasn't easy.
Just ask Kobe.
"We're a temperamental bunch that want to win, and want to win now. We're all very intelligent, which makes us very stubborn at the same time," Bryant said. "You have to make sure your ducks are all in a row. You have to make sure if you're going to make an argument for something or say something, you have to make sure you have a good reason for it and you explain it. You don't say "Jump!" and we say "How high?"
Now, in the playoffs, the real test is underway, because it's hard to believe Brown's stars, particularly Bryant, can fully buy in -- really, truly buy in -- until they see what he does in the postseason.
"There's a lot of truth to that," Bryant said.
Brown understands the significance of his first postseason as head coach of the Lakers. Sunday afternoon, he became only the second man to coach the Lakers in a playoff game at Staples Center -- you know the other guy -- and his playoff debut was a resounding success. The Lakers blew the doors off the Denver Nuggets, taking a 1-0 lead in their first round series.
Brown hopes what he's done steering the team through 66 games under almost comically difficult circumstances this season has helped lay a foundation.
"Obviously it will [impact buy in], because [playoff performance] is part of it. But also part of it is the regular season, because if you can't get guys to buy in during the regular season, you're not going to make it to the playoffs," he told me last week. "Going through some of the ups and downs that we've experienced during this regular season has hardened us to a certain degree to some of the outside distractions, so to where we can stand that bunker come playoff time and help us along the way. Obviously this is a new experience for all of us."
Throughout the season, Brown has felt the eyes of his players on him, measuring and gauging him. All part of the natural feeling out process, Brown says. Obviously Brown has been heavily scrutinized outside the locker room, as well. If he was watched through 66 regular season games, he'll be positively gawked at throughout these playoffs.
It's all part of the gig.
"Obviously, Phil Jackson was a guy that had a lot of success here, and every little thing that did not seem right, or any loss is going to be a big question mark on my forehead that everybody's going to want to know. Can he handle it? Can he do it?" Brown says. "Whether it's my relationship with this player or my relationship with the team, or how we play defense or how we play offense, or how I breathe, it's all under a microscope because of the success that Phil Jackson has had prior to my arrival here. I understood that. I didn't know it was going to be as magnified as it was, but [learning] that was a process."
To his credit, Brown has stayed consistent in his beliefs, while showing flexibility as well. Over the course of the season, he's changed his practice patterns to accommodate a more veteran team, loosened his grip on the offense, and gained a better understanding of how this group's defensive performance is linked to what happens at the other end.
As for his rotation, a point of contention all year, Brown managed to find some consistency down the stretch while showing enough flexibility to get someone like Jordan Hill into the lineup, even at the eleventh hour.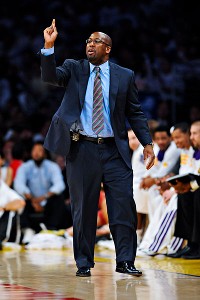 Kirby Lee/US Presswire
Mike Brown's postseason debut with the Lakers couldn't have gone any better.
Now the stakes rise significantly. There are myriad reasons the Lakers could, and likely will, bow out of the postseason without winning a title. Most of them involve the team's roster composition and talent level , not Brown.
If they lose and if he's perceived to have been outcoached -- if adjustments come slowly or not at all, if he pulls the wrong strings, or goes with gut and the gut betrays him -- Brown's ability to grow into the Lakers job next year and through his contract will be hampered, perhaps significantly. Brown isn't simply coaching for this spring. How he performs this year lays the foundation for the ones that follow.
"This is a big run for him," Bryant said.
Brown isn't looking for sympathy, and Bryant isn't offering -- "I've told him, I said "You signed up for this job. You know whose shoes you were filling." -- but at the same time Kobe has no interest in stranding Brown on Coaching Island just to measure his survival skills.
Bryant's approach on the bench during the seven games he missed with inflammation in his left shin proved as much.
"You have to be in the ship together. You don't separate the two [coaching from playing]. For me, personally, it doesn't matter. If people say you were outcoached, we got outcoached, or whatever, at the end of the day I still lost a playoff series," Bryant said. "So you have to make sure you're all in this together, and if there's something that he's doing that I feel I can help him out with, then I'm going to help out with it. If there's something that we can all pick each other up, that's what we're going to do."
Bryant notes this will be the most experienced roster Brown has ever led into the playoffs, affording him resources he didn't have in Cleveland. Nonetheless, the fact remains this year's team isn't as well equipped to win a title as last year's, and we know how that movie ended.
The uphill battle facing the Lakers this postseason, independent of coaching, ought to afford Brown a little more leeway. A strong showing should be enough to boost his stock, even if the Lakers' season ends without a parade. Enough to call his first go in L.A. a success, even.
Kobe shoots down the idea before the question is even fully asked.
"No, you've got to win. No, no, no. You've got to win. Here, you have to win. You know. You don't make the Western Conference Finals here and be satisfied. You just don't do it. That's Del Harris Era. You get to the Western Conference Finals, and it's not good enough," he said.
"You've got to win the whole thing, here."